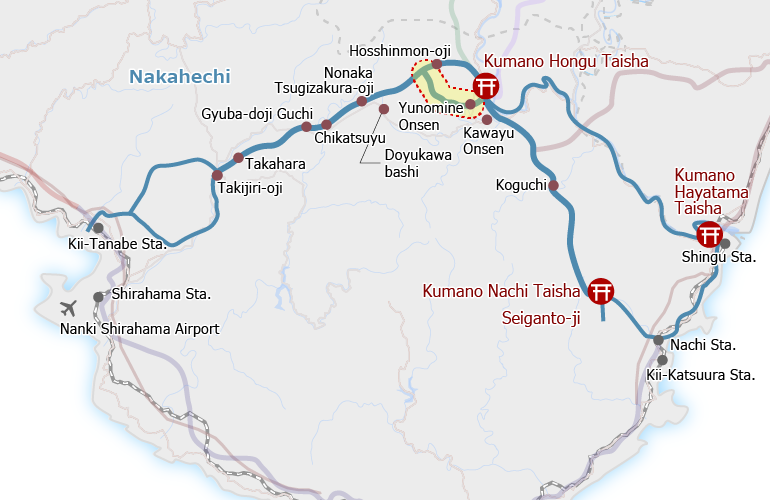 Visión general
Akagi-goe (Yunomine Onsen to Funatama-jinja)
La ruta Akagi-goe une Yunomine Onsen, una fuente termal con más de 1800 años de historia, y Funatama-jinja, que se encuentra en la ruta principal de Nakahechi.

Es un sendero de montaña que sube y sobrepasa una cresta.

El Nabewari Jizo es una estatua a lo largo de la ruta. Los caminantes suelen utilizar esta sección para hacer un bucle con la sección Nakahechi desde Hosshinmon-oji hasta Kumano Hongu Taisha.
Detour Information for Akagi-goe
Due to trail damage caused by a recent typhoon, Funatama-jinja is not accessible while repairs are underway. Please note the following route changes.
Yunomine Onsen to Hosshinmon-oji Walkers:
Walkers from Yunomine Onsen will arrive at a rest area toilet near Funatama-jinja, but will need to follow a detour that eventually attaches to a forestry road near trail marker #57 and then turn east toward Hosshinmon-oji, adding about an hour to the standard walk.
Chikatsuyu/Tsugizakura-oji/Doyukawa-bashi to Yunomine Onsen Walkers:
Coming east from Tsugizakura, Kobiro-toge, or Doyukawa-bashi bus stop areas, walkers who wish to take the Akagi-goe route should take the trail southeast near trail marker #57.
Hosshinmon-oji to Yunomine Onsen Walkers.
Walkers coming from Hosshinmon will be unable to turn south down the slope to Funatama-jinja, but instead will have to continue west on the partially paved forestry road to trail marker #57 junction.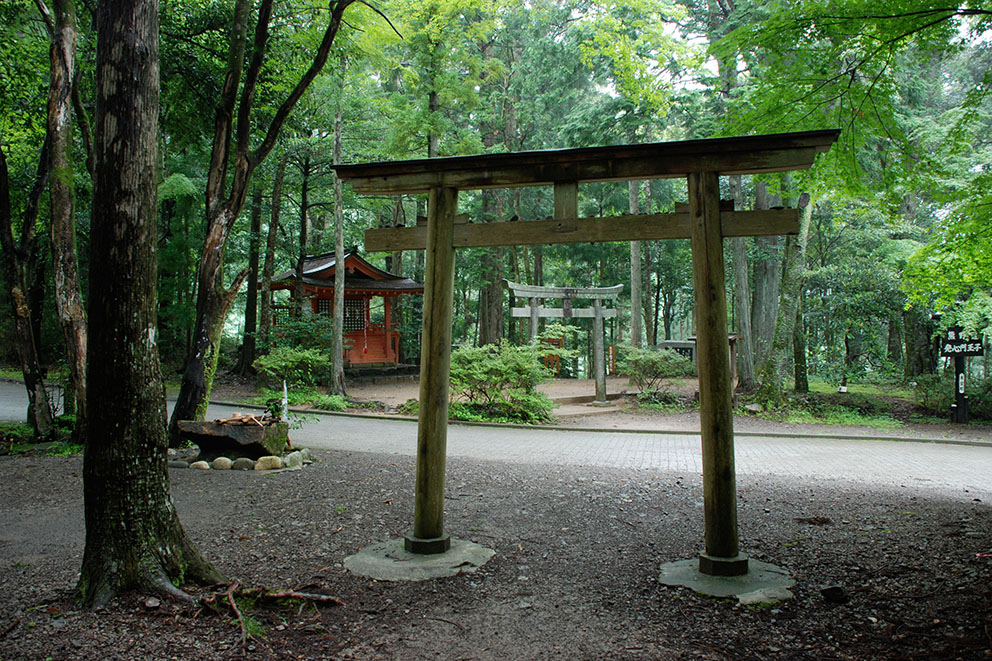 Datos del recorrido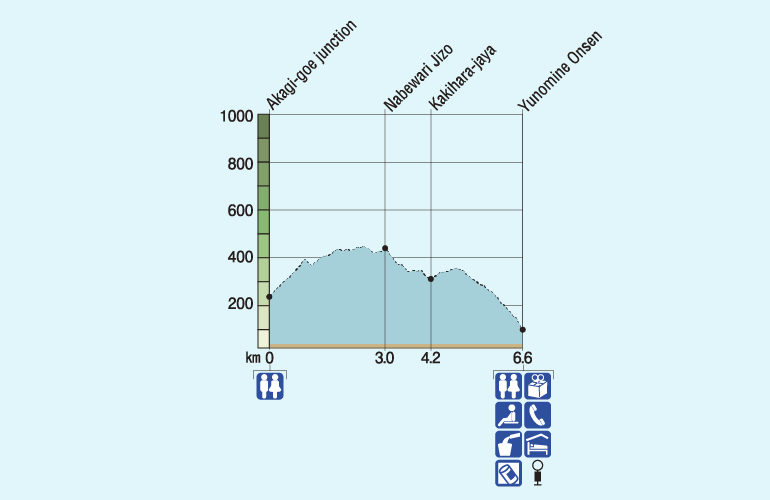 Distancia
~6.5 km (~4.5 mi)
Tiempo
3~4 hrs
※Walking times vary. Please plan accordingly.
Nivel de dificultad
2  What is difficulty rating?
Desnivel positivo total
~460 m (~1500 ft)
Desnivel negativo total
~320 m (~1050 ft)
Acceso
Horarios de autobuses locales
Los autobuses llevan a / desde Yunomine Onsen todos los días desde Tanabe: horario de autobuses n. ° 1 (en dirección este), horario de autobuses n. ° 2 (en dirección oeste). Los autobuses hacia / desde Hosshinmon-oji y Kii-Tanabe también pasan por Nakahechi, Yunomine Onsen, Kawayu Onsen y Hongu. Horario de autobús n. ° 6. Consulte también el horario del autobús n. ° 1.
Parada de bus más cercana
Yunomine Onsen, Hosshinmon-oji.
Alojamientos
Mapas de ruta
Mapas de área
Nakahechi Route Guide List
Nakahechi Route Main Sections
Hongu Sub-route
Other Nakahechi Route Sub-sections