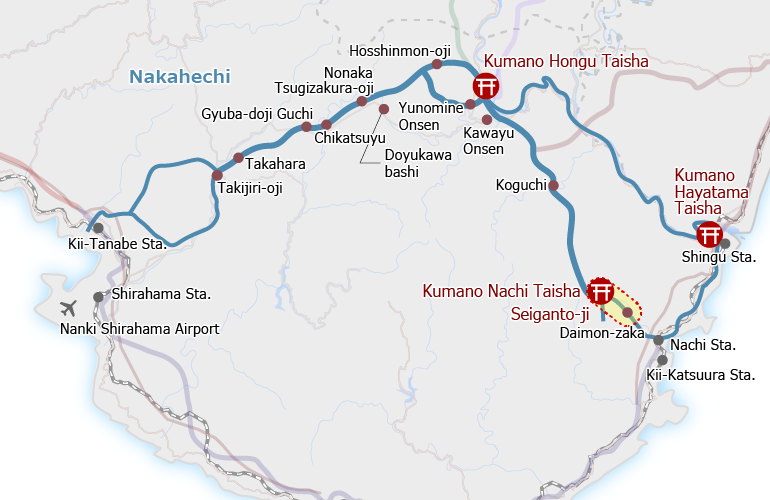 Visión general
Daimon-zaka
(Kumano Nachi Taisha Area)
Daimon-zaka es una impresionante pendiente de escalera de adoquines que va desde la base del valle hasta Kumano Nachi Taisha, Seiganto-ji y la cascada Nachi. Está bordeado de centenarios cedros japoneses (cryptomeria), árboles de alcanfor y bosques de bambú. Daimon-zaka significa «pendiente de puerta grande» refiriéndose a la puerta que una vez estuvo cerca. Este es un excelente paseo por la ruta de peregrinaje de Kumano Kodo.
La escalera real tiene unos 600 metros de largo con 267 escaleras. Al final de la pendiente se encuentra el impresionante Meitosugi – «árboles de cedro marido y mujer», cuyas raíces se entrelazan bajo el camino. Muy cerca se encuentra el Daimon-zaka Chaya, donde puedes alquilar kimonos del período Heian, ideales para algunas fotos conmemorativas. Cerca de la cima de la pendiente, puedes echar un primer vistazo a las impresionantes cataratas Nachi.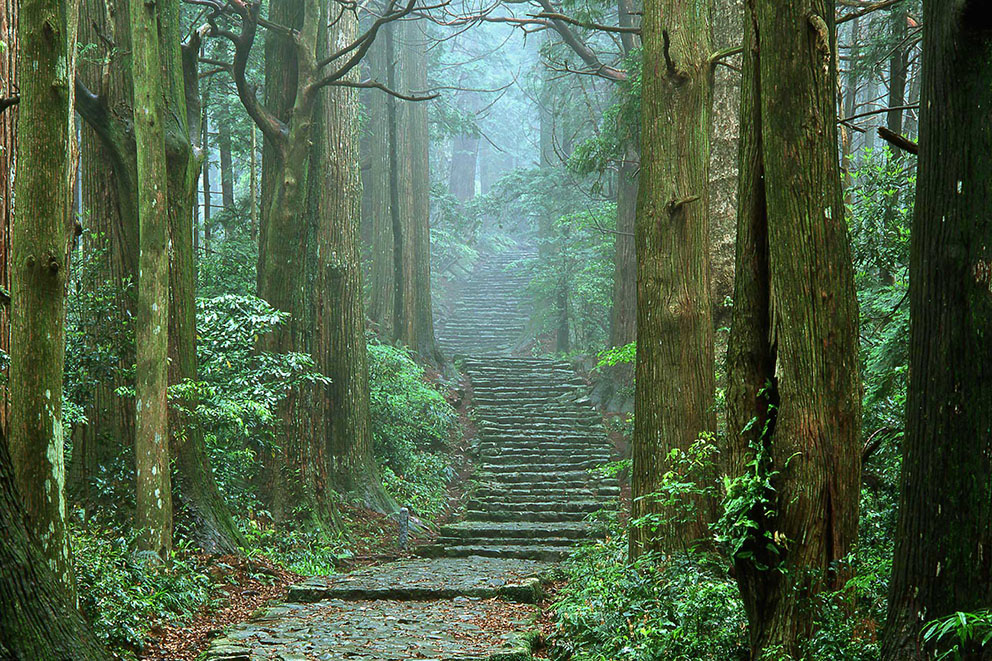 Datos del recorrido
Distancia
~ 1 km (solo distancia de pendiente, caminata más larga al visitar los santuarios y cascadas)
Tiempo
~ 30 min
※Walking times do not include breaks and are based on the abilities of a healthy walker, without a pack, in good weather. Please plan accordingly.
Nivel de dificultad
1.5  What is difficulty rating?
Acceso
Horario del autobús:
Buses run from Kii-Katsuura via Nachi Station to the base of Daimon-zaka slope daily (20 min). Use Bus Timetable No. 8.
Parada de bus más cercana
Daimonzaka (base of slope), Kumano Kodo (one third up slope), Nachisan (top of slope).
Alojamientos
Mapas de ruta
Mapas de área
Nakahechi Route Guide List
Nakahechi Route Main Sections
Kumotori-goe Sections (Ukegawa to/from Nachisan)
Other Nakahechi Route Sub-sections