Visión general
Kii-Tonda Station to Mika-gawa Bus Stop
El acceso al sendero comienza desde la estación Kii-Tonda a través del pueblo, cruzando el río Tonda-gawa, a través de un terreno rural variado de terrazas de arroz y casas para encontrar el camino al templo Sodo-ji. Alrededor del templo a la derecha está la entrada al sendero Tonda-zaka.

Pase dos propiedades patrimoniales registradas de los restos de Ichiri-matsu (donde solía estar un antiguo hito) y el castillo de Umantani.

Suba por el sendero montañoso hasta el paso Agotsujimatsu-toge para disfrutar de una vista magnífica antes de que el sendero descienda por un camino forestal mixto de grava y pavimento hasta el fondo.

El sendero continúa hacia lo que solía ser el asentamiento de Ago.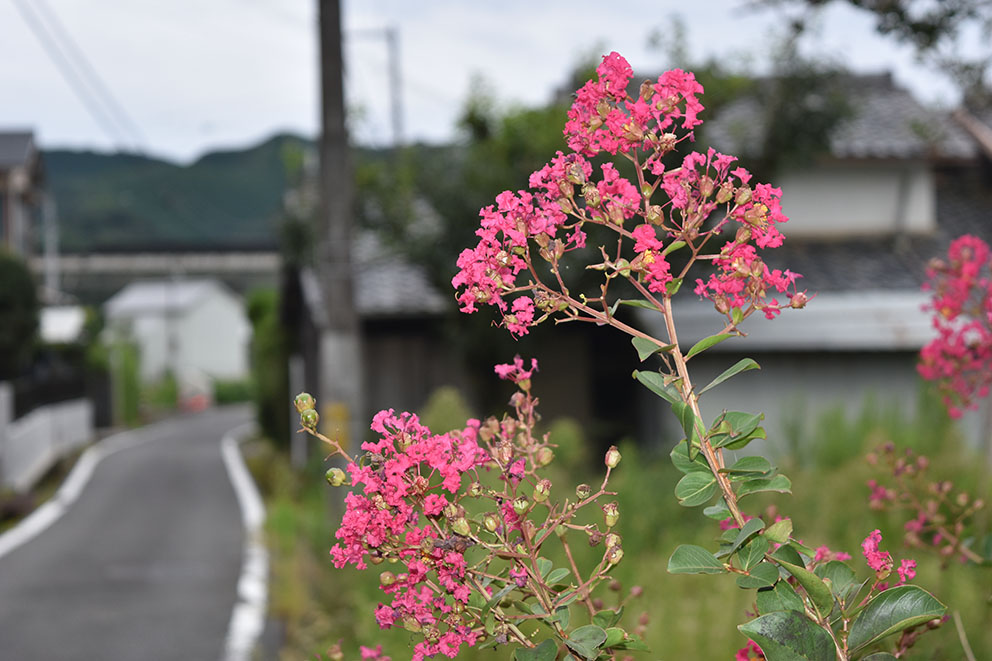 Datos del recorrido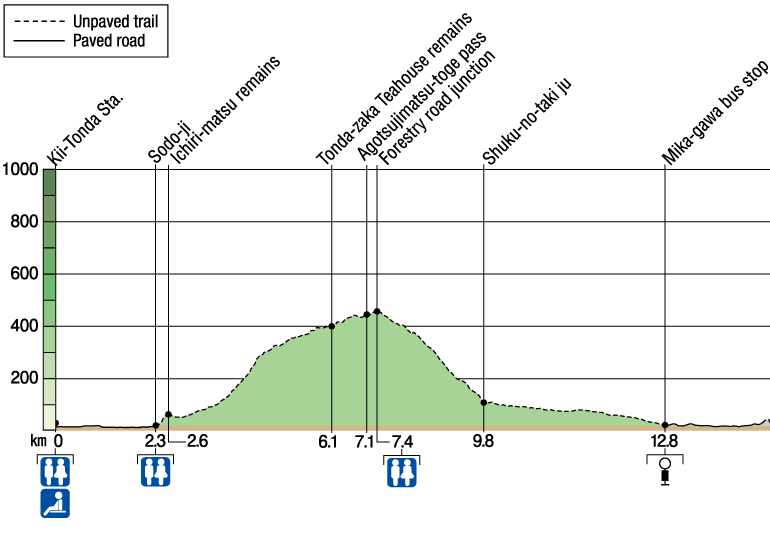 Distancia
~13 km (~8 mi)
Tiempo
4~5 hrs
※Walking times vary. Please plan accordingly.
Nivel de dificultad
What is difficulty rating?
Desnivel positivo total
~470 m (~1500 ft)
Desnivel negativo total
~515 m (~1700 ft)
Acceso
Walking, Taxi, Community Bus (see below)
Parada de bus más cercana
Kii-Tonda, Kii-Hiki
Kii-Hiki & Mika-gawa Access Options
It is possible to walk Tonda-zaka in either direction. It can also be done in conjunction with the Hotoke-zaka section for a long 26-km day.

Please note on the Route Map below that the southern trailhead is located inland from the Kii-Hiki Station.

There is limited public transportation in this area so the two most common ways to connect the Kii-Hiki station and trailhead near the Mika-gawa Bus Stop is by taxi or walking.

Taxi and community bus reservations must be done in Japanese.
On-foot
| | |
| --- | --- |
| Route | Kii-Hiki Station to Mika-gawa community bus stop, on Prefectural Road No. 37 |
| Distance | ~5 km (~3 mi) |
| Time | ~1.5 hrs ※Walking times vary. |
| Total Elevation Gain | ~90 m (~300 ft) |
| Total Elevation Loss | ~80 m (~260 ft) |
Taxi
There is only one taxi based here and the driver is on holiday on Sundays and national holidays. It is best to call in advance to make a reservation (Japanese only). If you plan to use a taxi it is often easiest to take the train in the morning to Kii-Hiki and walk from south to north. The taxi can then be reserved to correspond to the train arrival time.
| | |
| --- | --- |
| Route | Kii-Hiki Station to Ago area. |
| Company | Meiko Taxi, Kii-Hiki Station Office |
| Telephone | 0739-52-2511 (Japanese only) |
| Estimated Price | ~2000 yen ※ Price will vary. |
Community Bus
NOTE: Limited bus times with reservations needed for most departures. Does not run on Sundays or national holidays. Call the reservation line of Meiko Taxi for the Shirahama Town Community Bus (Sanmai Line) directly for information (Japanese only) at 0739-42-2727.
300 yen ※ Price subject to change.
Accommodations
Route Maps
Ohechi Route Guide List