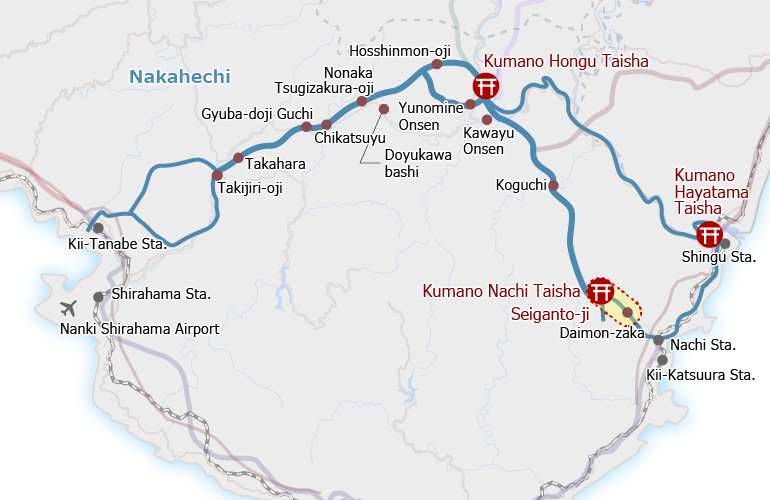 Aperçu
Daimon-zaka
(Zone de Kumano Nachi Taisha )
Daimon-zaka est un impressionnant escalier de pierres menant de la base de la vallée jusqu'au sanctuaire de Kumano Nachi Taisha, Seiganto-ji et la chute de Nachi. Il est entouré d'arbres centenaires, cèdres japonais (cryptomeria), camphriers et bosquets de bambou. Daimon-zaka signifie « grand portail d'ascension » faisant référence au portail qui était érigé tout près jadis. Ce tronçon est une excellente petite randonnée sur les chemins de pèlerinage de Kumano Kodo.

There are toilets, vending machines and walking sticks to borrow at the Daimon-zaka parking lot bus stop.

L'escalier lui-même mesure environ 600 m de long et est composé de 267 marches. À la fin de la montée se trouve l'impressionnant Meitosugi – « cèdre mari et femme », dont les racines s'entremêlent sous le sentier. Tout près se trouve le Daimon-zaka Chaya, où il est possible de louer des kimonos de l'époque Heian, parfait pour des photos souvenir. Près du sommet de l'escalier, vous pouvez apercevoir les formidables chutes d'eau de Nachi.

At the top of Daimon-zaka, you can continue upstairs another 20 minutes to the shrine complex area and visit Kumano Nachi Taisha, Seiganto-ji Temple. It is probably best to climb the stairs to the shrine grounds first, and then walk down beside the pagoda to the falls.

There are some souvenir shops along the way and at the top as well as some small restaurants.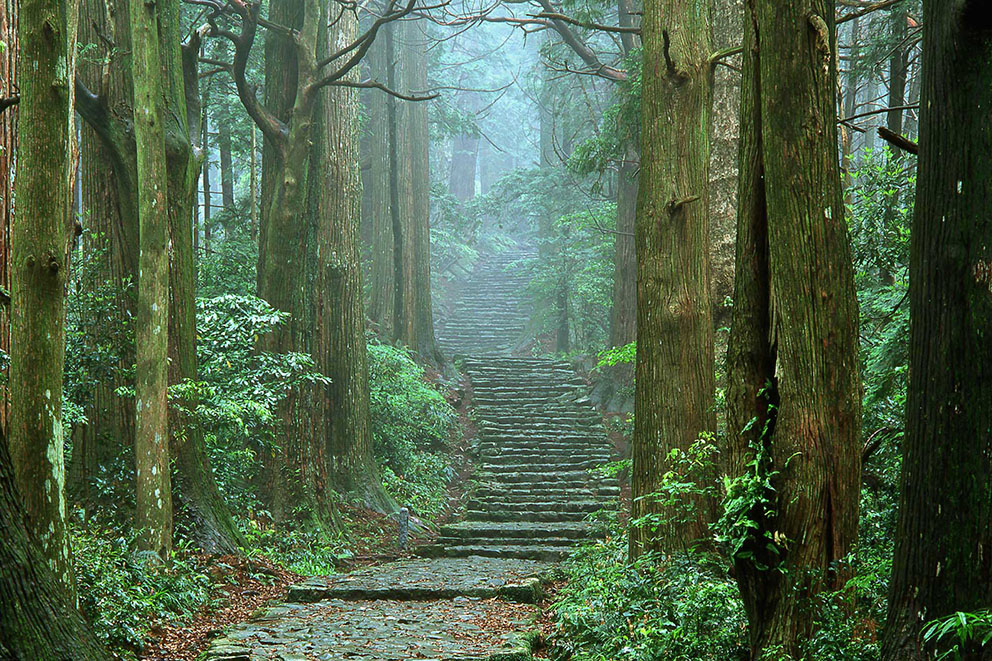 Données de la course
Distance
~1 km (only distance of slope, longer walk when visiting the shrines and falls)
Durée
~ 30 min
※Walking times do not include breaks and are based on the abilities of a healthy walker, without a pack, in good weather. Please plan accordingly.
Niveau de difficulté
1.5  What is difficulty rating?
Accès
Horaires des bus.
Buses run from Kii-Katsuura via Nachi Station to the base of Daimon-zaka slope daily (20 min). Use Bus Timetable No. 8.
Arrêt de bus les plus proches
Daimonzaka (base of slope), Kumano Kodo (one third up slope), Nachisan (top of slope).
Hébergements
Cartes des routes
Cartes des environs
Liste des guides de la route de Nakahechi
Section principale de la route de Nakahechi
Portion principale de la route de Nakahechi
Portion de la route de Kumotori-goe (Ukegawa à Nachisan)
Autres portions de la route de Nakahechi