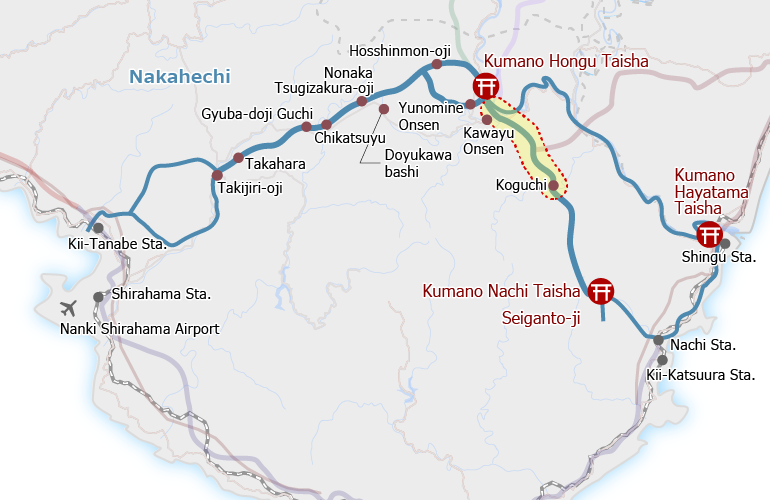 Aperçu
Kogumotori-goe
(Entre Koguchi et Ukegawa à Hongu, dans les deux sens)
Les sections Kogumotori-goe et Ogumotori-goe des chemins de pèlerinage de Kumano Kodo relient le Grand Sanctuaire de Kumano Nachi Taisha et les environs de Hongu. Ces chemins sont communément empruntés dans les deux directions. Il n'y a pas de restaurant le long des sentiers, il est donc préférable d'apporter son propre repas.

The Kogumotori-goe is the lesser of two more challenging walks along the Nakahechi Route.

It is a climb and descent over a pass, and is mostly in the forested mountains.
Kogumotori-goe Walking Options
Walking South from Hongu to Koguchi

This can be the first day of a two-day hike from Hongu.

The trailhead is located in Ukegawa next to the Kumano-gawa river on Route 168. There is a public toilet about 100 meters east down and across the road. The trail starts off passing by a set of houses.

The trail sometimes passes through stands of cedar and cypress, other times native forest on lovely ridges. It is a gradual and continuous climb to Hyakken-gura, where pilgrims have stopped and observed the Kii Mountain peaks for over 1,000 years.

Just after Hyakken-gura is a forestry road junction. If you turn right and walk a short ways, there is a toilet facility. From the forestry road junction, the trail rises and falls to the scenic overlook from Sakura-jaya teahouse remains, a great place to eat or take a break.

After that, the trail descends rapidly into the valley below to Koguchi located along the Akagi-gawa River. Be careful on the short, but slippery, cobblestone steps near the base of the slope. The moss-covered steps can be treacherous, especially when wet. Look for the small prayer tablets left at the base of the slope by Yamabushi mountain ascetics.

Cross the bridge from there to Kowaze. Turn right and walk a kilometer to Koguchi Village.
Walking North from Koguchi to Hongu
From the small village of Koguchi, the trail follows Highway #44 to the Kowase Bridge, where it crosses the Akagi-gawa River. The trail passes by a few houses and then into the forest. It is a continuous climb to the lookout point at the remains of the Sakura-jaya Teahouse.

Le sentier comporte quelques montées et descentes modérées en plus des tronçons de randonnée sur crête de montagne. Le belvédère Hyakken-gura offre une vue panoramique des montagnes sacrées de Kumano et est l'un des endroits marquants de Kogumotori-goe. Le sentier redescend progressivement vers Ukegawa sur les berges de la rivière Kumano-gawa.

De là, une marche de 30 minutes le long de la route 168 mène à Kumano Hongu Taisha. Kawayu Onsen est situé à 25 minutes de marche de ce point, le long de la rivière Oto-gawa.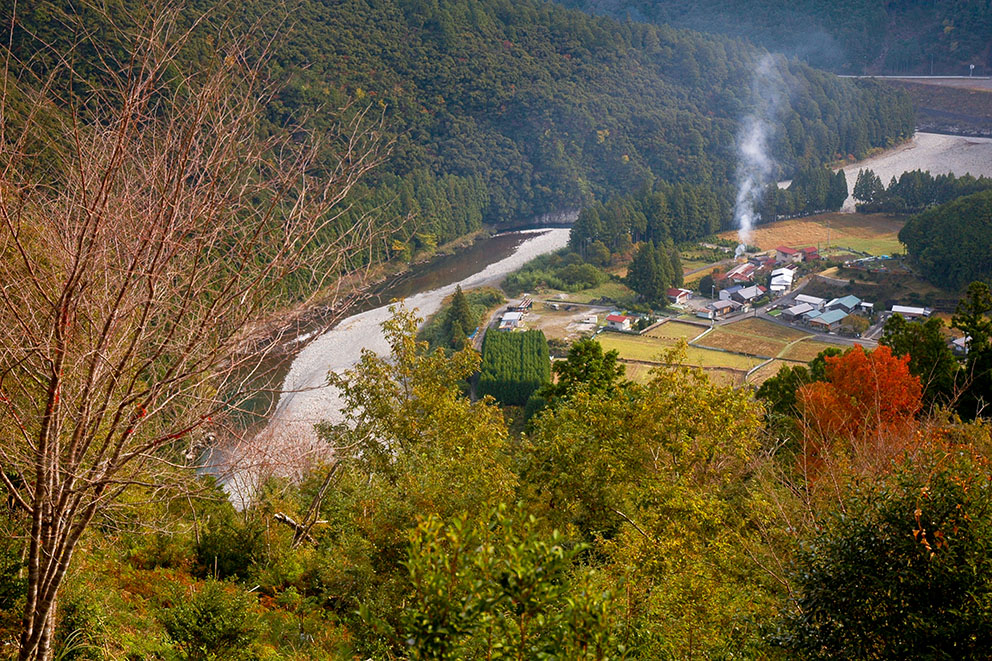 Début du sentier de Kogumotori-goe à Ukegawa
Ukegawa est un petit village où la rivière Oto se jette dans la rivière Kumano-gawa. Le sentier (extrémité nord de Kogumotori-goe) est situé au sud de l'agglomération le long de la route 168.

Il est possible de marcher ou de prendre le bus de/vers Yunomine Onsen, Wataze Onsen, Kawayu Onsen ou le village de Hongu.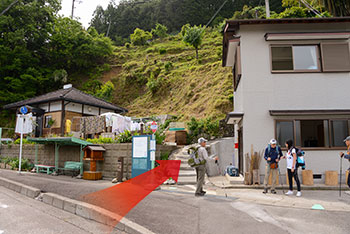 Bus and Walking Times / Distances from Area Accommodations to Ukegawa
| à partir de | En bus | à pieds | Km |
| --- | --- | --- | --- |
| Kumano Hongu Taisha | 5~20 min (Depends on bus) | ~45 min | ~3 |
| Kawayu Onsen | 5 min | ~25 min | ~2 |
| Watarase Onsen | 6 min | ~45 min | ~3.5 |
| Yunomine Onsen | 10 min | ~2 hrs via Dainichi-goe to Hongu | ~5 |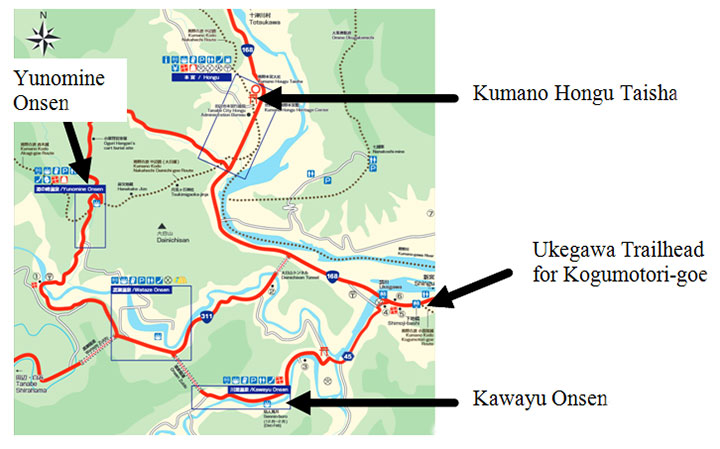 Yamazaki shop (épicerie Shimoji)
Ce magasin est situé entre l'arrêt de bus de Ukegawa et le début du sentier de Kogumotori-goe. Vous pouvez vous y restaurer, acheter quelques encas avant de commencer votre randonnée.
Heures d'ouverture: 8h-19h
(peut ouvrir plus tôt parfois)
Fermé:le mercredi
(depuis avril 2016)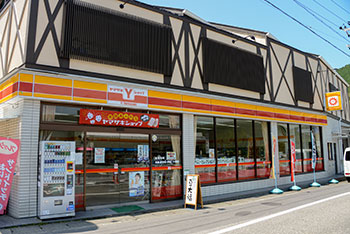 Données de la course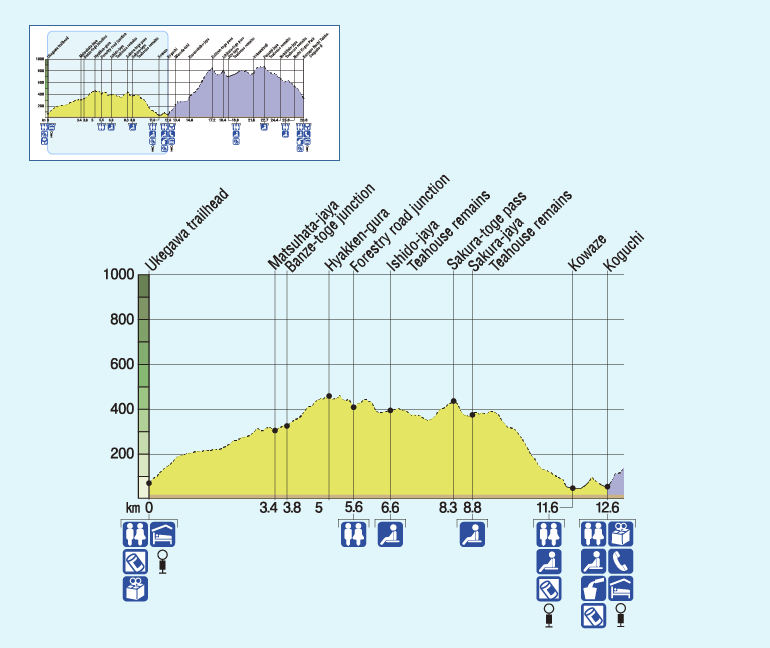 Distance
~13 km (~8 mi)
Durée
4.5~6 hrs
※Walking times vary. Please plan accordingly.
Niveau de difficulté
4  What is difficulty rating?
Altitude maximale totale
~670 m (~2200 ft)
Altitude minimale totale
~690 m (~2260 ft)
Accès
Horaires des bus.
Des bus circulent de/vers Koguchi, Shingu et Hongu. Notez bien que certains bus ne sont en opération que certains jours, et qu'il vous faudra peut-être faire un transfert à Kanmaru : horaires de bus #5. Plusieurs trajets de bus s'arrêtent à Ukegawa. Les bus de/vers Tanabe : horaires de bus #1 (vers l'est), horaires de bus #2 (vers l'ouest). De Shingu : horaires de bus #3 (vers le nord), horaires de bus #4 (vers le sud).
Arrêt de bus les plus proches
Koguchi, Ukegawa (début ou arrivée).
※ Kowase is the closest bus stop to the Kogumotori-goe trailhead in Koguchi. Koguchi Bus Stop is the closest to the Ogumotori-goe trailhead.

Accès à Koguchi en transports en commun
Des bus circulent de/vers Koguchi. En provenance de Hongu, il est nécessaire de changer de bus à Kanmaru.

Quelques bus relient directement Shingu et Koguchi, mais parfois un changement de bus à Kanmaru est nécessaire (voir photo de droite).

REMARQUE : les horaires de bus peuvent varier en fonction du jour de la semaine.

Horaires de bus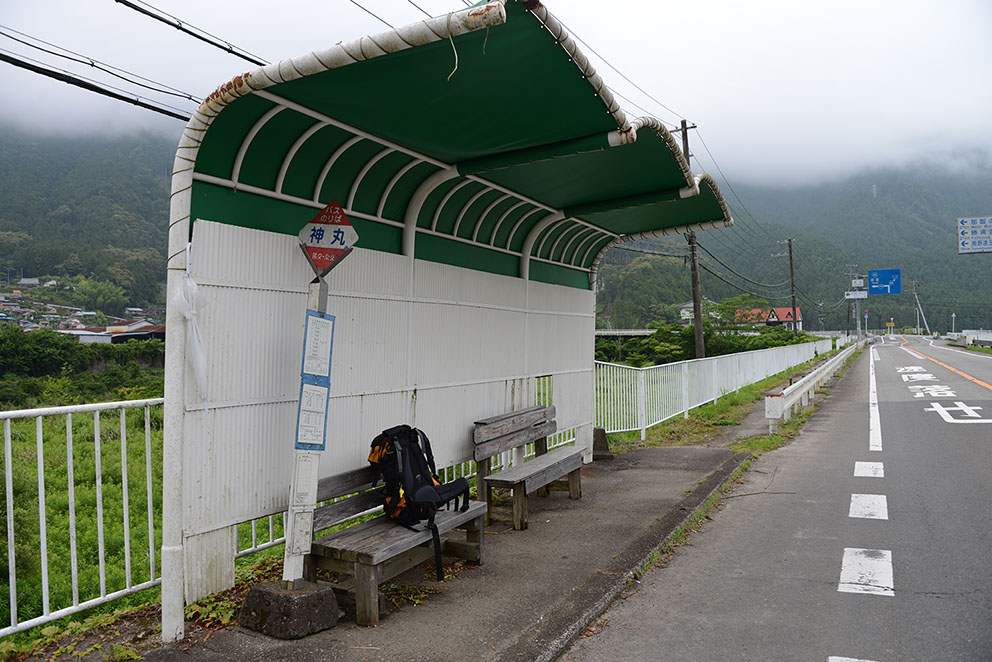 Hébergements
Concernant les hébergements à Koguchi ?
There are limited rooms in the tiny Koguchi settlement. If there is no accommodation available then taking an early morning bus to Koguchi from Hongu or Shingu and then walk back to the Ukegawa trailhead in Hongu is recommended.

The earliest bus departing from Hongu Taisha-mae Bus Stop is at 6:45. This bus passes through Yunomine, Wataze and Kawayu onsen areas and eventually to Kanmaru (transfer) and then to the Kogumotori-goe trailhead at Kowaze.
Cartes des routes
Cartes des environs
Nakahechi Route Guide List
Liste des guides de la route de Nakahechi
Section principale de la route de Nakahechi
Autres portions de la route de Kumotori-goe
Autres portions de la route de Nakahechi