Audioguide du Kumano Kodo
L'Audioguide du Kumano Kodo est un excellent outil pour vous aider à découvrir le paysage culturel du Patrimoine Mondial de Kumano. Ce guide audio présente la religion, l'Histoire et la culture de la route de pèlerinage Kumano Kodo de Takijiri-oji au Grand Sanctuaire Kumano Hongu Taisha. Les fichiers mp3 et la brochure sont téléchargeables gratuitement !
Le paysage culturel de Kumano est riche et complexe. Cet Audioguide a été conçu pour vous aider à déchiffrer ce paysage spirituel tout en marchant sur les chemins de pèlerinage de la portion sud de la péninsule de Kii. Cet Audioguide plaira particulièrement à ceux qui désirent explorer plus en profondeur cette unique culture des montagnes.
Cet Audioguide est destiné à être utilisé de paire avec la brochure d'une page et le livret Kumano Kodo Pilgrimage Map Booklet. La brochure de l'Audioguide n'est qu'un tracé général des routes incluant les endroits où il est suggéré d'écouter les pistes.
Liste des pistes de l'Audioguide
Audioguide Machi-Navi de la ville de Tanabe

L'Audioguide de la Ville de Tanabe est un excellent moyen de faire l'expérience de la culture locale, de l'histoire et du style de vie des gens de la ville. Cet Audioguide couvre principalement le quartier autour de la gare JR de Kii-Tanabe, mais traite aussi de l'Aikido, des légendes locales et de la cuisine de la région.
Cet Audioguide vous permettra d'en découvrir plus sur cette intéressante ville.
Qu'est-ce-que c'est ?
L'Audioguide Machi-Navi est un tour guidé à pied ou à vélo de la ville à l'aide d'un lecteur mp3. 21 sites historiques et culturels importants se reportant aux 21 pistes du lecteur mp3 sont identifiés et numérotés à l'aide de plaques. Pour écouter le dialogue traitant d'un site, il suffit de choisir la piste portant le même numéro, et le tour est joué ! En une heure environ vous devriez pouvoir faire l'expérience de la plupart des 21 sites. Cependant, ceci est un tour guidé indépendant et à votre propre rythme. Il est donc difficile d'en estimer la durée exacte, car elle dépend aussi du moyen de transport que vous choisissez.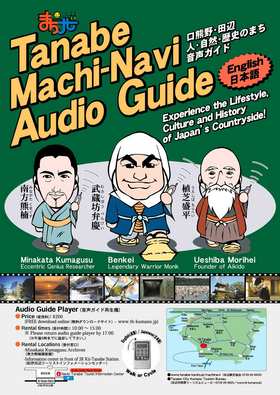 When?
-Audio Guide Players are available for Rental from 10:00-15:00. Return by 17:00.
Where?
-You can pick up an Audio Guide Player at the Tanabe Information Center in front of JR Kii-Tanabe Station.
Cost?
-Only 200yen for the Audio Guide Player Rental. Free download from our website!
Liste des pistes de l'Audioguide.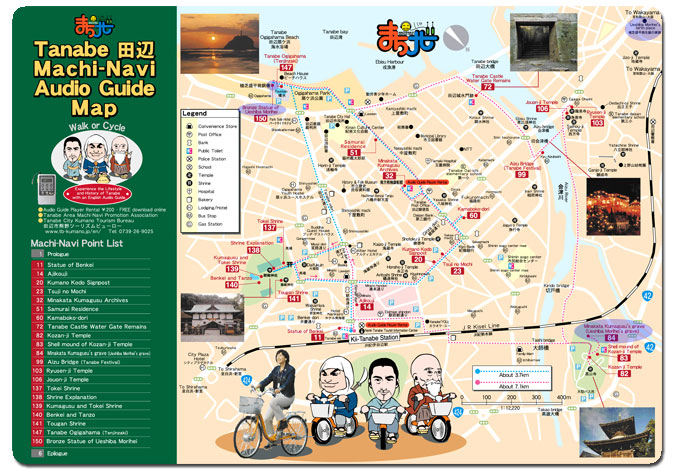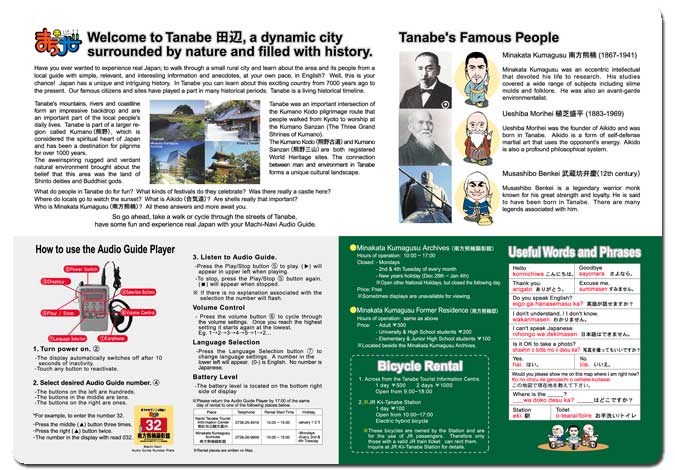 Link