About Us
On May 1st, 2005, Tanabe City amalgamated with 4 rural municipalities to create the largest city in area in this part of Japan (1026 square km, population of 84,000). Each area still has its local Tourism Association, but to promote the newly enlarged city in its entirety, on April 1, 2006, the Tanabe City Kumano Tourism Bureau was formed.
Our Goal
Our goal is to make quality information available for independent travelers and small groups to safely and efficiently travel through this unique part of the world and to experience all of the wonders it has to offer along the way. By focusing on low-impact visitors, we aim to create a sustainable tourism destination that will help preserve the UNESCO World Heritage Cultural Landscape of Kumano for future generations.
How can you help
We wish that you travel with a high standard of cultural and environmental sensitivity, as well as support the small local businesses as much as possible. Thank you for your much-needed cooperation in helping with our mission.
Awards & Accolades
| | |
| --- | --- |
| 2023 | Japan Tourism Awards: Special Jury Award |
| 2023 | Japan Tourism Agency: A-class Pioneering DMO Selection |
| 2023 | Japan Travel Awards: Best Sustainable Travel |
| 2021 | Lonely Planet Best in Travel 2021: Readers' Choice Awards Sustainability Winner |
| 2020 | Prime Minister's Awards for the Hometown Development Grand Prize |
| 2019 | Japan Tourism Awards: Japan Tourism Agency Commissioner Award |
| 2019 | Japan Tourism Awards: Special Award for DMO Promotion |
| 2018 | Japan Tourism Agency Commissioner Award |
| 2018 | Lonely Planet's Best in Travel 2018: Top Region |
| 2018 | Minister of Economy, Trade and Industry: Selected Regional Business Development Organization |
| 2017 | Featured Case Study at UNWTO 2nd International Conference on Rural Tourism |
| 2017 | Cabinet Office Cool Japan Ambassador |
| 2015 | Long-listed for World Responsible Tourism Award: Best Cultural Heritage Attraction |
| 2014 | Featured Presenter at 1st UNWTO International Congress on Tourism & Pilgrimages |
| 2012 | World Travel and Tourism Council, Tourism for Tomorrow Awards: Destination Stewardship Finalist |
| 2012 | Wakayama Prefecture Tourism Merit Award |
| 2010 | Ministry of Internal Affairs and Communications Regional Development Award |
| 2009 | JTB Culture Exchange Award—Excellence Prize |
| 2009 | Yomiuri Shimbun 100 Landscapes of Heisei Sites Travel Itinerary Merit Award |
Details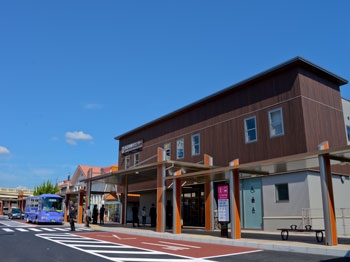 Address:
1-20 Minato, Tanabe City, Wakayama Prefecture, 646-0031, JAPAN
(Second floor of Tanabe Tourist Information Center next to the JR Kii-Tanabe station)
Phone:
0739-26-9025
FAX:
0739-26-5820
Office Hours:
Weekdays 9:00 to 17:00, Japan Standard Time. Closed weekends and national holidays.
Access Map
Copyright
Unless otherwise specified, the copyrights to text information on this website belong to the Tanabe City Kumano Tourism Bureau. Photos and other images belong to either the photographer or the Tanabe City Kumano Tourism Bureau. This website was created only to provide information. The information found here may not be copied or used whether in part or whole without the expressed permission of the Tanabe City Kumano Tourism Bureau. All information on this website is valid at the time it is posted and is sequentially updated and edited, therefore the Tanabe City Kumano Tourism Bureau does not guarantee the accuracy of this information.
It is strictly forbidden to link to this website from sites that contain slanderous or adult content. Also, frame links and other formats that do not identify the content of this site are forbidden. To publish any of the information on this website in magazines, books or advertisements, contact us in advance.
Personal information acquired via e-mail or telephone conversations is used only for providing information or making contact when necessary.