Helpful Tips & Hints for Walking the Kumano Kodo
Detours and Closures
Trails and roads along the Kumano Kodo are occasionally closed due to landslides or weather-related difficulties. Check here for detour and closure information provided by local officials.
NOTE: Sudden inclement weather occurs and may affect trail and road conditions severely. It is good to check with a weather service (see links below) and with your accommodation each day before you depart.
CLOSED: Choishi-michi: Jison-in Temple in Kudoyama to Yatate from July 3, 2023
For detour and closure information regarding the Choishi-michi, Nyonin-do, please contact the Koyasan Tourist Information Center.
DETOUR: Kohechi Route: North side of Obako-toge Pass from May 2, 2023
The main trail on the north side of the Obako-toge pass has experienced a landslide, so please follow the detour over the peak.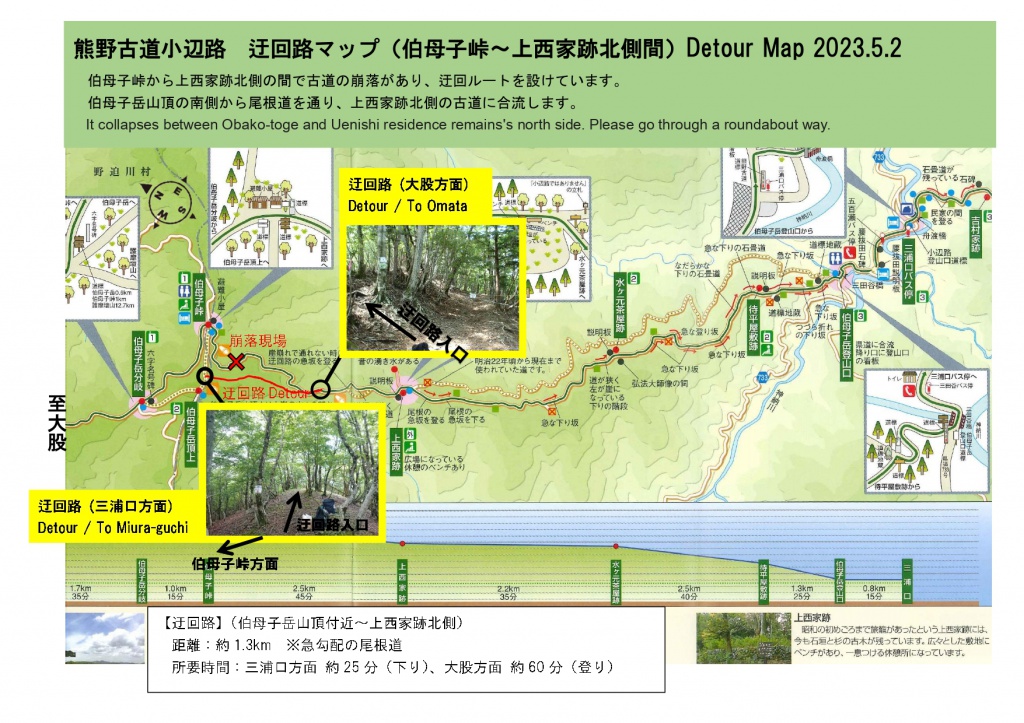 CLOSURE: Ohechi Route: Between Wakubuka Station and Tako Station June 1, 2023 to June 2024 (estimated)
The Kumano Kodo Ohechi route is closed in a southern section because of express highway construction. Please bypass this section via train or bus.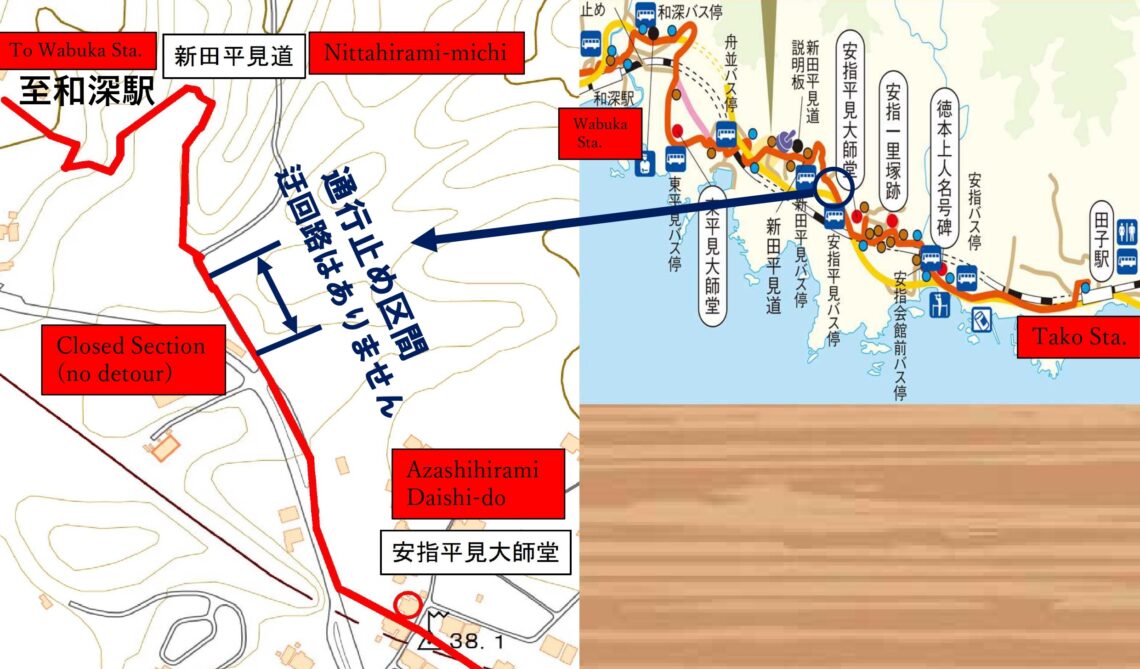 Koyasan, Choishimichi Trail Information
For trail information about the Choichimichi, Nyonindo, etc, near Koyasan, please contact the Koyasan Tourist Information Center directly.
Preparation
Essential Guidelines
Route Difficulty
Weather & Daylight
Clothing & Footwear
Reservations
Essential Guidelines
● CHOOSE the route that fits your abilities. Do some research to familiarize yourself with the trails and seasonal conditions.
● FIND a pilgrimage partner. Walking with another person is recommended as they can help if something goes wrong.
● CHECK the weather before your walk.
● TELL someone about your walk.
HINT: Using the local KUMANO TRAVEL Community Reservation System for all bookings is an easy way to register your trek with the local authorities.
● GET in shape. Being in good physical conditional will add to the enjoyment and safety of your pilgrimage.
● PRACTICE with walking poles before your walk.
● DRESS appropriately including broken-in hiking/walking shoes. Good footwear is essential. Avoid cotton clothes and dress in layers.
● PACK light.
HINT: Using a daily luggage shuttle service provider to lighten your load.
● LOAD a well-fitting pack to distribute weight.
● PREPARE alternative plans. Know escape routes and ways to skip or shorten the walk if necessary.
Route Difficulty
The Kumano Kodo is a diverse mountain route with a mixture of unpaved, uneven trails, ancient cobblestones and stairs, and paved roads through villages.

There are many steep climbs and ascents. The route is not technically difficult, but it is physically challenging. People often underestimate the difficulty of the walk as they do not anticipate the steep climbs. Switchbacks are not common.

The amount of preparation needed depends on which sections you walk, the season you visit, and your personal level of experience and fitness.

Getting in shape before coming will make the trek more enjoyable.

Stretch! Sitting on floors is common at traditional inns, so having limber limbs will make it more comfortable.

Please plan accordingly to fully, and safely, enjoy your pilgrimage walk. Proper preparation is the essential.
Weather & Daylight
Overview
Tanabe City is mostly located in the historical Kumano area in the south of the Kii Peninsula. The Kii Peninsula is the most southern point of Honshu, the main island of Japan and therefore quite mild all year round.

It is an area with abundant rainfall that has nourished the area with lush forests and a plethora of beautiful clear rivers and magnificent waterfalls.

The Nakahechi route is open year-round. The weather in the southern portion of the Kii Peninsula is generally mild. The winters can see some freezing temperatures, and snow falls rarely at the higher elevations, usually melting quickly. Summers are often hot, humid, and wet. Spring and fall are popular seasons on the trail.
※ Weather can change rapidly in the Kumano mountain environment.
※ Please be prepared, especially for rain.
Typhoon
Typhoons can be unpredictable, and officials are uncertain how the storm will affect the area.
If you would like to know more information typhoons, here are some links to weather information.

Japan Meteorological Agency
NHK World News

Sometimes, JR trains do not run or are behind schedule because of typhoons, so please double check the train schedule.
JR West

For the most updated situation about JR trains, please ask an officer at the JR ticket office "Midori-no-Madoguchi" or any tourist information center at the main station.
Weather Links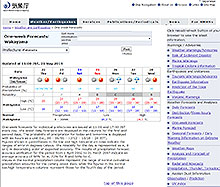 Site with weather forecasts and up-to-date weather warnings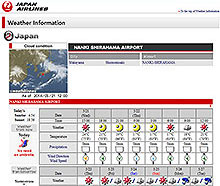 Nanki Shirahama Airport area weather.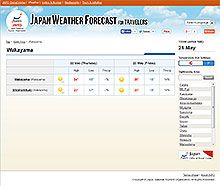 Japan weather forecast for travelers.
Weather Data
Tanabe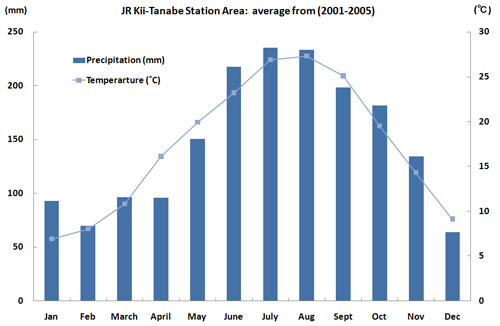 Nakahechi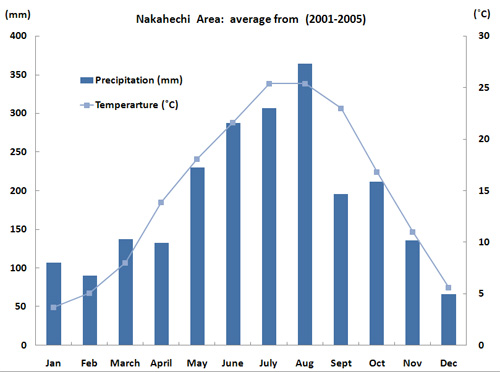 Hongu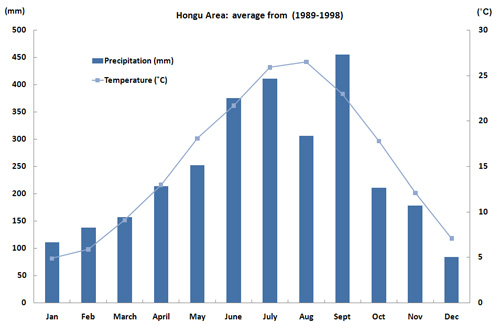 Daylight Data
Daylight times vary greatly, with winter having the shortest days. It is always best to leave early to arrive early, and be aware when sunset is so as not to get stuck in the dark while still on the trail.

NOTE: It gets darker earlier in the valleys where most of the villages are located.
Sunrise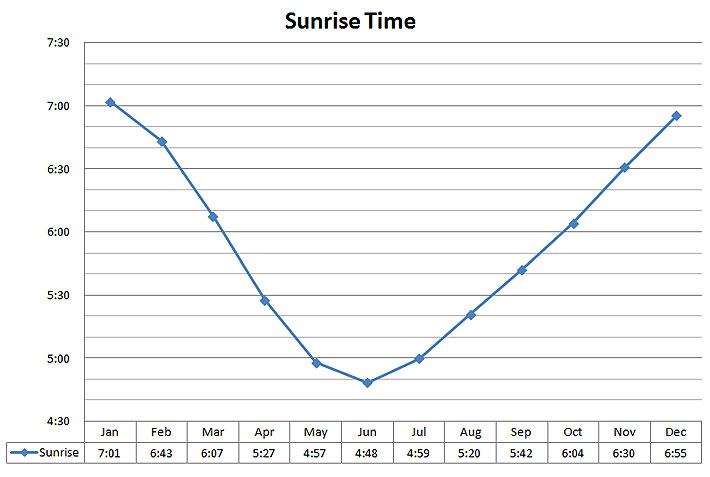 Sunset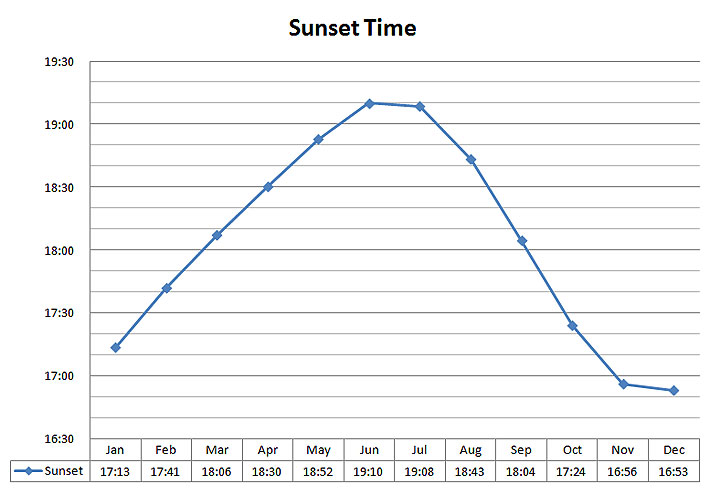 Clothing & Footwear
Proper clothing and footwear are essential, especially if you are planning for a multi-day trek. Review the average temperatures for the time of your walk and be prepared for seasonal variability.

Dressing in layers in clothes that dry easily is recommended. Avoid cotton. Sturdy, worn-in footwear is essential.
Essential Gear
The type of gear that you will need varies with the duration and extent of your walk. The following is a general list of recommended items.
● Day pack. with rain cover
● First-aid Kit. Including blister prevention and treatment aids.
● Map. Paper copies are available at information centers.
● Rainwear. The area has high rainfall. A folding umbrella is convenient.
● Light Source. Such as headlamp or flashlight.
● Sun Protection. Had, sunscreen, sunglasses, etc.
● Liquids. Have enough water, especially in the hotter seasons.
● Cellphone and Battery Charger. A portable wifi router is convenient and can be rented at all international airports.
● Insect Repellent. Especially during the hotter months.
● Collapsible walking poles ※
● Camera
※Walking poles can aid balance and take pressure off the knees.
Reservations
Please be aware that just walking up to accommodations is not common in Japan. Pre-booking accommodations is very important and recommended, especially in the mountains for some of the reasons below.

● The Kumano Kodo pilgrimage routes run through an isolated, mountainous region, so planning is important.
● There are limited places to stay along the trail, especially in the smaller settlements.
● Accommodations may be full, or not have food prepared for meals, or sometimes closed if there are no reservations on that date.
● English is not widely spoken, so miscommunications can happen onsite.
● There are limited busses in the evening, which makes it difficult to return to the coast if there is no place to stay.

Planning ahead and making reservations will make your trip smoother, safer and more enjoyable.

You can find out more information and make reservations via the KUMANO TRAVEL Community Reservation System. Accommodations list >>
Before Your Trip
Learn Some Japanese
Practice Smiling & Bowing
Guide Book & Pilgrim Pack
Insurance
Kumano Kodo How-to-videos
Learn Some Japanese
Making an effort to speak Japanese is much appreciated by the locals. English is not widely spoken so meeting partway in the middle with the help of gestures is a positive way to make contact and communicate with people you meet along the way.
Practice Smiling & Bowing
A smile and bow can go a long way to breaking the ice with a Japanese person. Staying positive and keeping a good sense of humor will help get over those culture shock hurdles.
Guide Book & Pilgrim Pack
A valuable resource to prepare for your trip is a Pilgrim Pack including the Kumano Kodo Official Guide book.

These can be purchased online or at local information centers including the TANABE Tourist Information Center (book only available for purchase between 9:00 and 17:00 weekdays) next to the Kii-Tanabe station.

Planning before you go can make your experience smoother, safer and more enjoyable.
Insurance
You never know when something could happen. Buy travel insurance and include emergency evacuation if possible.

If you do need to visit a clinic or hospital ask for a receipt and/or hospital form (if possible in English) to submit to your insurer for compensation.
Kumano Kodo How-to-videos
The How-to Kumano Kodo video series describes logistical, cultural, and experiential aspects of the Kumano Kodo pilgrimage route. The goal is to provide visitors information in a visual format to make their trip more enjoyable.
Money
Currency
ATM
Tipping & Bargaining
Currency
The currency in Japanese is the yen, 円¥. Other currencies are not accepted in the countryside.
ATM
Carry enough Japanese yen in cash, as many facilities and service providers do not accept credit cards, and places to exchange money are very limited. If you do need to withdraw money, the ATMs at the post offices are the best option.
Check with your credit card company before your visit to confirm if your credit card is OK to use for withdrawals at Japan Post Bank ATMs.
Tipping & Bargaining
Neither tipping nor bargaining are common in Japan. If you are really happy with the service, for example with a local guide, and want to show your appreciation, place the money in an envelope and give the monetary gift with discretion and sincerity.
On the Trail
Essential Trail Conduct
Tourist Information Centers
Water & Liquids
Meals
Vegetarian Diet
Gluten Free
WIFI
Electricity
Garbage
Camping
Driving
Daily Luggage Shuttle Service
Luggage Storage
Local Guides
Etiquette
Essential Trail Conduct
● PACE yourself. Listen to your body and do not approach the Kumano Kodo as a race, taking breaks when needed.
● WATCH the trail surface, as it is varied and can be slippery.
● LEAVE no Trace. PACK out all garbage. The local bins along the trail are for locals only.
● EAT and DRINK to keep hydrated and your energy up.
● PASS other walkers in a wide and safe part of the trail.
● COMMUNICATE with others when passing to facilitate a safe interaction.
● STAY close to the mountainside of the trail on steeper sections.
● USE walking poles for balance only. Do not put too much pressure on them as they may slip, and you can lose your balance.
● BE aware of where you are. There are numbered signposts along many routes. These are good markers to pinpoint location.
Tourist Information Centers
The network of tourist information centers in the region offer great resources for the most up-to-date information. Please feel free to drop in to chat with the friendly staff during your visit to the area.
Water & Liquids
It is important to carry water or liquids during your trek or walk. Natural water sources along the trail have not been tested. In the villages and settlements are small shops or vending machines where drinks can be purchased.

Especially during the hotter season, it is important to keep well hydrated.

HINT: Fill up your water bottles at your accommodation before departure.
Meals
A trek along the Kumano Kodo is a culinary journey. Meals at the guesthouse and inns are often Japanese-style. Ingredients vary from the coastline to the mountainside often featuring fresh, local ingredients. Rice is a staple and eaten at most meals.

Depending on the accommodation, meals can be served in your guestroom or a communal dining area: sitting at a table or on the floor.

The common dining time is around 18:00. Please make sure to arrive at your accommodation before this. Often arriving at 17:00 gives you time to have a bath, freshen up before the meal, and change into a traditional Japanese yukata robe.

Many accommodations along the Kumano Kodo offer a Bento 弁当 lunch box. These are very convenient for walkers and often consist of rice balls and some side dishes.

If you need your coffee fix, bringing your own instant coffee is convenient. Not all accommodations serve coffee, but all are able to provide hot water.

Open your mind (and mouths!) to try new and delicious foods on your trip.

HINT: Practice with chopsticks before you come!
Vegetarian Diet
Vegetarianism is not common in Japan and often difficult for local accommodations to meet a diversity of requests.

There is a simple vegetarian type chart that is used by the local community reservation system and service providers.
Type A: No meat (beef, pork, chicken, wild meats, etc). Fish, seafood, eggs and dairy products (milk, yogurt, cheese, etc.) may be served.

Type B: No meat (beef, pork, chicken, wild meats, etc). No fish or seafood (shrimp, clams, octopus, squid, etc). Eggs, dairy (milk, yogurt, cheese, etc.) and Katsuo Dashi (fish broth) may be served.

Type C: No meat (beef, pork, chicken, wild meats, etc). No fish, seafood (shrimp, clams, octopus, squid, etc) or Katsuo Dashi (fish broth). Eggs and dairy (milk, yogurt, cheese, etc.) may be served.

Type D: No meat (beef, pork, chicken, wild meats, etc). No fish, seafood (shrimp, clams, octopus, squid, etc) or eggs and dairy (milk, yogurt, cheese, etc.). Katsuo Dashi (fish broth) may be served.

Type E: No meat (beef, pork, chicken, wild meats, etc). No fish, seafood (shrimp, clams, octopus, squid, etc), eggs and dairy (milk, yogurt, cheese, etc.) or Katsuo Dashi (fish broth).

IMPORTANT NOTE: Katsuo Dashi (fish broth) is used for many types of seasoning and is very difficult to remove from traditional Japanese cooking. It is often used in trace amounts and does not make food taste fishy. Most people do not even notice it is being used. If you can deal with trace amounts of Katsuo Dashi fish stock in your meals then it makes it much easier for accommodations to accept reservations.

IMPORTANT NOTE: It is disrespectful to and very difficult for service providers if guests make last-minute dietary needs demands onsite. Please avoid this by making your needs known during the reservation process.
Gluten Free
Gluten-free meal requests are very rare in Japan so difficult for local service providers to accommodate all requests.

If you have a severe Gluten allergy it is often easier to stay without meals and buy or prepare food that meets your needs.
IMPORTANT NOTE: Soy sauce and miso are base ingredients for Japanese cuisine which sometimes contain trace elements of gluten. If you can deal with "gluten reduced" meals that include soy sauce and miso, then there is more chance that the accommodations will accept your reservation.

IMPORTANT NOTE: It is disrespectful to and very difficult for service providers if guests make last-minute dietary needs demands onsite. Please avoid this by making your needs known during the reservation process.
WIFI
Free public WIFI is common in the region.

All of the public information centers, most accommodations, and even some local busses have WIFI.

If you would like WIFI more often, then renting a portable WIFI router at the airport is an excellent option.
Electricity
The voltage in Japan is 100 Volt. Electrical plugs have two, parallel flat pins: Type A.

HINT: bring an adapter if needed, as most accommodations do not have them.
Garbage
There are almost no public garbage cans along the trail. Please carry out all garbage.

Taking a plastic bag to carry your finished bento lunch box is a practical solution. You can throw it out at your next accommodation.
Camping
● The Kumano Kodo is an ancient pilgrimage route with numerous artifacts and sacred sites along the trail. Camping can severely damage these sites, even unintentionally.
● Much of the mountains are privately owned.

Because of these two reasons, camping is frowned upon outside of official camping areas.

There are campsites in Chikatsuyu, Kawayu Onsen, Wataze Onsen, and Koguchi.

IMPORTANT: Please, no open campfires.
Driving
If you plan to rent a car in Japan, make sure to have a valid Japanese or International Driver's License. Confirm that a Japanese translation is or is not needed before you come.

If you do not have an International Driver's License or Japanese Driver's License then the company will not rent the vehicle to you.

It is entirely feasible to travel throughout Japan using public transportation. Trains and busses are affordable and reliable and cover all the areas tourists usually visit.
Daily Luggage Shuttle Service
There are a variety of daily luggage shuttle service companies along the Nakahechi route. This is an excellent way to lighten your load to enjoy the walk. Some conditions apply.

More information >>
Luggage Storage
There are luggage storage facilities at the TANABE Tourist Information Center next to the Kii-Tanabe station and at Torii-no-Mise near the Kumano Hongu Taisha, in Hongu village.
Local Guides
There are local guides who are passionate about Kumano and available to introduce visitors to the unique sites, experiences, and culture of the Kumano Kodo pilgrimage routes.

You can find out more information and make reservations via the KUMANO TRAVEL Community Reservation System.
Etiquette
Please abide by the following guidelines while enjoying the Kumano Kodo.
● Preserve the area as the "heritage of all humankind".
● Respect the faith of past and present worshipers.
● Keep the routes clean—carry out all waste.
● Protect the local flora and fauna—do not remove or introduce animals or vegetation.
● Stay on the routes.
● Be careful with fire—prevent forest fires.
● Be prepared—plan your trip and equip yourself properly.
● Greet others with a smile and warm heart.
Safety
Extreme Weather & Typhoons
Nightfall
Creatures to be Wary of
Slippery Stones & Roots
Heat
Cold
Earthquakes & Tsunamis
Earthquake Flow Chart
Japanese Seismic Intensity Scale
Blisters
Extreme Weather & Typhoons
The Kii Peninsula is one of the wettest areas in Japan. It juts out into the Pacific Ocean in the path of storms.

Heavy rains and winds, especially from typhoons, can cause flash flooding, landslides, and damage from flying debris.

Keep up to date with the weather forecast and avoid walking during extreme weather conditions.
Nightfall
During the late fall, winter, and early spring nightfall is early. Check the daylight hours for the period you are walking, and plan to arrive at your destination before it gets dark.

Leaving early to arrive between 15:00 to 17:00 is a good timeframe to aim for.

Carry a light source for emergency situations.
Creatures to be Wary of
There are a few creatures to be wary of on the Kumano Kodo: Japanese Pit Viper, Giant Centipede, and Asian Giant Hornet.
Japanese Pit Viper
(Gloydius blomhoffii) Mamushi
The Japanese Pit Viper has a classic triangle head of a pit viper and is grey to reddish brown with irregular yellow bands and speckled sides. It is a poisonous snake, so it is best to avoid when sighted. Its length is 40-65 cm. The triangle head is a good way to distinguish the mamushi.
Giant Centipede
(Scolopendra subspinipes mutilans) Tobizu Mukade
The Mukade is a giant centipede (up to 20 cm), and its bite can be painful. They are black with yellow-orange legs. Mukade are active in the hot and humid months and like to hide in hiking shoes, so check your boots in the morning before you put them on!
Asian Giant Hornet
(Vespa mandarinia japonica) Suzumebachi
The Asian Giant Hornet can have a painful sting. If you see a nest, avoid the area. If one flies near you, do not swat at it but stay calm and move away. They can be most aggressive in the fall season.
Slippery Stones & Roots
Most injuries on the Kumano Kodo are from slips and falls on the stone and root-lined trails. The old cobble steps are particularly slippery when wet.
Please take your time and be careful where you step.
Heat
The summer season can be hot and humid, so be aware of heat exhaustion. Begin your hike early in the morning to avoid the midday heat. Drink lots of fluids and cover up with a hat and sunscreen.
It is tempting to walk in shorts, short-sleeved shirt, and sandals, but it is best to wear lightweight pants, a long sleeve shirt and sturdy walking shoes, as the hot weather brings out a variety of biting insects.
Cold
From the end of December to the end of February there is a chance of freezing temperatures and snow when large cold fronts sweep over Japan. Snow often melts during the day or sticks around for a couple of days on the passes
If you are planning to walk during the winter months, it is best to bring a warm hat and gloves. Dress in layers, including a warm fleece and outer shell.
Earthquakes & Tsunamis
Japan is prone to frequent natural disasters, such as earthquakes. Tsunamis are large waves caused by earthquakes. If you are near the coast and a large earthquake hits, head to higher ground immediately.
Blisters
Blisters can start off as a minor annoyance, but without proper care they can become a painful problem.
Blisters are caused by friction on the foot caused by rubbing in the shoe.
Prevention
The best way to treat a blister is with good prevention.
● Break in your footwear. Doing a long, multi-day walk in new shoes is a recipe for disaster.
● Make sure your footwear fits properly and is snug especially when going downhill. When the foot is moist and warm blisters form more easily.
● Wearing two layers of socks; one thin layer and a thicker layer overtop can reduce the amount of friction directly against the skin.
● Keep your feet and socks clean and dry. When you are taking a break, take off your shoes and socks to air them out.
● If you are trekking in a warmer season, sprinkling baby powder in your socks can be a good way to decrease moisture build-up in your shoes.
● If your footwear gets wet, try to dry them the best you can at night. Filling them with newspapers is a useful and easy technique to absorb excess moisture.
● If you feel a hot spot developing—stop! This is when you can put on a preventive bandage or protective tape over the top of the hotspot to decrease friction. A hotspot may seem like a hassle to take care of, but it's worth the time in the end.
Treatment
The main point is to keep it clean and dry.
If the blister is not large or too painful, it is best to leave it as is. Make a doughnut bandage around the blister to reduce pressure on it.
If it is large and painful then draining it may be an option.
● Leave the skin on. Do not peel it off, as it is a protective barrier.
● Sterilize a needle and the surface of the blister.
● Gently puncture the edge of the blister.
● Press the fluid towards the hole to drain.
If the skin has been torn or removed:
● Do not tear it off. Leave the skin attached.
● Clean the area well with soap and water.
● Gently smooth the flap of skin.
● Apply antibiotic ointment and a clear bandage.
● Change the bandage at least once a day or if wet/soiled.
In Case of Emergency
Emergency Number: 119
Koban Police Box: 110
Japan Visitor Hotline
Hospitals & Clinics
Digital Help Resources
In case of emergency seek the assistance of someone nearby. Even if they do not understand English they will try to understand and help.
Emergency Number: 119
Call 119 to connect to a local emergency service in case of fire or medical emergency.

TEL: 119
Hours: Year-round, 24 hours a day
Language: English, Chinese, Korean, Spanish, Portuguese
※ If you do not understand Japanese, request an interpreter and stay on the line.
Koban Police Box: 110
The name for a police box is Koban and the phone number is 110. They are located near major train stations including the Kii-Tanabe station. There is also one near the post office in Hongu. If you have problems, the Koban police boxes can be a good starting point to get help.

TEL: 110
Hours: Year-round, 24 hours a day
Japan Visitor Hotline
Japan National Tourism Organization (JNTO) visitor hotline for tourist information or assistance in the case of accidents and emergencies.

TEL: 050-3816-2787
Hours: Year-round, 24 hours a day
Language: English, Chinese, Korean
Hospitals & Clinics
The hospitals and clinics below are registered by the Ministry of Health, Labour and Welfare, and Japan Tourism Agency and are able to accept foreign travelers.
Hospital Search Engine

The Japan National Tourism Organization website and search engine for medical institutions with multi-lingual service.
①National Hospital Organization Minami Wakayama Medical Center
南和歌山医療センター
ADDRESS: 27-1 Takinai-cho, Tanabe City, Wakayama Prefecture
和歌山県田辺市たきない町27-1
TEL: 0739-26-7050
②Sakura Shinryojo Clinic
田辺市本宮さくら診療所
ADDRESS: 921-2 Hongu, Hongu-cho, Tanabe City, Wakayama Prefecture
和歌山県田辺市本宮町本宮921-2
TEL: 0735-42-8101
③Shingu Municipal Medical Center
新宮市立医療センター
ADDRESS: 18-7 Hachifuse, Shingu City, Wakayama Prefecture
和歌山県新宮市蜂伏18-7
TEL: 0735-31-3333
④Shirahama Hamayu Hospital
白浜はまゆう病院
ADDRESS: 1447 Shirahama-cho, Nishimuro-gun, Wakayama Prefecture
和歌山県西牟婁郡白浜町1447
TEL: 0739-43-6200
⑤Wakayama Coop Hospital
和歌山生協病院
ADDRESS: 143-1 Arimoto, Wakayama City, Wakayama Prefecture
和歌山県和歌山市有本143-1
TEL: 073-471-7711
Digital Help Resources
Safety Tips App
Japan Tourism Agency's "Safety tips for travelers" contains links to other sites controlled by third-party information providers on weather information, weather warning & advisories, news, medical information, and list of embassies and consulates-generals in Japan.
Price: Free
NHK
NHK (Japan Broadcasting Corporation) is Japan's only public broadcaster. NHK WORLD-JAPAN is NHK's international service delivering the latest information about Japan through TV, radio and the Internet.

※ Multilingual App is also available.
Japan Meteorological Agency
Japan Meteorological Agency has detailed weather, climate, and earthquake information for Japan.
Social Media
JNTO official Twitter account provides useful information on weather warnings, advisories and latest news of transportation services in case of natural disasters.

Twitter @JapanSafeTravel