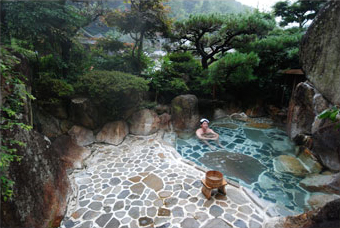 What is an Onsen?
An "Onsen" is a Japanese cultural icon. The term refers to a hot spring and all of the facilities at them.
According to the Ministry of the Environment there are over 3,000 onsen areas in Japan with around 28,000 thermal fountainheads discharging approximately 2,700,000 liters of water every minute. Japan is literally floating on hot water!
Many onsen are day-use baths or those found in accommodations. Some baths are indoors and others outdoors. The diversity of mineral waters are believed to have many healing properties.
Visiting an onsen is a must-do for any trip to Japan, with the Kii peninsula being a popular destination. In the region there are a diversity of thermal waters with different history, atmosphere, and natural location.
Relaxing and reminiscing about your experiences in a soothing onsen bath is a perfect way to finish a day of exploring. Enjoy!
Area Onsen
Onsen Map