Tanabe City Kumano Tourism Bureau (TCKTB) is a finalist for the World Travel and Tourism Council's (WTTC) 2012 Tourism for Tomorrow Awards in the Destination Stewardship category.

This prestigious award was often referred to as the Academy Awards of Tourism during it's time. Three finalists for each category were chosen from over 140 entries from five continents. The TCKTB's nomination is the first for any Japanese organization in the history of the awards. The winners were announced on April 17,2012 at the year's WTTC Global Summit in Tokyo.

The thorough judging is a rigorous three-step process including an on-site evaluation, which took place in Tanabe at the beginning of February by a sustainable tourism expert. During an interview by local media, the evaluator commented on the vast local, regional, national and international network that the bureau works with to move closer to their goal of a high quality sustainable destination. She was also impressed with the vision and strategic grassroots projects such as innovation work- shops for local stakeholders and the bilingual KUMANO TRAVEL Community Reservation System. The balanced approach that the TCKTB is taking between tourism development and cultural preservation is a solid model for other communities in Japan and around the world.

Thank you to all of our valuable partners to make it possible!
WTTC CASE STUDY
The Tanabe City Kumano Tourism Bureau (TCKTB) works to develop and promote Japan's spiritual heartland – the ancient region of Kumano, located on the eastern coast of Japan in Wakayama Prefecture.

Believed to be the "Land of the Dead" in Japanese mythology, this sacred place links the physical world to the spiritual realm, and boasts three of Japan's most important religious shrines, as well as medicinal hot springs, with beautiful natural and cultural landscapes.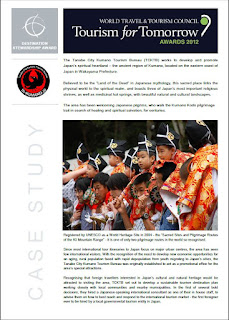 The area has been welcoming Japanese pilgrims, who walk the Kumano Kodo pilgrimage trail in search of healing and spiritual salvation, for centuries.

Since most international tour itineraries to Japan focus on major urban centres, the area has seen few international visitors. With the recognition of the need to develop new economic opportunities for an aging, rural population faced with rapid depopulation from youth migrating to Japan's cities, the Tanabe City Kumano Tourism Bureau was originally established to act as a promotional office for the area's special attractions.

Recognizing that foreign travellers interested in Japan's cultural and natural heritage would be attracted to visiting the area, TCKTB set out to develop a sustainable tourism destination plan working closely with local communities and nearby municipalities. In the first of several bold decisions, they hired a Japanese-speaking international consultant as one of their in house staff, to advise them on how to best reach and respond to the international tourism market – the first foreigner ever to be hired by a local governmental tourism entity in Japan.

Approaching the development of tourism from a broad multi-stakeholder perspective with a community-based, small-scale destination effort, TCKTB has adopted an innovative approach to tourism planning for Japan.

They have demonstrated an effective tourism development model to other Japanese rural communities trying to maintain their heritage by generating more local employment, particularly opportunities for youth.

TCKTB quickly recognized that one of the most critical aspects to their success would be creating a destination stewardship model in Japan. This also led to the creation, in 2009, of the TCKTB Destination Management Company (DMC), a separate and licensed private business to promote the area and work with local communities. The DMC was initially funded with a two-year grant, aimed at becoming self-supporting by the third year through fees and commissions from member businesses. However, the catastrophic earthquake and tsunami in March 2011, followed by a major typhoon, which directly hit the Kumano area in September 2011, resulted in devastating impact which has led to additional grant funding to allow community-owned businesses to recover.
TCKTB focuses on expanding its outreach to international travellers through a strategy of developing high-quality, low-impact tourism based on the preservation of historic and spiritual heritage, which is achieved through partnerships with multiple stakeholders. From the active religious shrines that anchor the pilgrimage route to the area's famous hot-springs to the small inns and restaurants that have traditionally welcomed pilgrims, TCKTB offer guests a traditional, sustainable experience. Their overall mission is: "Preservation not overdevelopment; individual/small group not mass tourism; working towards a high quality, sustainable tourism destination open to the world."

Furthermore, their "Level Up" workshops have been locally designed to address the individual and particular concerns of each business in welcoming international visitors who are not familiar with Japanese language, customs, etiquette, or ancient traditions. They work with each business owner to design simple and effective communication tools to facilitate communication between host and guest, and to address the particular concerns of small community enterprises. A particularly important and effective initiative has been the Kumano Travel Community Reservation System, launched in 2010, a multi-lingual website connecting visitors and community tourism enterprises. Other initiatives include a successful marketing partnership with the only other UNESCO World Heritage Site pilgrimage route – Spain's "Santiago de Compostela." Furthermore, TCKTB have worked with government and private stakeholders to develop well-organised transportation services that allow travellers to easily visit the area using public transportation, promoting environmentally friendly travel and reducing carbon emissions.

All of TCKTB's efforts are based upon the participation of a broad group of local, regional and national stakeholders. Their success in bringing together this diverse group serves as a model in Japan for sustainable tourism development to preserve the natural and cultural heritage of an ancient pilgrimage destination.