Now that travelers are allowed to enter Japan, one of the most common questions we get is "How do I plan for my trip to the Kumano Kodo?"

So we have put together some tips on how to plan and book your accommodations for your Kumano Kodo visit!
Use Model Itineraries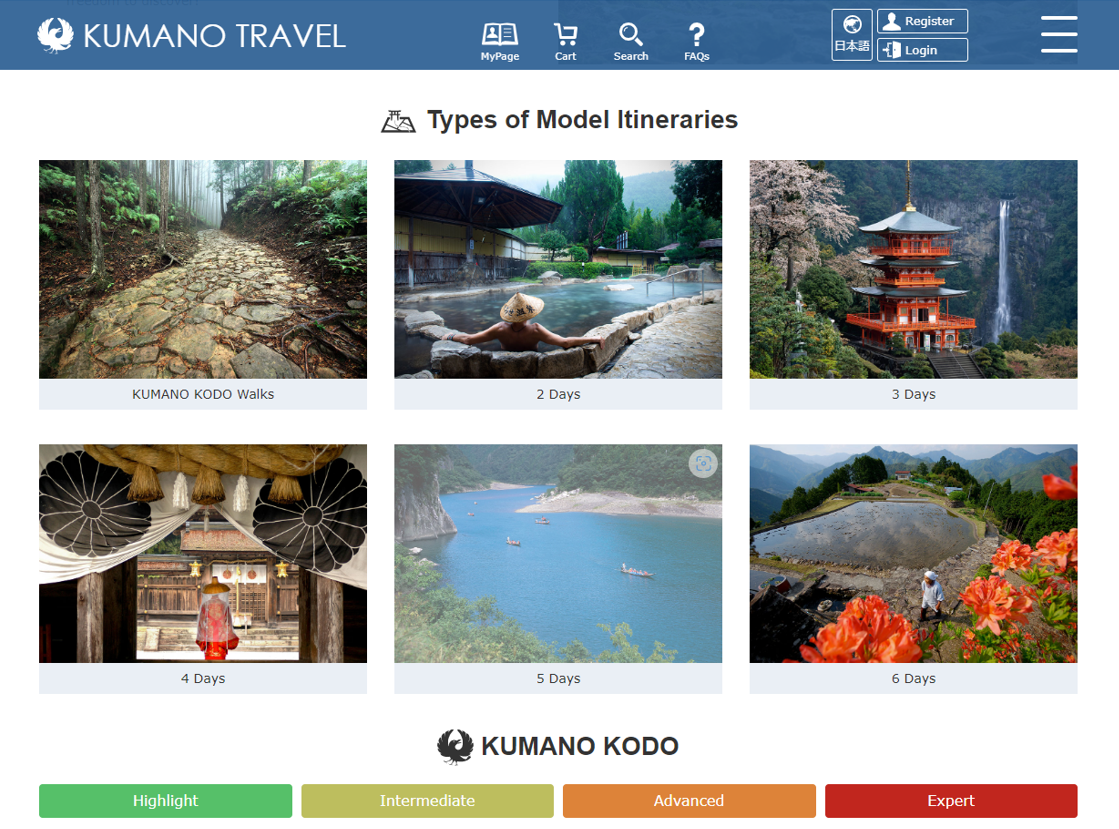 Many guests find our model itineraries useful in helping them plan their visit.

Potential visitors can select sample itineraries based on the number of days they want to stay or the difficulty of walking they would like to do.

It is important to keep in mind that our model itineraries are not packaged tours but rather detailed planning tools to assist guests with their visits. They can be amended as guests like.
Limited Capacity in Smaller Settlements
Some of the smaller settlements such as Takahara, Chikatsuyu/Nonaka and Koguchi have limited capacity and fill up quickly during peak spring and fall periods. Using public transport and staying in areas with more capacity are good options if this happens.
Look for Accommodation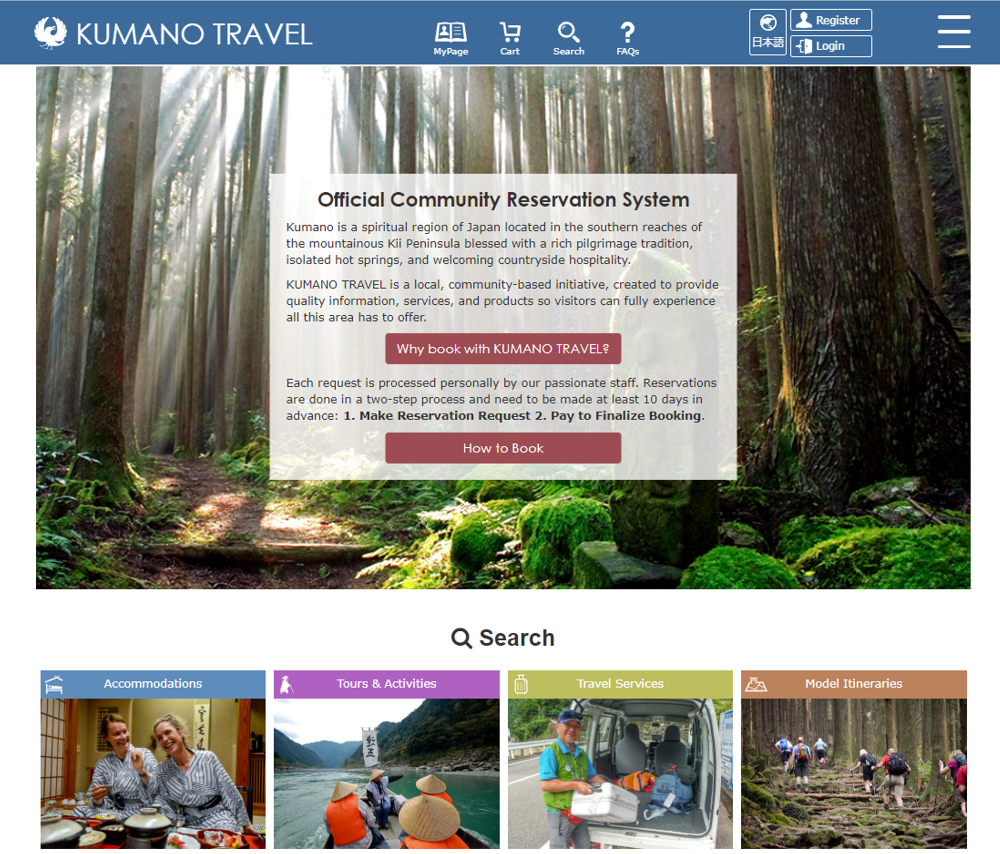 You can make reservations online via the KUMANO TRAVEL Community Reservation System.

All of the accommodations and prices are listed online.

Many of the accommodations are rustic, traditional inns or homes.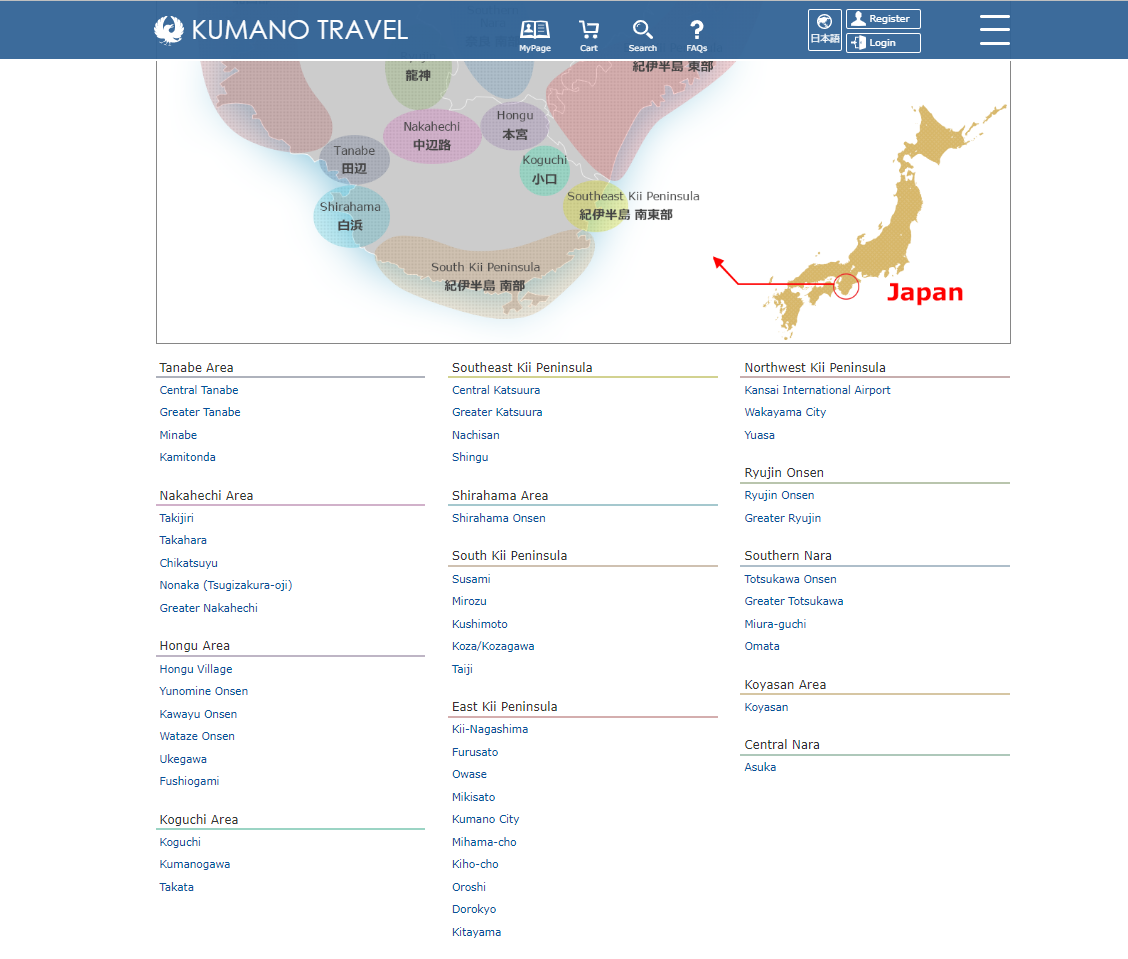 By clicking on the "Accommodations" icon on the main page, visitors will be taken to an area map with links to accommodations in various areas of the Kumano Kodo.

Visitors can use areas suggested by the model itineraries to search for accommodation.


How to Book Reservations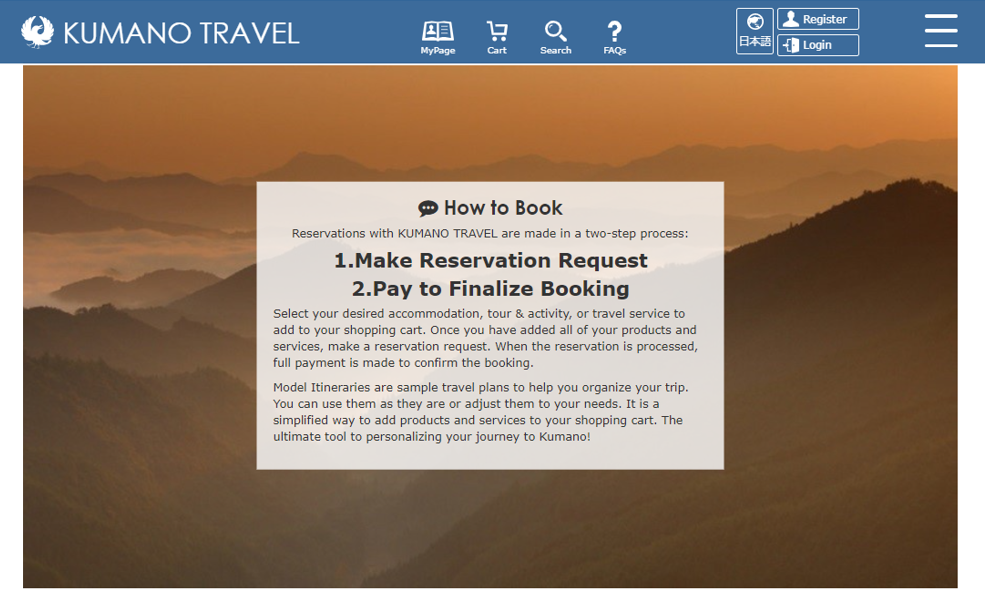 Making booking requests on the KUMANO TRAVEL Community Reservation System is a simple two-step process.

STEP 1: Make a reservation request

STEP 2: Pay to finalize the booking
Please note: the KUMANO TRAVEL Community Reservation System doesn't stock rooms so availability isn't 100% immediately secured until our agents contact the service providers directly.

If the service provider informs us that they are fully booked then a block is put on the system. If visitors receive the error message, "Sorry, reservations are not available for this date," it means that accommodation or service is fully booked.
Read the Terms & Conditions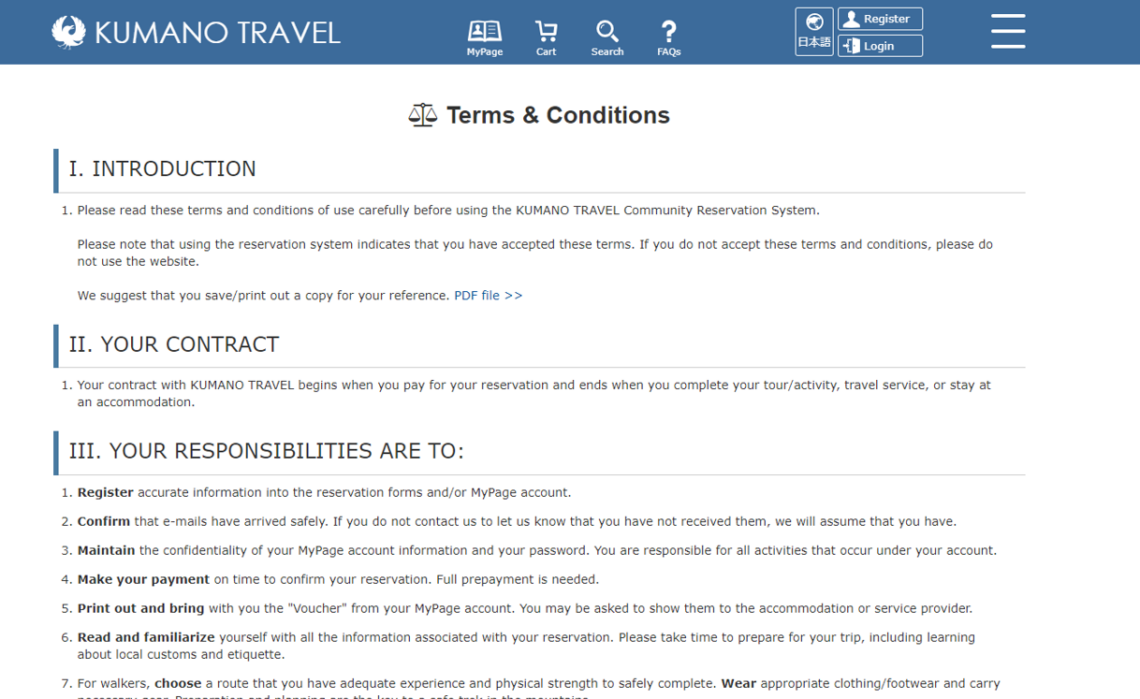 Be sure to read the terms and conditions for booking with KUMANO TRAVEL, especially our cancellation policy.
Consider Travel Services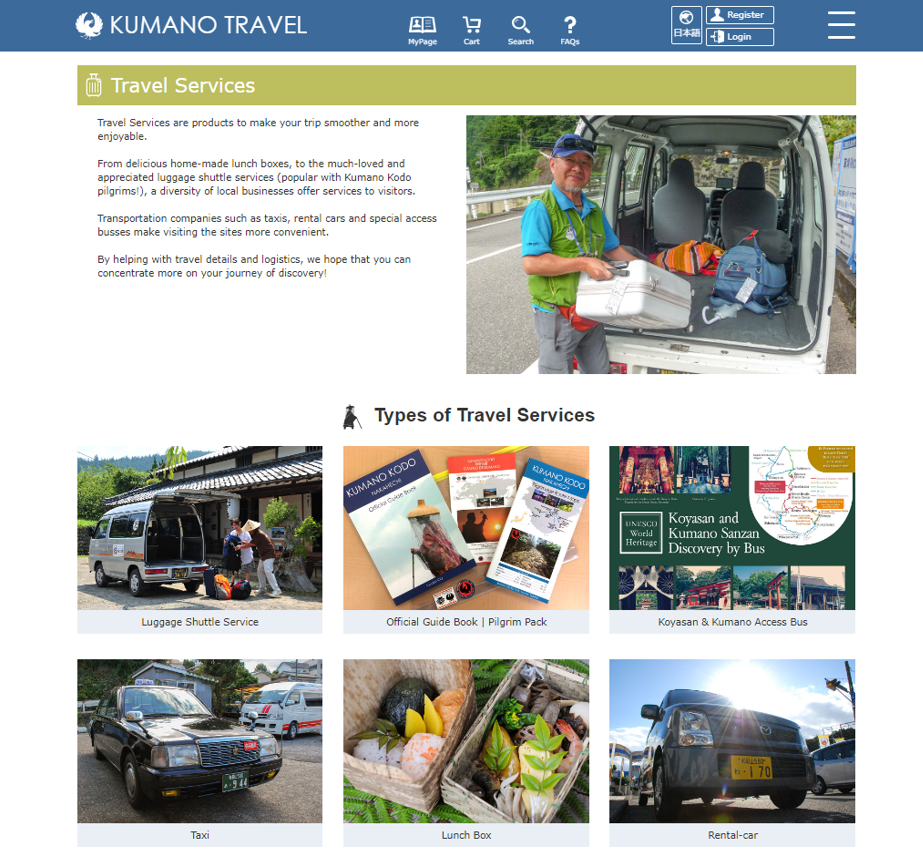 Enhance your experience with area travel services!

Consider daily luggage shuttle for your larger bags, bento box lunches, reserved taxis, and more to help you concentrate on enjoying your Kumano Kodo experience!


Book a Guide, Tour or Experience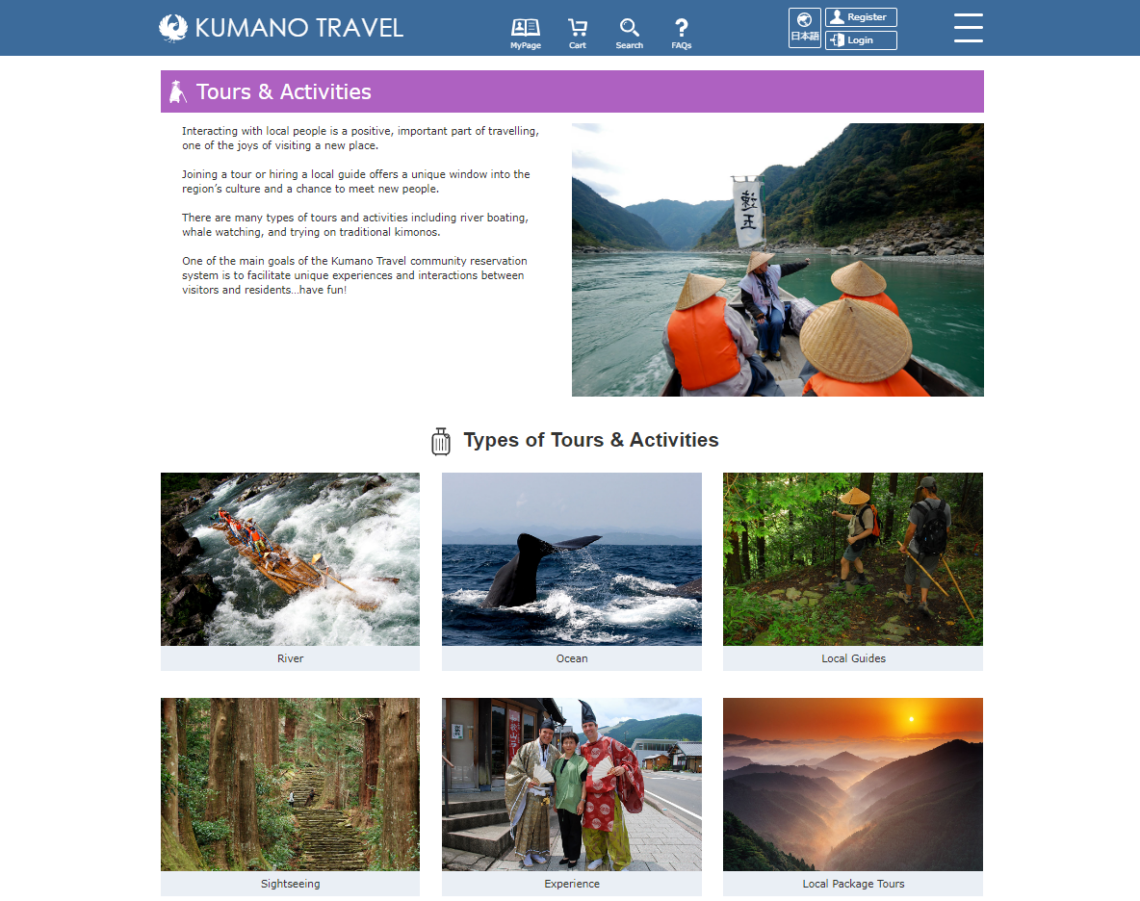 Deepen your Kumano Kodo experience with a local, knowledgeable, professional guide.

Or float down the Kumano-gawa River like ancient nobles on a Traditional boat Tour.

River rafting, period clothing, whale-watching, local guided tours (and more) all will expand your cultural and spiritual understanding of the Kumano Kodo area.

Local Package Tours are always being added, so check them out too!
Preparation Is Important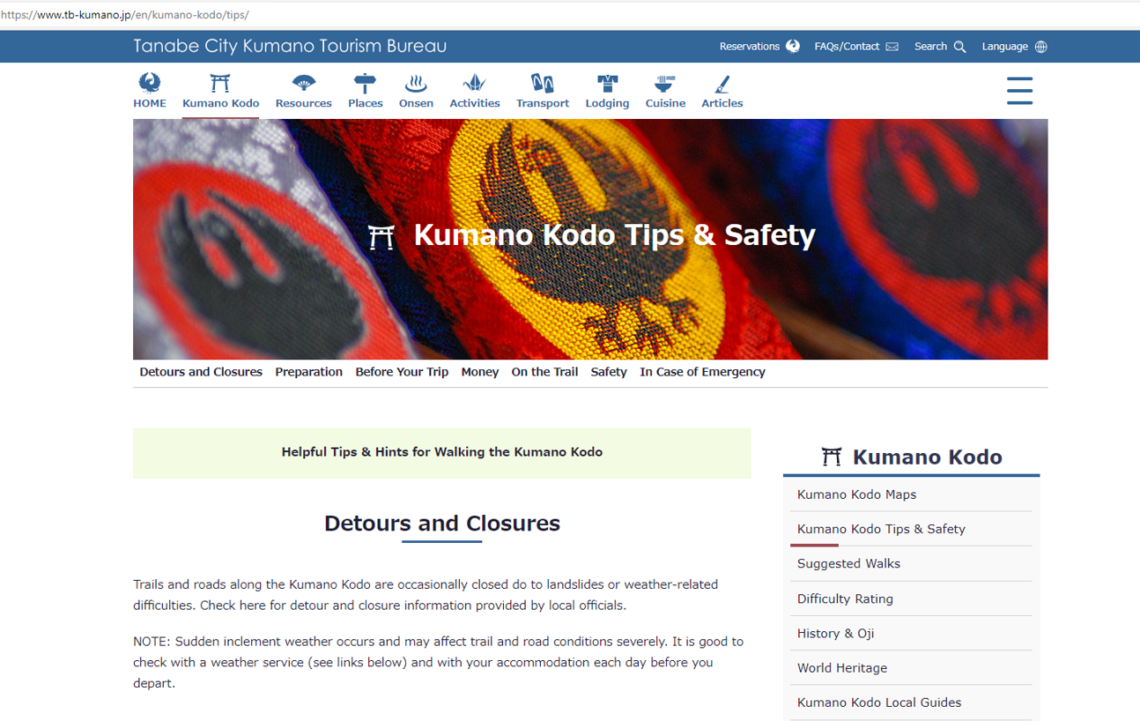 Check out our Kumano Kodo Tips & Safety section to answer your questions about weather, climate, what to bring, creatures on the trail, suggested clothing, how to prepare and more!
An essential first before you pack!
Re-booking Cancelled Reservations during Covid
For guests who had to cancel their accommodation and services because of Covid-19, please understand that making new requests is necessary.

Canceled reservations were released in the system, and there is no automated re-request function.

As many things may have changed since the cancellation such as availability, prices, accommodations, and service details, new reservation requests must be re-entered into the automated online KUMANO TRAVEL Community Reservation System. Sorry for any inconvenience and thank you for your understanding.

We recommend using your original canceled reservations as a guide to creating your new plan.

Plus it may give you a second look at your original plan to improve or consider accommodation or experiences you hadn't before.
Hints
Book 3 to 6 months in advance for peak seasons (spring and fall).
Have alternative dates and accommodations in mind when you are planning.
Consider purchasing the Official Guide Book | Pilgrim Pack to learn more about the pilgrimage, its history, the landscape of the area, local culture, before you arrive. (Delivery times and costs may vary for different countries. And some areas may not be able to receive delivery of the Pilgrim Pack.)
Relax and be flexible. Your pilgrimage will happen!
※ While Japan has eased its entry restrictions for designated countries from October 11, 2022, it is very important that you review the most current information before your travels, both your country of departure and that of Japan. KUMANO TRAVEL is not responsible for cancellations that are caused by guests that did not (or do not qualify) for entry into Japan in regards to Covid-19 border restrictions.
For entry information, please check JNTO (Japan National Tourism Organization):
Link