Kumano Kodo Audio Guide
The Kumano Kodo Audio Guide is a great tool to help you experience the World Heritage cultural landscape of Kumano. This audio guide showcases the religion, history and culture of the Kumano Kodo Pilgrimage route from Takijiri-oji to the grand shrine, Kumano Hongu Taisha. MP3 files and maps are downloadable free!
The World Heritage Cultural Landscape of Kumano is a rich and complex sacred site in the southern portion of the Kii peninsula. This audio guide was designed to decipher this spiritual landscape while walking the Kumano Kodo pilgrimage route. It is for those interested in delving deeper into the unique mountain culture of the area.
This Audio Guide is designed to by used in correspondance with the Kumano Kodo Pilgrimage Map booklet. The Audio Guide leaflet is a general outline of routes. Both are downloadable below.
Audio Guide File List
Tanabe City Machi-Navi Audio Guide

Tanabe's audio guide is a great way to experience the local culture, history and lifestyle of the fascinating culture of the area around JR Kii-Tanabe Station. Aikido, local legends and cuisine are also covered. Let this audio guide help you discover this interesting city.
Experience the local culture, history and lifestyle of Japan's spiritual countryside!
What?
-Machi-Navi Audio Guide is a walking/cycling tour of Tanabe with an MP3 player. There are number plates located at important cultural and historical sites throughout the city. To listen to the dialogue related to the site, just input the associated number and enjoy! It is an independent, go at your own pace tour, so depending on the course you choose, method of transportation, etc, it is difficult to estimate how much time it will take. There are 21 sites, so if you give yourself an hour or so you should be able to experience most of them.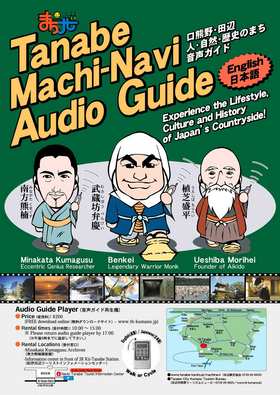 Audio Guide File List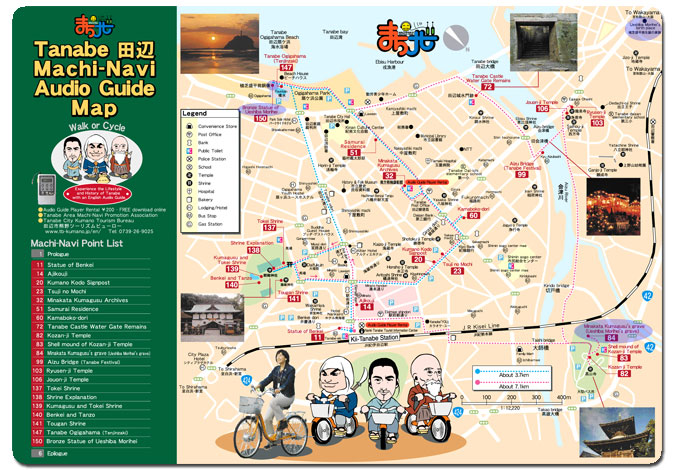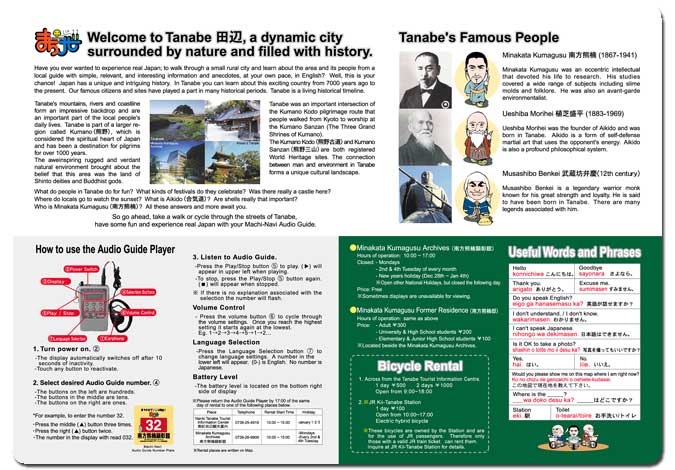 Link