For many, dining at inns along the Kumano Kodo Nakahechi pilgrimage route in the middle of the Kii Peninsula, feasting on local fish, herbs and vegetables, can be an epicurean paradise.

However, for vegetarian and vegan travelers, it can be challenging to find suitable dietary options in the rural Japanese countryside.
Why are vegetarian meals so difficult to find?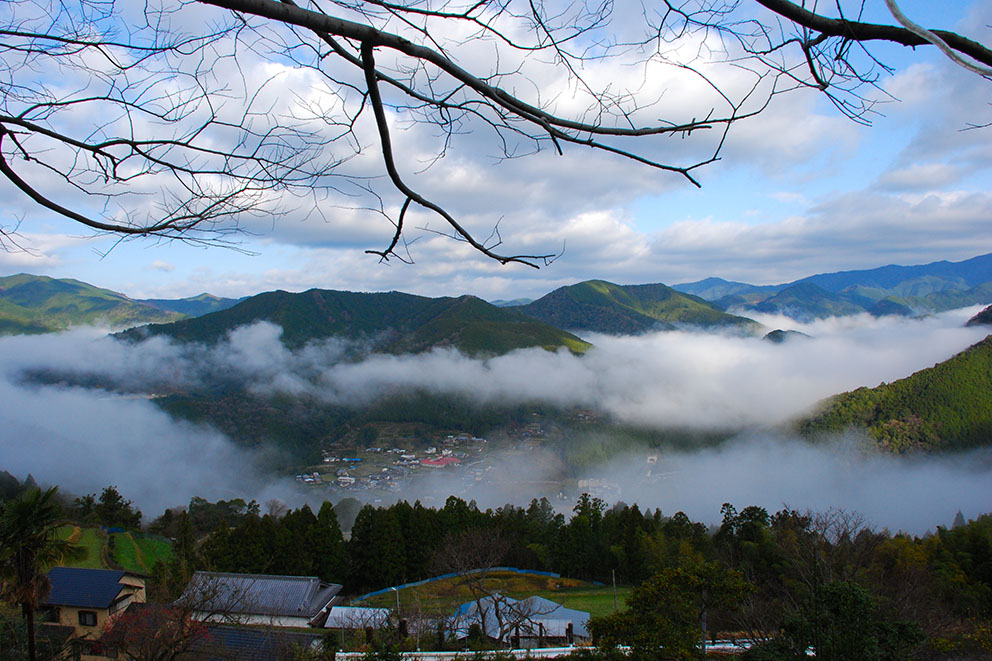 Vegetarianism (and veganism) are still relatively new concepts to Japan, and particularly new to countryside inns.
Family-run businesses have established themselves as – and take pride in – being traditional inns renowned for their menus and choice ingredients handed down for generations. Culturally, it had been inappropriate to ask them to change their menu.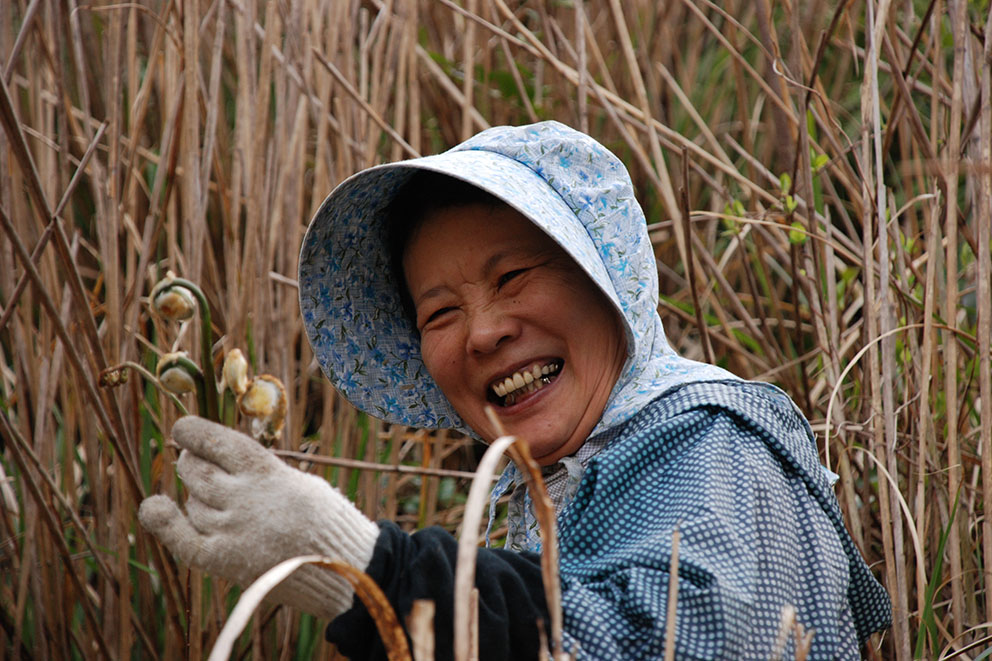 Katsuo Dashi (fish broth) is a traditional ingredient used for many types of seasoning and is very difficult to remove from Japanese cooking.
Alternatives for fish or meat dinners are not readily available.
Even for inns that are willing to provide an alternative, it can be costly and time-consuming, especially during peak season, and may not be consistently offered throughout the year.
However, rest assured, there are ways to find dietary options along the Kumano Kodo Nakahechi course.
Vegetarian Options
Luckily, rural Japanese cuisine already consists of mountain herbs and vegetables as a base, and there is a growing list of accommodations along the Kumano Kodo that are adapting to vegetarian meal requests.

To find accommodations offering vegetarian meal options on the KUMANO TRAVEL Community Reservation System "Search" window, follow these steps.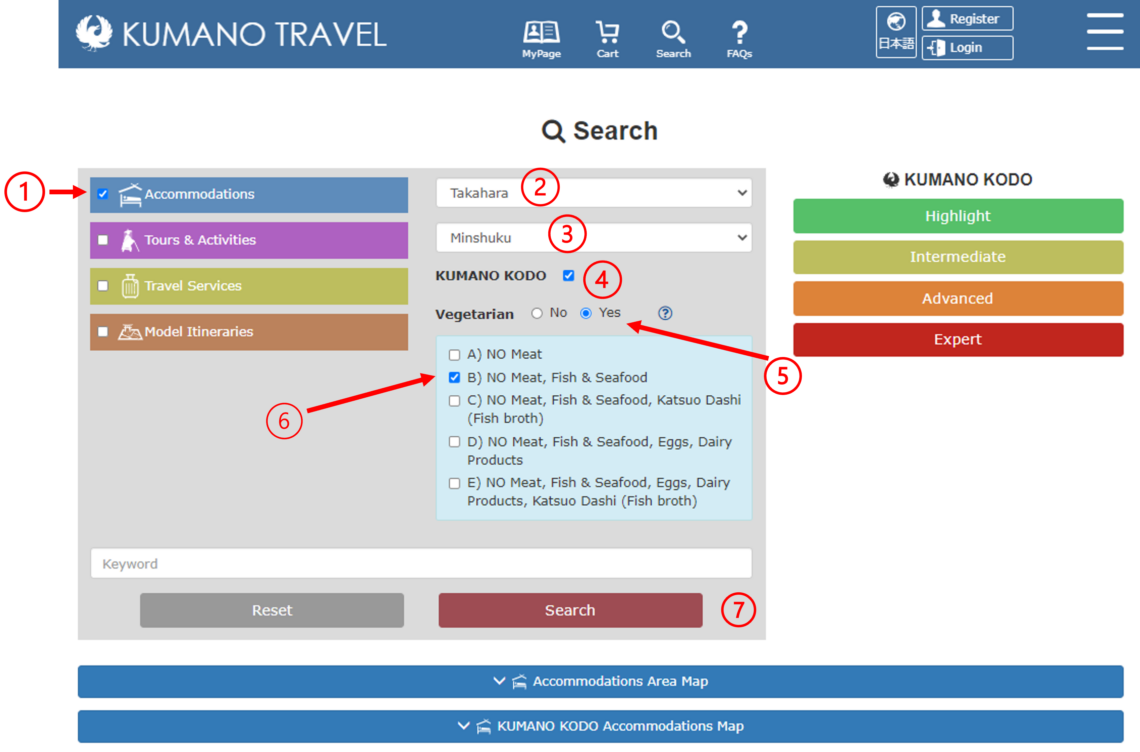 Check the Accommodations box.
Select the area (village, town).
Select type of accommodation.
Check the box if you are planning to walk the Kumano Kodo.
Check "Yes" for Vegetarian.
Select one of five Vegetarian meal types.
Finally, click the "Search" button.
You can also check accommodation meal information in the Details section for any accommodation.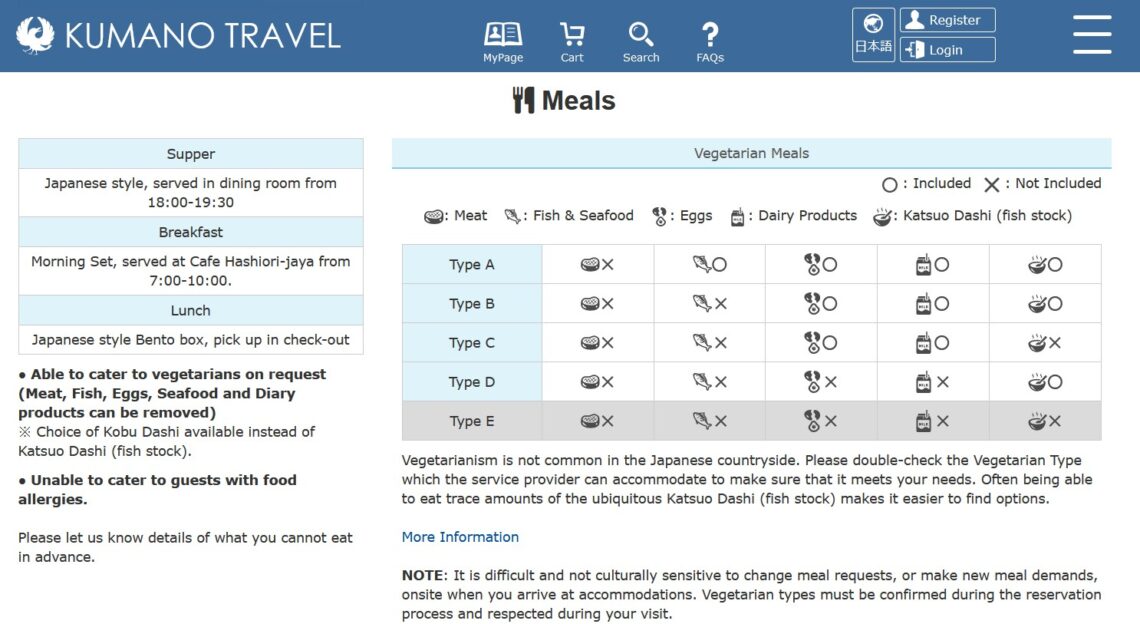 More Vegetarian meal information.
Koyasan and Shojin Ryori Cuisine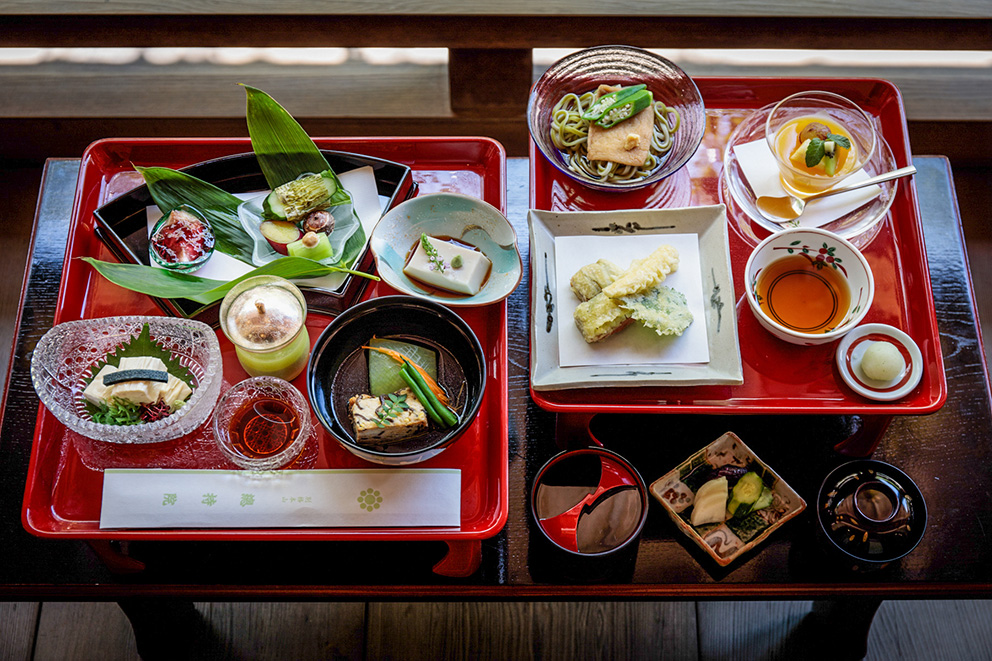 Staying in Koyasan is not only a meditative, relaxing temple stay in the Shingon Buddhist mountain enclave, but it is also the chance to try the very healthy, tofu-based vegetarian meals called Shojin Ryori.

"Shojin Ryori" translates to mean "devotion cuisine."


These special meals are intimately connected to monastic life in Koyasan and part of the monks' training routine. They are served on low tray tables often lacquered red or black. No strong tastes or smells such as garlic, onions, curry, etc. are used.
Meals at Koyasan feature "Koya-dofu," a kind of frozen, dried tofu that derives its name from Koyasan and was introduced a couple of hundred years ago. Koya-dofu is said to be a nutritious meal with multiple health benefits.
Vegan Options
Vegan meal options are more challenging to find in the Kumano region and require more creative solutions.
Vegan Burger Shop
At Takijiri-oji, there is Takijirichaya, a small kiosk restaurant specializing in vegan burgers. It is open 7:00 to 15:00, closed Tuesdays, Wednesdays, and some unscheduled holidays.

Groups larger than four people should definitely contact Takijirichaya by Facebook or Instagram in advance, but as closures vary, it is a good idea for anyone to contact the shop in advance to be sure it will be open when you arrive.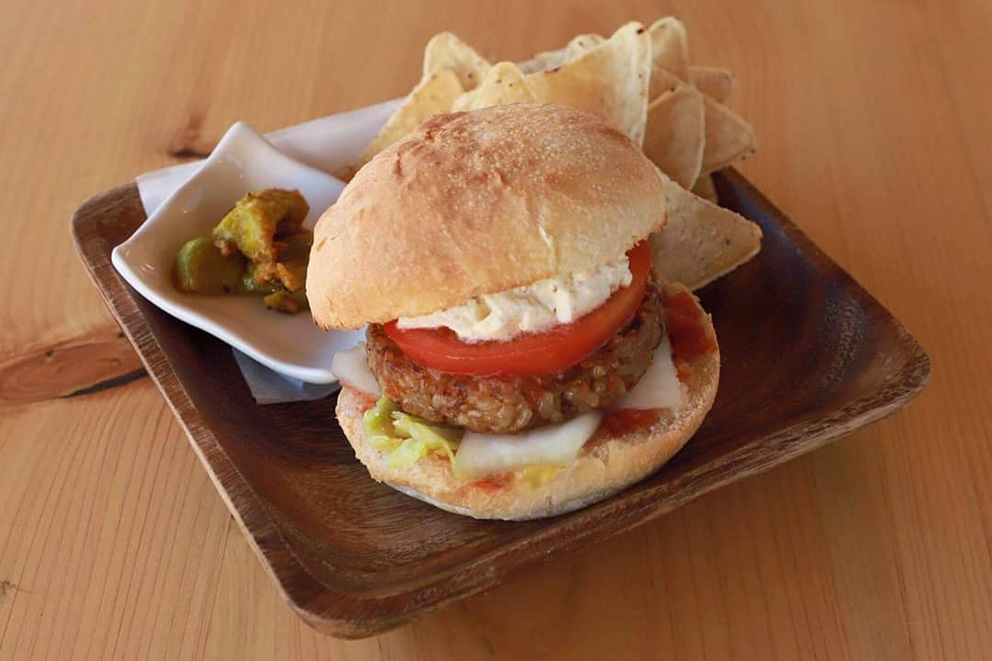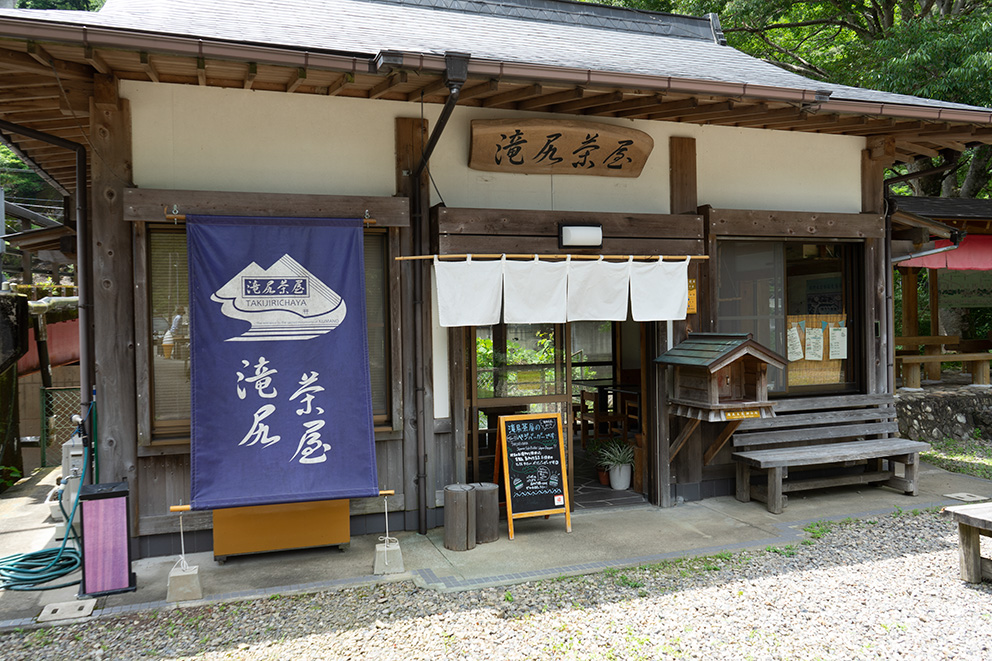 Vegan-friendly Accommodations
Having some vegan options that first night in Takahara after walking from Takijiri-oji can help guests start their trip right.

In Takahara, both Kiri-no-sato Takahara Lodge and Minpaku Akatsuki can provide vegan meals with adequate advance notice (although no guarantees for allergy-based requests without consultation).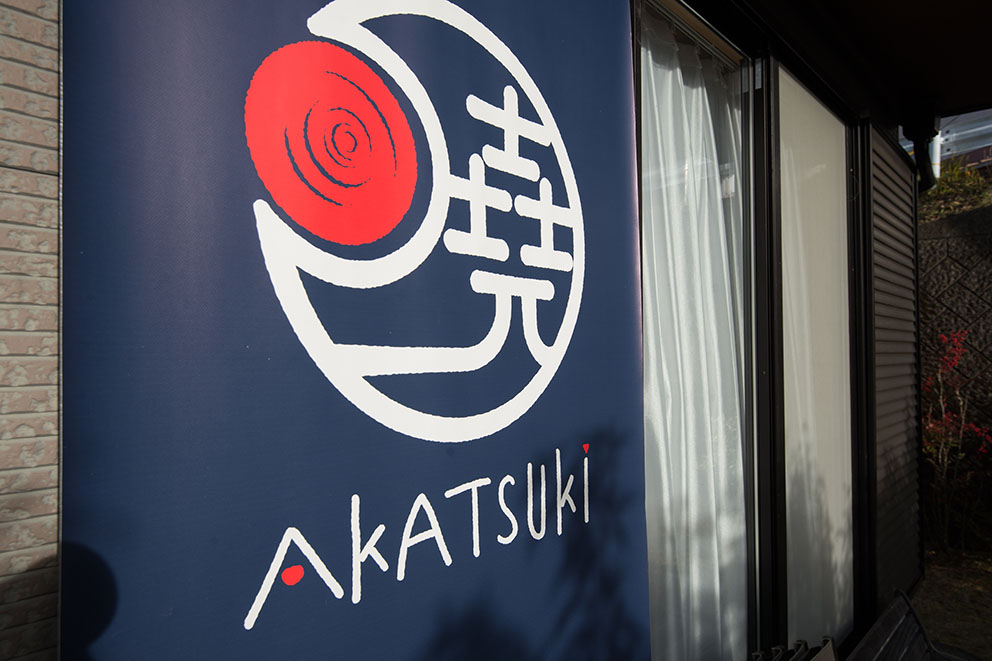 No Meal Plans
A number of accommodations offer "no meal" plans. This allows the vegan guest to safely bring and prepare their own food.

Some guesthouses offer a microwave or shared kitchen with utensils to use. Rental houses usually have a kitchen.

There are some grocery stores and convenience stores in larger areas like Kii-Tanabe station area, Chikatsuyu, Shingu and Katsuura.

Near JR Kii-Tanabe Station, there are O-City supermarket, 7-11 and Family Mart convenience stores, and a couple of small greengrocers. There is an A-Coop supermarket in Chikatsuyu.
Vegetarian Meal Hybrid or Buffet Options
Vegetarian meals might provide a partial meal for vegan guests which they can supplement with their own food later.

Also, some larger accommodations may offer a buffet with a variety of choices.

Kawayu Midoriya and Hotel Urashima, for example, have buffets with lots of options.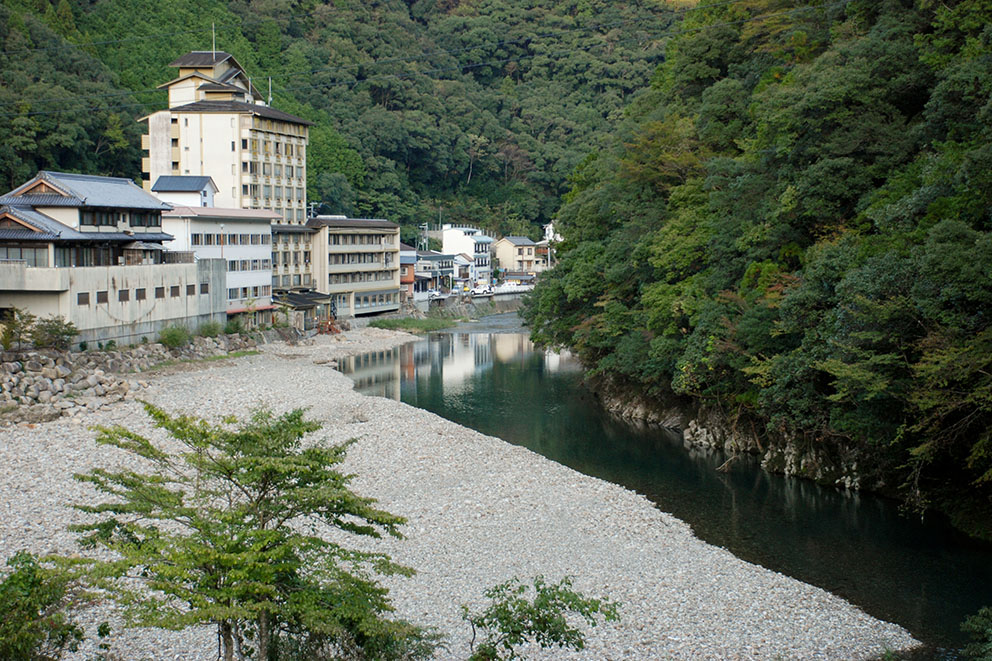 ※ Meal information is subject to change over time. Please double-check when making a reservation.
Vegan-friendly Accommodation Suggestions by Area
The following is an area-by-area list of suggestions for vegan guests to experience the Kumano Kodo.
Vegetarians might also find this useful.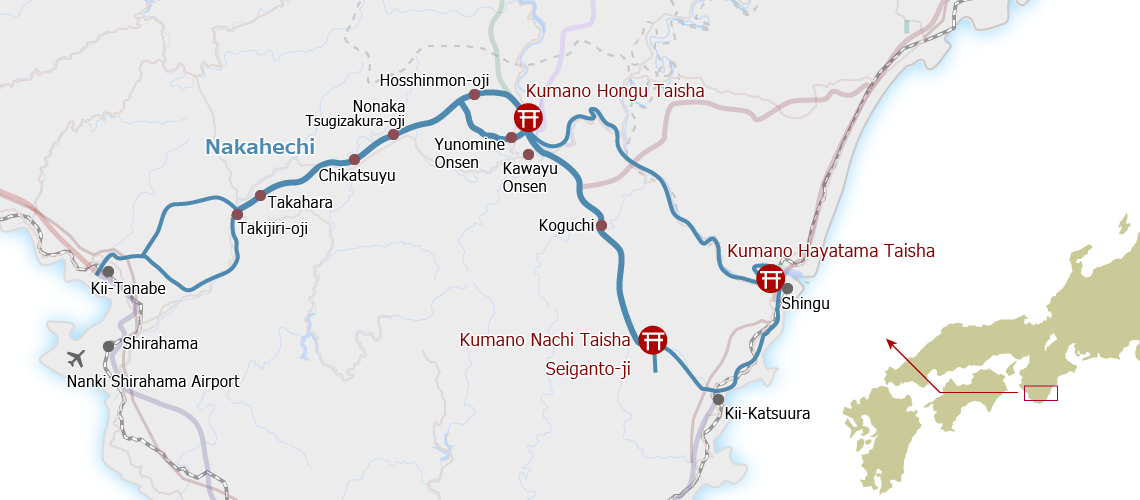 Vegan/Vegetarian-friendly Restaurants
Tanabe
Akihei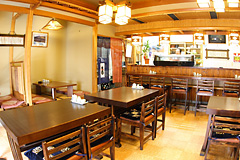 Japanese traditional-style restaurant able to cater to vegetarian and vegan requests. Located about 10 minutes walk from Kii-Tanabe Station.

Akihei restaurant information


| | |
| --- | --- |
| Open | 10:30 to 22:00 |
| Closed | Tuesdays |
| Location | 68 Kitashinmachi, Tanabe City, Wakayama Prefecture, 646-0041 |
| Phone | 0739-22-0234 (call in Japanese) |
Hamano Bento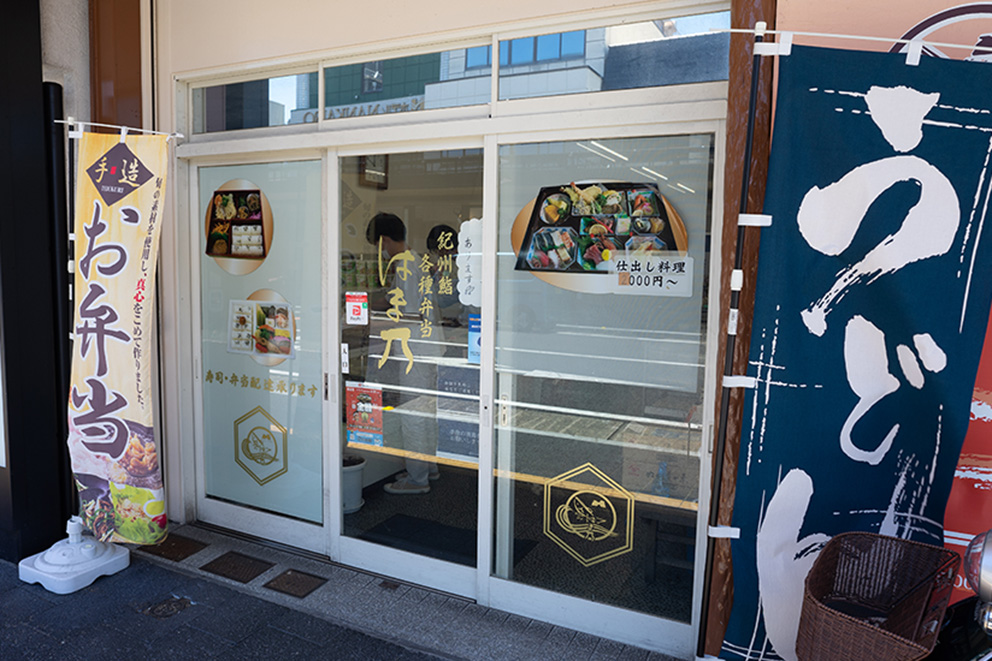 Convenient bento box lunch shop just across the street from Kii-Tanabe Station that offers "makizushi" long sushi roll and "barasushi" with bits of mountain vegetables and scrambled egg on rice, both of which contain no meat or fish.

Hamano Bento information


| | |
| --- | --- |
| Open | 9:00-15:00 |
| Closed | First and third Saturdays. |
| Location | 14-5 Minato, Tanabe City, Wakayama Prefecture, 646-0031 |
| Phone | 0739-25-5148 (call in Japanese) |
Fushiogami
Yamabushi Soba Ogamian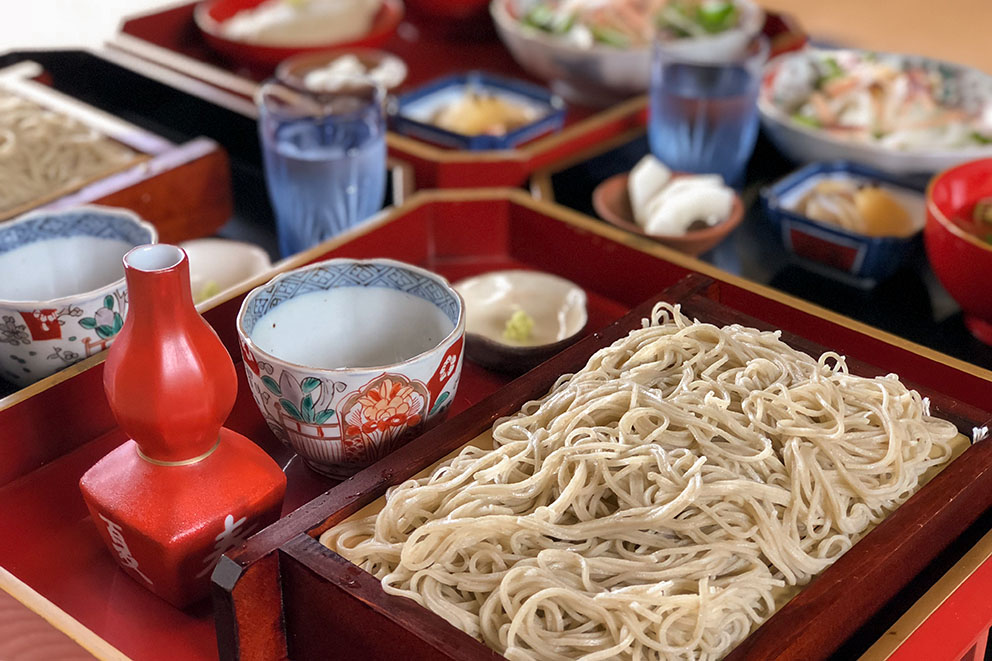 Japanese soba restaurant that uses all-natural, local ingredients for vegetarian noodles. Listed in the inaugural The Michelin Guide Wakayama 2022 with the Green Star for sustainability and Bib Gourmand designation for excellent cuisine at a reasonable price.

The owner is a practicing "Yamabushi" mountain ascetic monk.

Guest House Asyl (Yamabushi Soba Ogamian's guesthouse in Fushiogami)
Open
11:00 to 15:00 (reservation only).
Closed
Sundays.
Location
170 Fushiogami, Hongu-cho, Tanabe City, Wakayama Prefecture, 647-1743
Phone
TEL 0735-30-0435 (Japanese only, doesn't always pick up)
Facebook Messenger: 山伏そば拝庵
Email: hyakusyouyn@gmail.com
Shingu
Hayatama Oshokudo Poruto
Italian-style restaurant located conveniently close to Kumano Hayatama Taisha whose owners have walked the Camino de Santiago in Spain (the restaurant is named after the city of Porto which is along the Portuguese Camino section).

The menu features local fish and vegetables and offers vegetarian and vegan options for guests.

Depending on how busy the restaurant is, meals may take a little longer. For larger groups with vegetarian requests, contact in advance (same day morning is okay).
Open
Lunch 11:30 to 13:30 (l.o.)
Dinner 18:00 to 20:30 (l.o.)
Closed
Monday, Tuesday.
Wednesday evenings.
Location
2-1-2 Kamihonmachi, Shingu City,
Wakayama Prefecture, 647-0003
Phone
0735-23-2333 (Japanese only)
Sohonke Mehariya
Mehari Sushi has been a local, traditional vegetarian cuisine for hundreds of years in the Kumano area. Mehari is a rice ball wrapped in pickled mustard leaf. This restaurant features this local food and other menu items in a bright, cozy atmosphere.
Open
Lunch 11:00 to 21:00 (l.o.)
Closed
Wednesdays
Location
5-6 Yakushi-cho, Shingu City,
Wakayama Prefecture, 647-0006
Phone
0735-21-1238 (Japanese only)
Nachi-Katsuura
kitchen nicori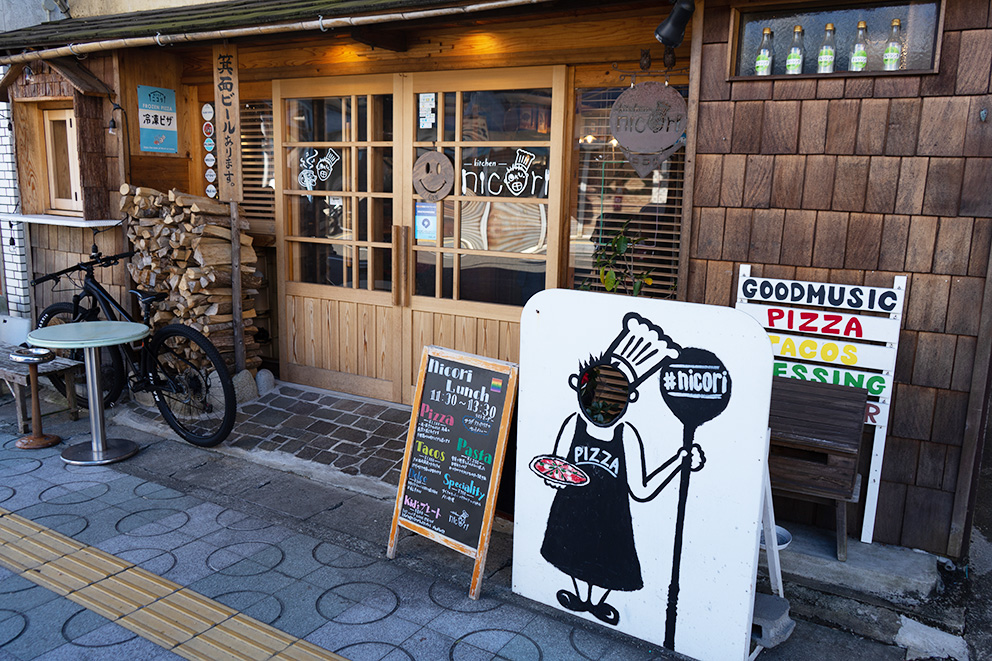 Italian restaurant near Kii-Katsuura station in central Katsuura Village featuring vegetarian and vegan pizzas as well as gluten-free tacos (evenings only). English menu.
Open
Lunch 11:30 to 13:30
Dinner 18:00 to 21:30
Closed
Sundays
Location
5-2-33 Tsukiji, Nachi-Katsuura Town,
Higashimuro-gun, Wakayama Prefecture, 649-5335
Phone
0735-30-4435 (Japanese only)