Traveling with children can be a very fun and rewarding—if not exhausting and challenging—experience.
And visiting the villages along the Kumano Kodo in rural Japan is no exception.

But for those considering doing all or part of the Kumano Kodo with children, here are some tips and information to keep in mind to make your trip with your family the smoothest possible.
Buy Necessities before You Start
Preparation is important!

Child-related goods can be harder to find farther inland through the Kii Peninsula along the Kumano Kodo Nakahechi route you go. Visit a supermarket or convenience store in a larger city like Tanabe or town to load up on fruit, snacks and other goodies for family members.

There are a couple of supermarkets and a few convenience stores within a kilometer of JR Kii-Tanabe Station.

For diapers, formula or general medication, a larger drug store like Super Drug Kirinya or Cococarafine, both are a short taxi ride away from Kii-Tanabe Station.

Have a suitable bag to carry everything with you that you'll need on the trail. Remember you can have other non-essential luggage transported by daily luggage shuttle.
Know the Trail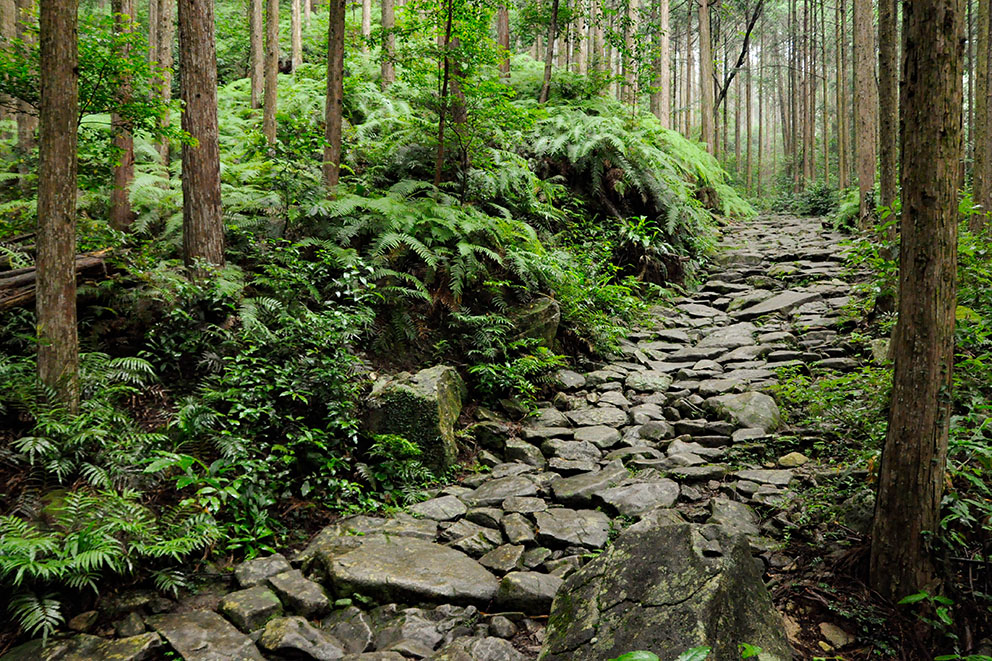 The Kumano Kodo is a mountain landscape as well as a UNESCO World Heritage property.

The nature of the trails is rugged over varied terrain and not always accessible to roads or public transportation immediately in case of emergency.

Weather in winter (December to February in Japan) is less severe than in the rainy summer (June to August), but conditions can still change and the temperature can get down to 0 degrees Celsius (32 degrees Fahrenheit) at night. There is less daylight as well.

A general guide suggests children can walk about a kilometer for every year of age, but probably not at the same pace as an adult. Pacing, proper hydration, snacks and distractions are key to a successful walk with youngsters.

Preparing children for longer hikes before they come to Japan might also acclimatize them to the trails. Know your child's physical limits.

Parents or guardians should know the limits of their children before they visit the area and make healthy choices and set reasonable goals for their family journey based on a variety of changing outdoor conditions.

All garbage must be packed out by visitors and thrown away at their accommodation when they arrive.
Public Toilets
Many of the toilets are not specially designed for children, but for public toilets in cities or towns, baby seats might be installed in the women's and men's toilets. The best option for children of varying ages tends to be "all-purpose" accessible toilets as they have room for a baby buggy and might have a changing table.

The farther along the trail, toilets tend to be more basic, but almost all public toilets have western-style seats.

Having good ecological etiquette is important. There are no garbage bins in the toilets and only toilet paper can be flushed down the facilities, so packing out all garbage (including diapers, used baby wipes, etc.) is essential. Wrapping such items in a second bag is not only handy and sanitary but also kind to your hosts at your accommodation when you ask to throw your garbage away.
Choose Child-friendly Accommodations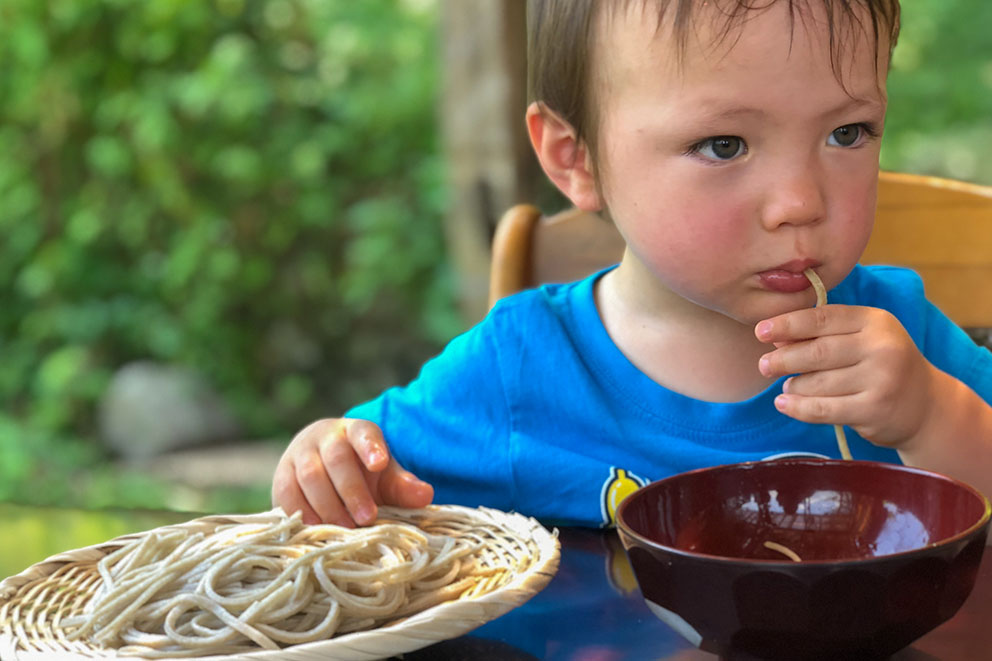 To walk the Kumano Kodo, it is important that accommodation be reserved in advance.

Early research gives parents and caregivers the opportunity to check on the Kumano Travel reservation system which inns are child-friendly, or possibly ones that accept infants.
For smaller children, it is recommended to choose Japanese-style rooms with futon over western ones with beds as typically the beds do not have guard rails, and baby beds are not always available. Children can share the same futon as their parents, or often have their own for an additional fee.

Costs and services for children vary between accommodations, and you can check the adjustment in price in the details for the inns on the KUMANO TRAVEL community reservation system.
Using Onsen or Public Bath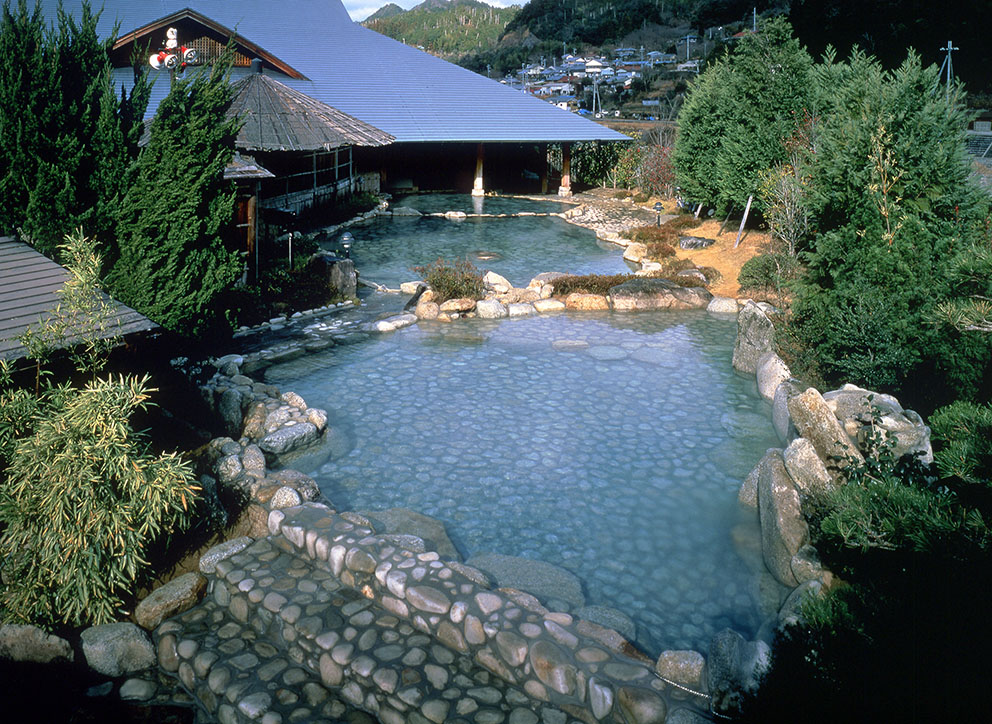 Many want to enjoy the Japanese custom of the bath with their families.

Some inns have private bath options, often for a separate fee.

The large, private baths at Watarase Onsen are great for a family experience.
Tips for Using the Onsen or Public Bath with Children
Children in diapers should not enter onsen baths
Infants should not be taken into the onsen if there is a chance of them urinating
Generally, onsen water is considered too hot or strong for some children.
Although baths are gender-segregated, young children can enter baths of the opposite sex with an adult (usually up to the age of 9)
Heed Meal Option Advice
Introducing kids to Japanese foods and using chopsticks before they visit might limit surprise when children face traditional menus in the countryside. For example, can they eat sushi, sashimi, rice balls, yakitori? Japanese flavors can be more subtle than those familiar with the western palate.
Typically, children's meals at accommodations are limited to adult-size portions of the same menu, half-portions, or no-meal options at local inns.
Considering larger accommodations along the way with buffet-style menus might give your family some options.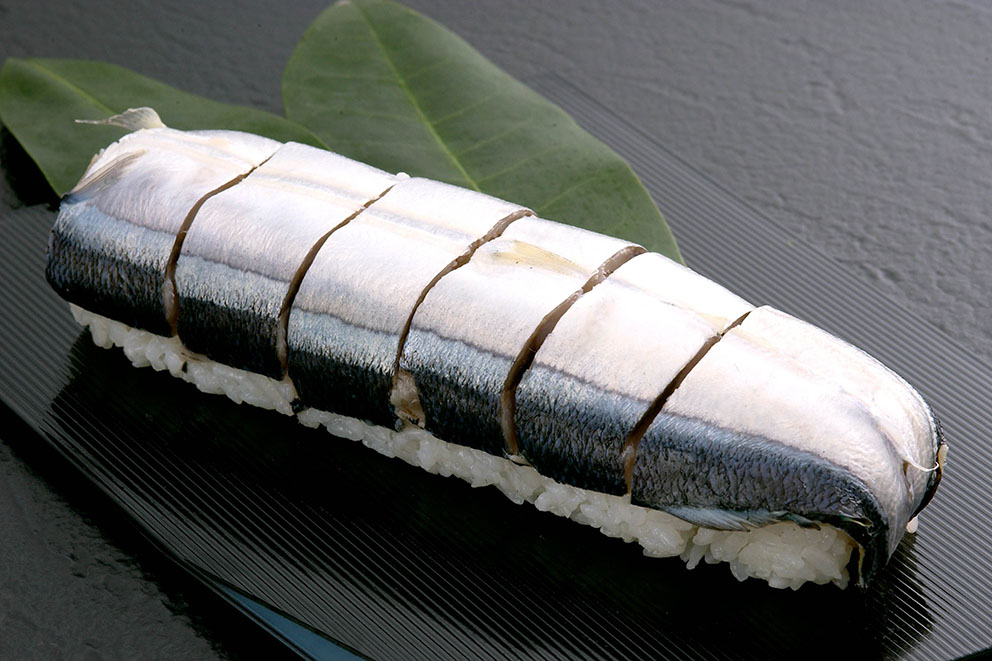 Please make sure to double-check if it is okay to bring outside food to the dining area for children. Some accommodations might prefer guests eat food not purchased at the inn in their own room.
When sharing space during a meal with other guests at an inn, try to be respectful as possible.
There are limited places along the trail to buy food, so having ordered a bento box lunch in advance, or having food prepared and taken with you is essential, along with adequate drinks and snacks.
Be careful about where you eat. Eating or drinking on the grounds of shrines or temples (except in designated areas) is prohibited. When in doubt, ask.
While some accommodations might have western utensils, prepare your own if you think your kids would prefer that.
NOTE: It is difficult and not culturally sensitive to change meal requests, or make new meal demands, onsite when you arrive at accommodations. Vegetarian meals must be confirmed during the reservation process and respected during your visit.
Traveling Itineraries with Small Children
There are options for families with children visiting the Kumano area, and many have done that.

Be advised that bringing newborn infants does pose greater challenges and requires greater preparation on behalf of the parents.

The majority of accommodations are traditional rural inns and extra bedding, if available, is just another futon. Even when infant stays are possible, infant meals are not available.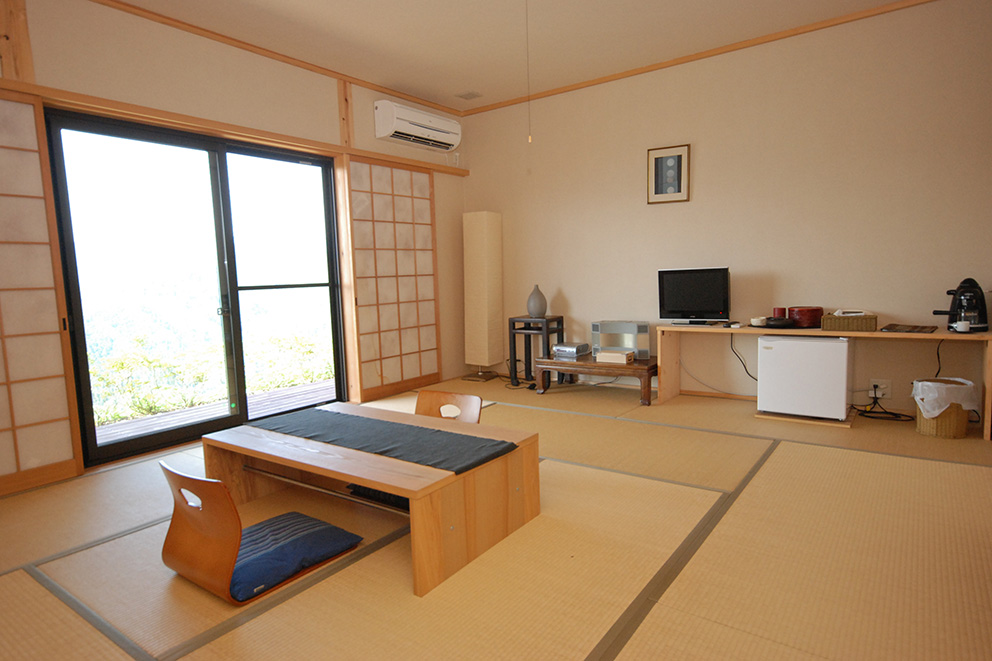 For bathing, while some accommodations offer private family baths, sometimes at an additional fee, onsen would not be possible with the infant.

Also, the farther inland along the trail, the less likely it is to find infant-related products. Guests must be prepared to carry all of what they need to care for the infant with them and to be able to pack out related refuse (such as used wet wipes, dirty diapers, etc.) to be disposed of at the accommodation in the evening.

Access to pediatricians and children-related medical services is also limited.

Staying near Hongu or Katsuura areas might provide the best options for newborn families as there are shorter and easier trail options and more accommodations in those areas.

Kumano Kodo Nakahechi Highlight Walks:
The Highlight walk (7 km) from Hosshinmon-oji to Kumano Hongu Taisha
Daimon-zaka slope (roughly 2 km) is scenic, historic, reasonable in length, close to public facilities, near public transport.
There is even a 3-day Kumano Kodo Highlight Walk that incorporates both of these sections.
Central Hongu-based Stay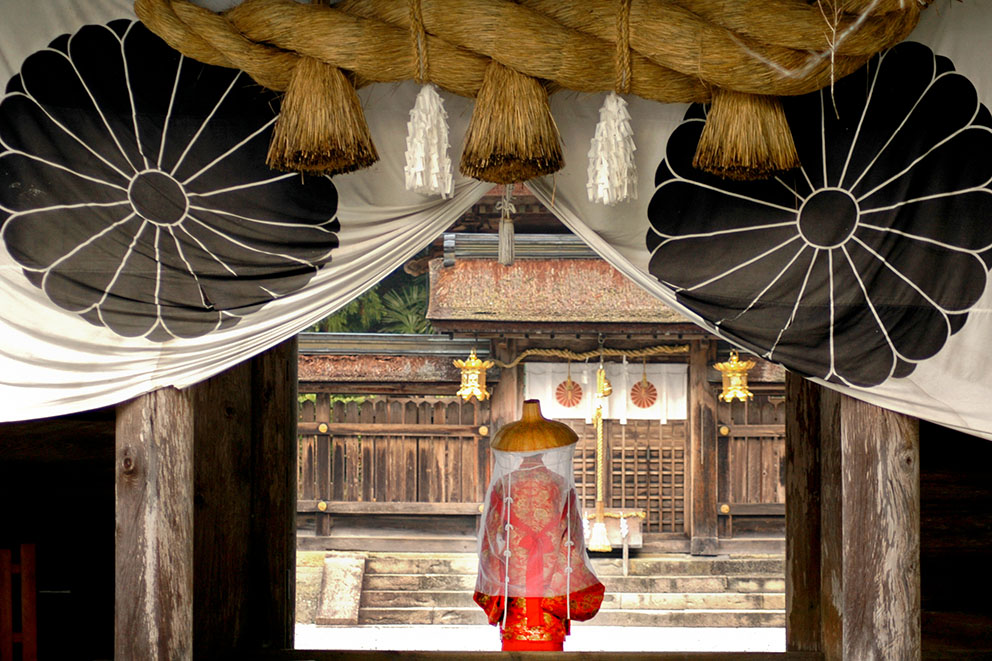 The Hongu area is a convenient and central base for families to experience the Kumano Kodo.

Hongu is home to the Kumano Hongu Taisha, one of the three grand shrines of the Kumano Sanzan.
Accommodations and trailheads for highlight walks are a short bus ride away.

And the Kumano Hongu Heritage Center, located across the street from the grand shrine, is an exceptional visitor center to help guests understand more about the Kumano pilgrimage and world heritage designation.

There is even a do-it-yourself home center, KOHNAN コーナン, in the middle of town that sells diapers.

A good example of family-friendly accommodation is the Blue Sky Guesthouse with bright, clean rooms, a community kitchen, nearby bus access, and a convenient location to central Hongu. The English-speaking owner has also helped many families by providing local information and recommendations.
Coastal Katsuura Stay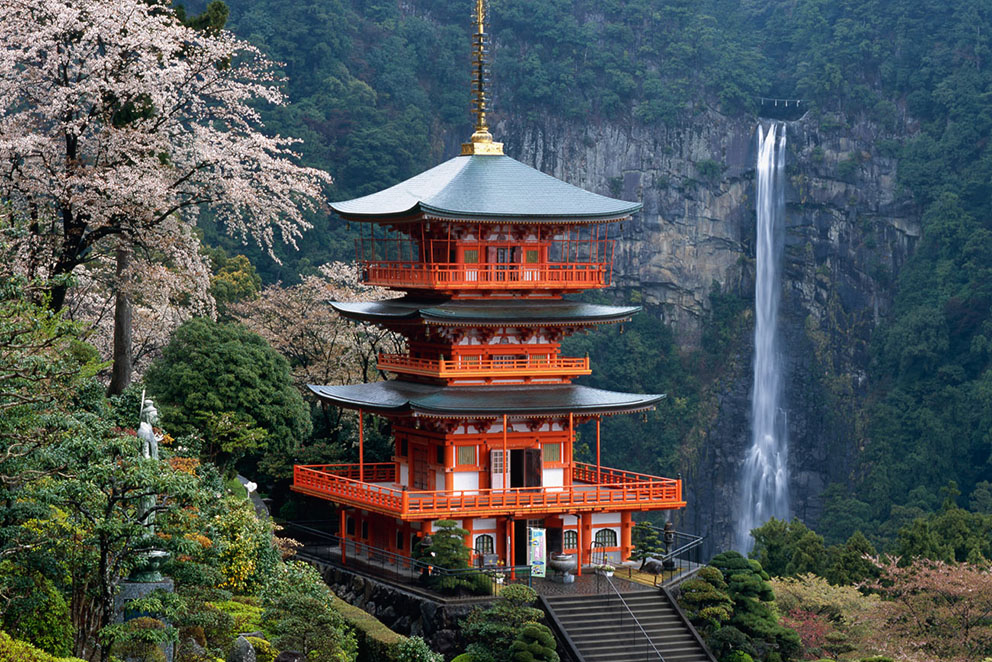 For just a two-day/one-night stay in the Kumano area with small children, staying in Katsuura is an option.

Visitors can take a limited express train from Osaka directly down the coast, past Kii-Tanabe, around the tip of the Kii Peninsula to Kii-Katsuura.

Overnight in the fishing village of Katsuura to enjoy the famous "maguro" blue fine tuna restaurants. There are also "ashiyu" foot baths in town, and an interesting fish marketplace. You can even observe a tuna fish auction (usually 7:00 a.m. if there is a catch) from a second-floor observation deck (free).

There is a bus departing from Kii-Katsuura directly (with some stops) to Daimon-zaka Parking (about 20 minutes).

Walking the roughly 2 km Daimon-zaka course up to Kumano Nachi Taisha, Seiganto-ji and down to the Nachi Falls is a short walk featuring picturesque stone staircases. Then, catch one of several return buses from Nachi-no-Taki-mae bus stop back to Katsuura.


The limited express Kuroshio runs on the JR line back and forth to Osaka.
Nakahechi Trail Options for Walks with Older Children
Many families want to experience as much of the Kumano Kodo as possible together, depending on the interest, conditions and abilities of their children.

For those parents wishing to walk as much of the Kumano Kodo trail as possible with their family, the stage between Chikatsuyu/Nonaka (Tsugizakura) area and Kumano Hongu Taisha (21 to 25 km) poses the most challenge.
Shortening the Long Trail Day – Tsugizakura-oji to Kumano Hongu Taisha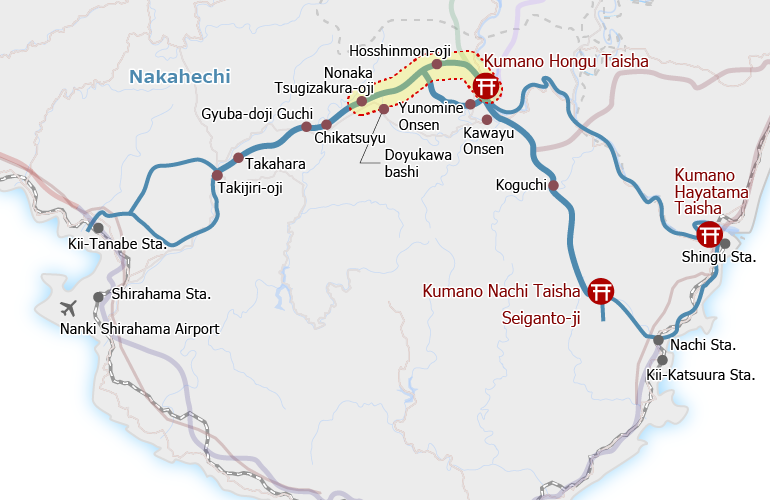 While not advisable to walk this section with smaller children because of its level of difficulty, it might be possible in part with older children depending on their ability and familiarity with hiking. It is recommended that parents understand their children's physical limits and conditions and be aware of the effects of environment, travel and weather before attempting this route.

This is the longest stage on the Nakahechi section with just a few sections with public bus access.

This section can be more manageable by either breaking it up or shortening it.
Breaking up the Long Trail Day
Some take a bus from either Chikatsuyu village area or Tsugizakura-oji (Nonaka) area — the latter from Nonaka Ipposugi bus stop — to Kobiro-toge bus stop (19 km to Hongu), Doyukawa-bashi bus stop (17 km), or all the way in and around to Hosshinmon-oji bus stop (7 km to Kumano Hongu Taisha).

Please see Bus Timetable No. 1.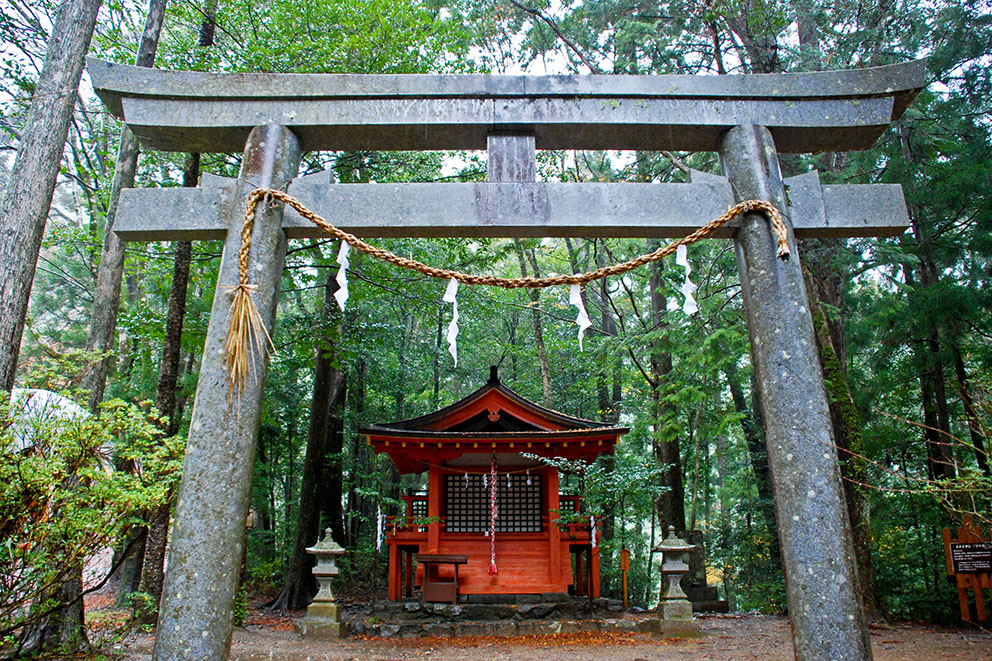 Shortening the Long Trail Day
Others might walk from Tsugizakura-oji to Hosshinmon-oji (14 km) and catch the bus from there to their accommodation in the Hongu/Yunomine/Watarase/Kawayu onsen areas. The following morning, they then could take a bus back to Hosshinmon-oji to complete their walk to Kumano Hongu Taisha.

NOTE: it is important to be aware that there are only a couple of buses departing from Hosshinmon-oji in the afternoon to take you to the Hongu area, so giving adequate time to reach Hosshinmon is essential.

Please check Bus Timetable No. 6.
Becoming "Dual Pilgrims" Together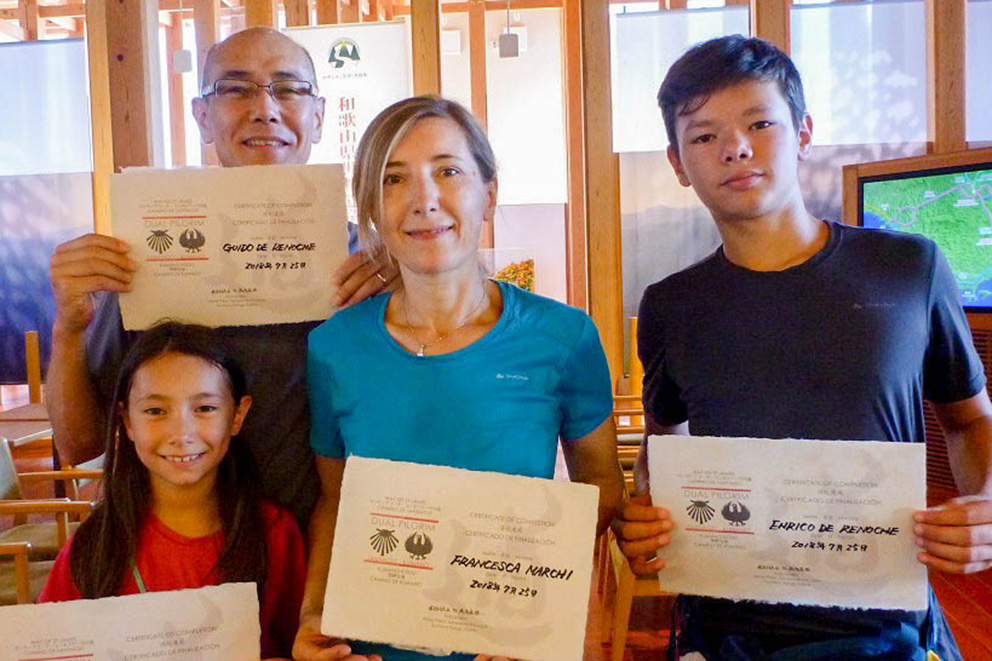 Some families who have walked parts of the Camino de Santiago in Spain are also interested in walking the Kumano Kodo in Japan as both are the only long trail pilgrimage routes in the entire world that are UNESCO World Heritage cultural assets.

Both are very different pilgrimages, however. The distance to qualify for the Kumano Kodo section is much shorter than the Camino, much of the trail follows rural mountain passes through remote villages in the Kii Peninsula.

It is NOT necessary to walk the entire distance as there are a variety of ways of completing the Kumano Kodo pilgrimage to achieve Dual Pilgrim status.
Water Experiences
The ocean and rivers provide great excursions and fun for families of overseas visitors and local residents alike.

Why not consider one of the following?
Ocean Adventures
Pacific Coast Boat Tour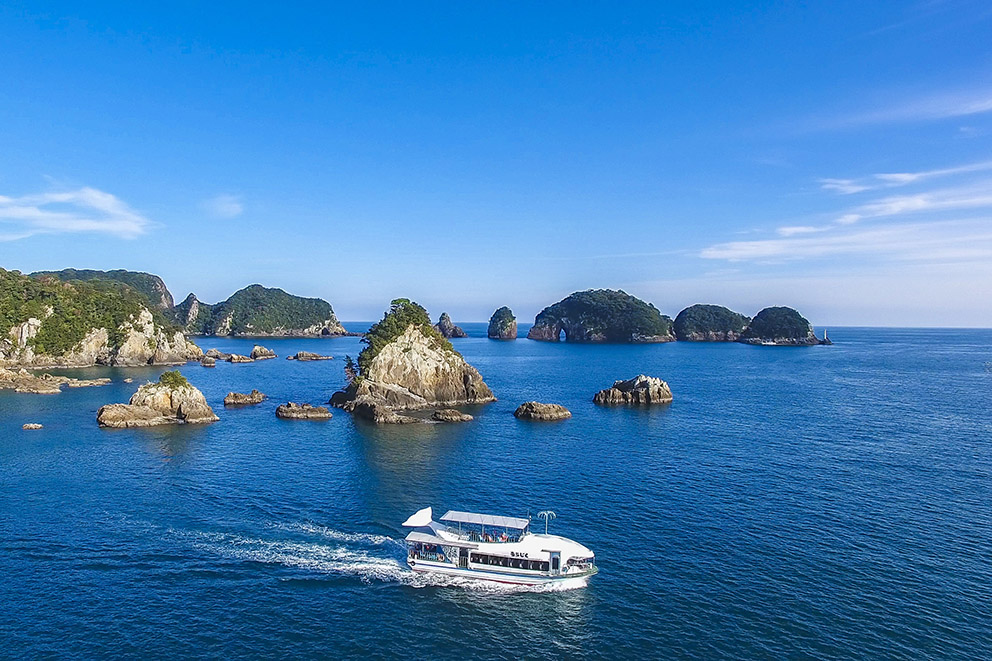 Cruise from the southeastern coastal port of Katsuura in Wakayama and view the dramatic, rocky coastline dotted with beautiful islands closeup.

Children of all ages welcome. Operates only on weekends and holidays at the moment.
Whale Watching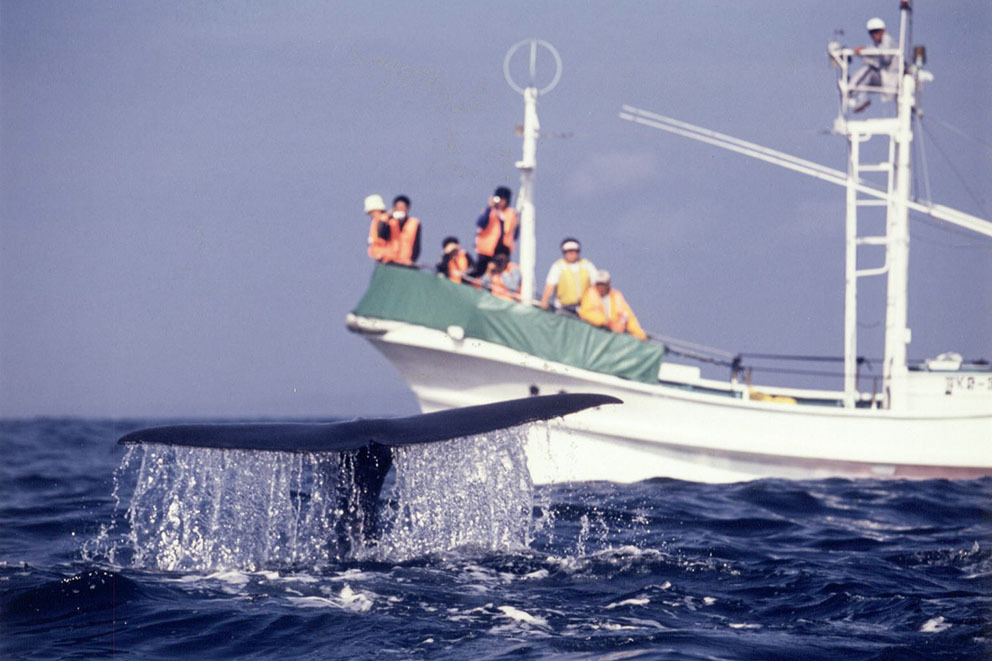 The "Kuroshio" Black Current runs next to the southern tip of the Kii Peninsula attracting a diversity of sea life, including whales and dolphins. The fishing boats take guests out into this vast seascape in search of encounters with these awe-inspiring mammals.

Free pick-up is available from accommodation in nearby Katsuura Onsen.
Sea Kayaking in Coastal Bay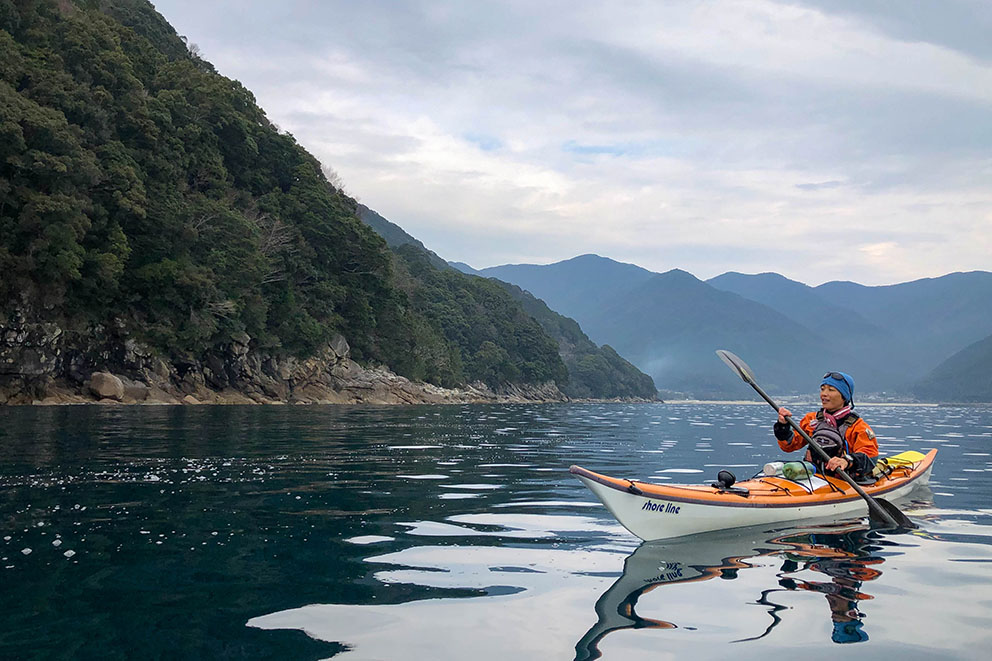 Mikisato E-gumi is a friendly sea kayaking outfitter based in Mikisato near Owase city in Mie Prefecture along the Iseji route of the Kumano Kodo. Mikisato is a small beach settlement located in the upper reaches of a large bay on the rugged coastline of the Kii peninsula.

Mikisato e-gumi offers sea kayak activities for beginners and experienced paddlers. Enjoy a special aspect of the Kumano Kodo with a bilingual English-speaking guide.
River Adventures
River Pilgrimage Experience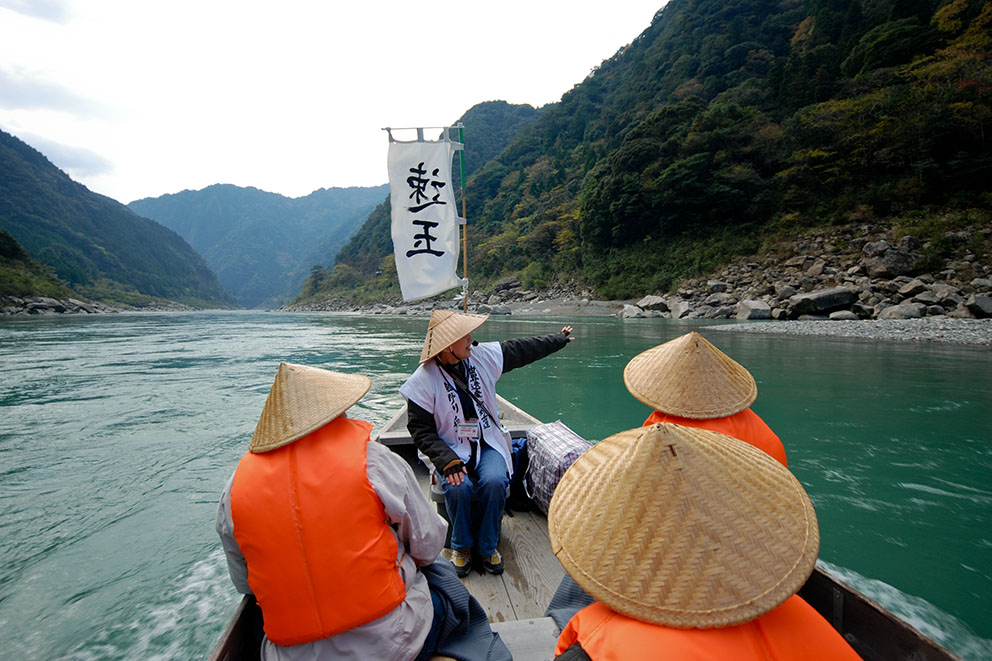 Journey down the sacred Kumano-gawa River in traditional wooden flat-bottom boats as pilgrims have been doing for centuries. This is a unique and fun way to get a river view perspective of Kumano's spiritual landscape.

Children 4 and above only.
Log-rafting Adventure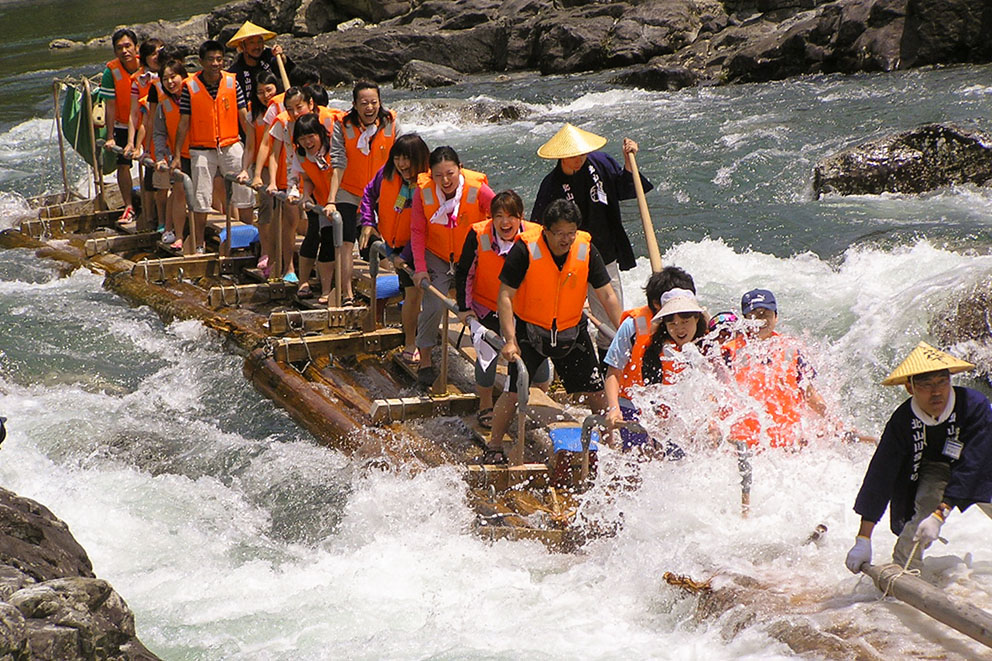 Before roads were built, logs cut from the Omine Mountains were connected together as rafts ("ikada" in Japanese) and floated down the rivers to the sea. The skills and techniques of these "logging river runners" have been preserved in the Kitayama village for over 600 years!

Come experience log-rafting through the scenic Dorokyo Gorge, part of the Yoshino-Kumano National Park.

Children 10 and older only.
Side Trips
The Kii Peninsula offers a variety of activities and sights other than just walking the Kumano Kodo. Along with excursions, families can visit coastal towns to check out local history, food and the natural environment.
Shirahama Side Trip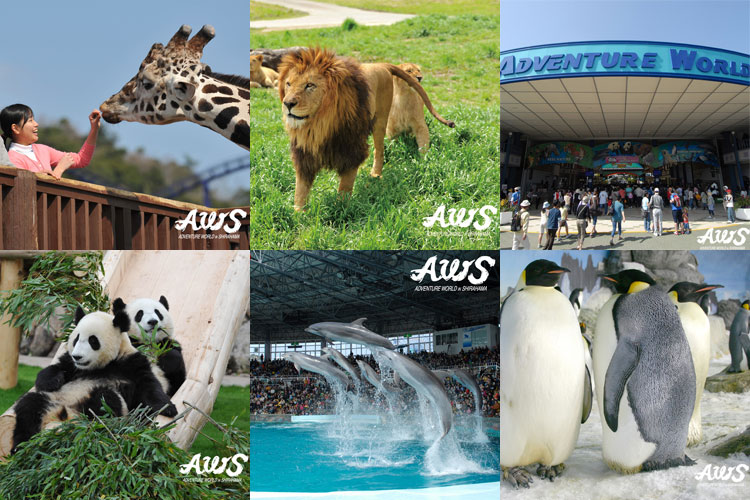 Explore one of Japan's most famous beach town resorts, Shirahama. Walk along the white sands and swim in the Pacific Ocean.

Shirahama Onsen is located on the west coast of the Kii Peninsula across the bay from Tanabe and is one of the oldest hot springs in Japan. Shirarahama beach is a highlight of the area. This developed resort village features onsen baths in dozens of accommodations as well as public facilities.
Shirahama is also famous for a variety of kid-friendly attractions including Adventure World, home to Giant Pandas and a variety of other animals.

There is also a variety of natural coastal cliff formations to consider and don't forget about fireworks festivals in the summertime!
Kushimoto Side Trip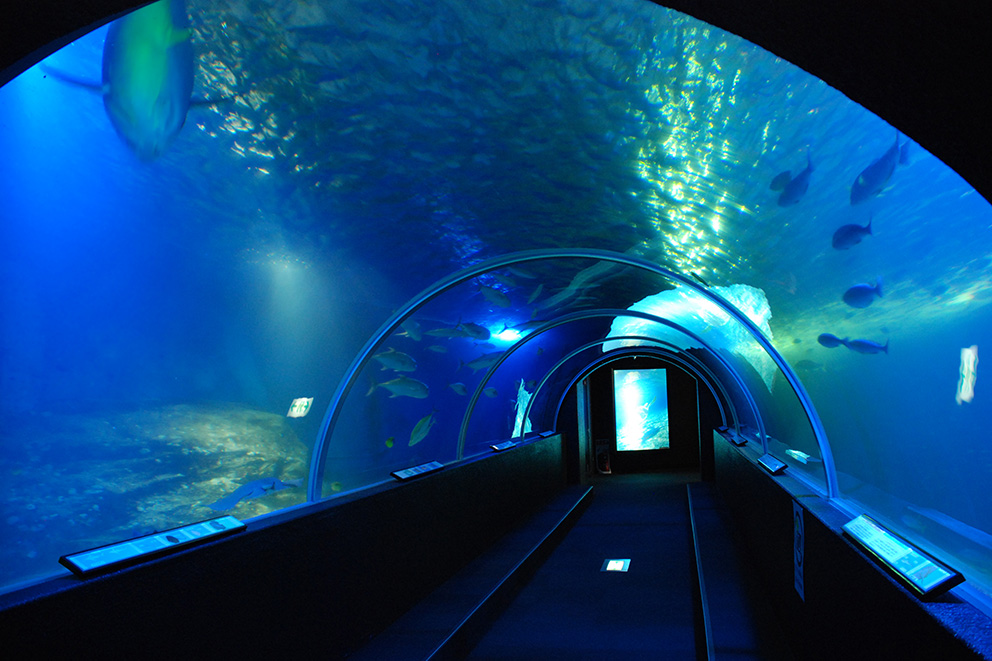 Kushimoto is a marine diving and fishing mecca located on the southernmost tip of the Japanese main island of Honshu (also the southern part of the Kii Peninsula of Wakayama).

Along with coastline features like Shiono-misaki Cape and Hashikui-iwa to explore, sections of the Kumano Kodo Ohechi coastal route are nearby.

Or visit the Kushimoto Marine Park, the first-ever of its kind in Japan, featuring an aquarium, underwater observation tower, glass-bottom boat tour, restaurant, souvenir shop, research station and diving park.

Japanese like Kushimoto, as well, for its food, local culture and history, and of course beautiful ocean views.
Getting Around with Children
Manage Distances with Public Transportation
For families walking on the Kumano Kodo Nakahechi route, being aware of access to public transportation can be very helpful in case they need to shorten a trail.

Buses are also convenient for getting to trailheads or rural centers across the Kii peninsula, and for breaking up longer parts of the trail.
Bus Fares for Children
Generally, bus fares for children (6 to 11 years old) are half that of adult fares, rounded up to the nearest 10 yen.

For example, if the adult bus fare is 310 yen, the child fare is 160 yen.

Toddlers (2 to 5 years) and infants (0 to 1) are free. However, a second Toddler is charged the child fare.
Rental Cars Make Side Trips and Access Smoother
Why not drive through the peninsula or along the coast visiting area sights on your own schedule?

Renting a car is a convenient and relatively easy option to consider.

Rental cars are available near train stations in coastal towns.
Some Useful Japanese for Parents
| English | 日本語 | Japanese pronunciation |
| --- | --- | --- |
| diapers | オムツ | omutsu |
| baby formula | 粉ミルク | kona miruku |
| baby wipes | おしりふき | oshiri fuki |
When in doubt, check with your family health professional for advice in traveling with children before you leave your home country.

If you have any questions, feel free to contact the Tanabe City Kumano Tourism Bureau.
Links
ENGLISH
More information regarding dealing with medical institutions in Japan including some Japanese phrases and a pointing tool:
"Guidebook for When You Are Feeling Ill" by the Japan Tourism Agency