Local Busses
The Kii-hanto peninsula covers a large area and includes three prefectures: Wakayama, Mie, and Nara. To service the local population there are many bus companies and sometimes their routes overlap. The bus companies almost always use the same bus stops. The following timetables include all of the companies that run on these routes.
NOTE: Bus prices will increase from October 1st, 2019.
Bus Route Map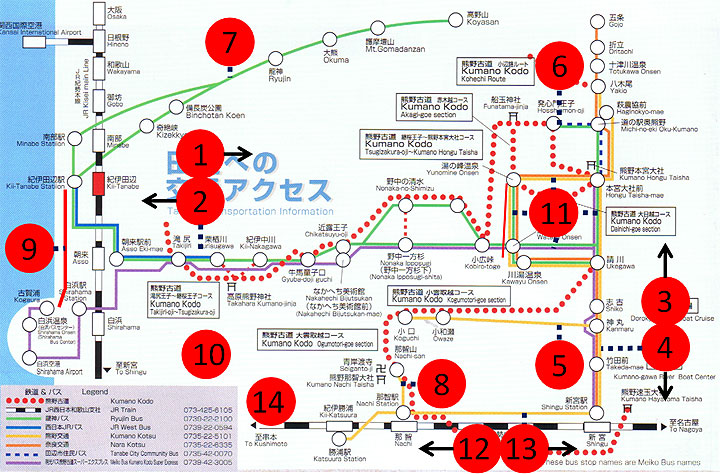 The numbers on the map correspond to the bus timetables below. #10 & #14 are not written on this map and are placed in the approximate location.
Note: Multiple routes are sometimes included in one timetable for convenience. For example, #15 includes information from #3, #4, #8, #12, and #13.
Local Bus Timetables
There are seasonal changes in bus schedules and we are trying to keep our data up-to-date. Please confirm times with schedules at bus stops. Sorry for any inconvenience.
Attention Japan Rail Pass Holders: JR busses do not service the route system. Japanese sites, call in Japanese.

Bus Prices Charts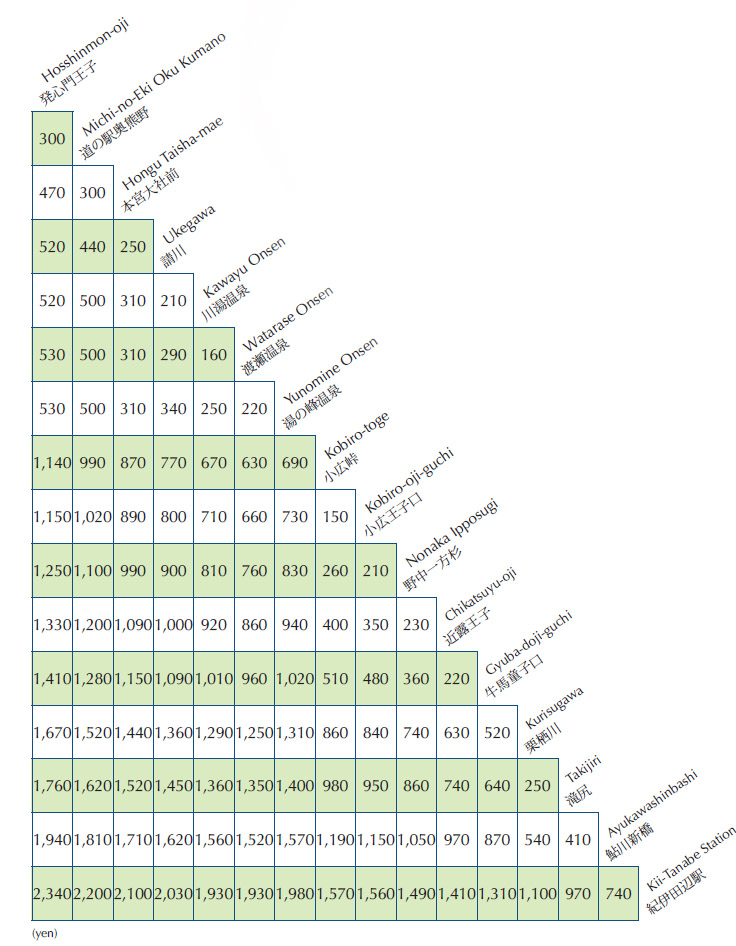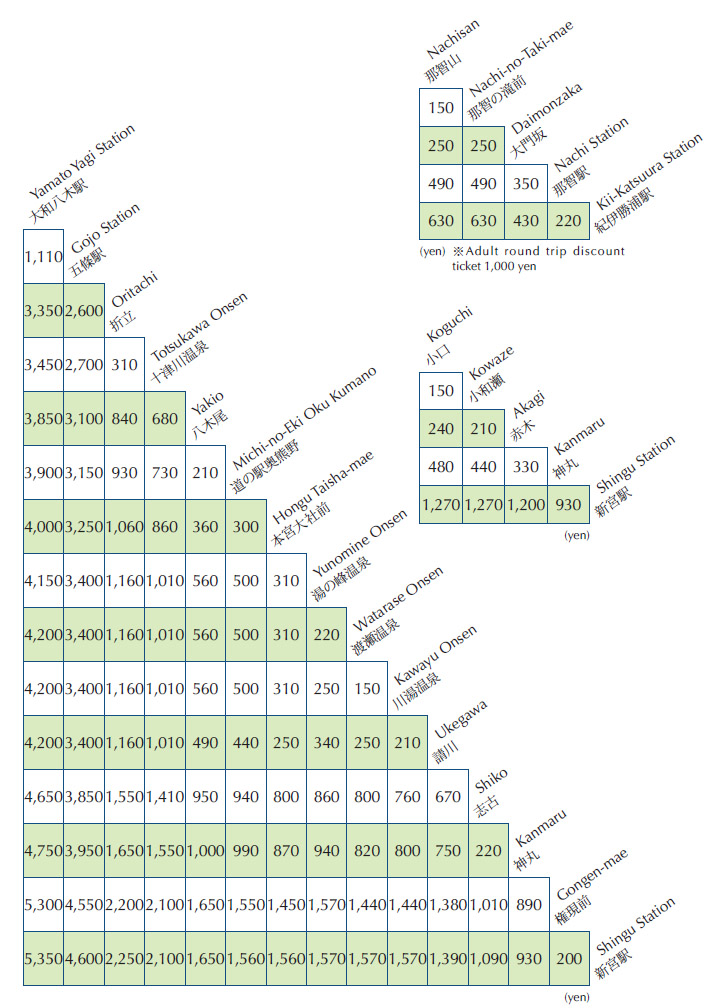 Bus Stops
JR Kii-Tanabe station
Bus Stops 1, 2 & 3 are for local busses. Bus stops 4 and 5 are for highway busses.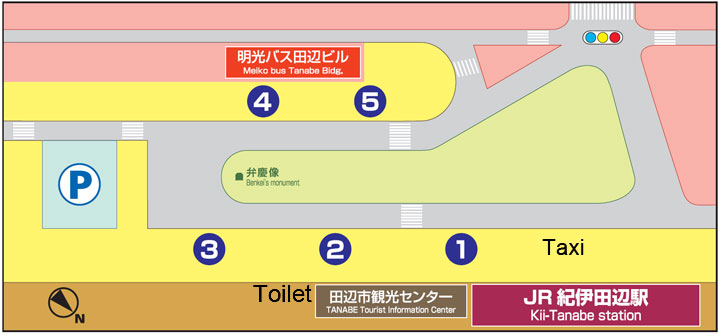 BUS STOP 1
Bound for:
Ryujin Onsen
Koyasan (Transfer at Gomadanzan)
BUS STOP 2
Bound for:
Takijiri
Kurisugawa
Yunomine Onsen
Kawayu Onsen
Kumano Hongu Taisha
Hosshinmon-oji
HIGHWAY
BUS STOP 4, 5
Bound for:
Gongen-mae bus stop (Shingu)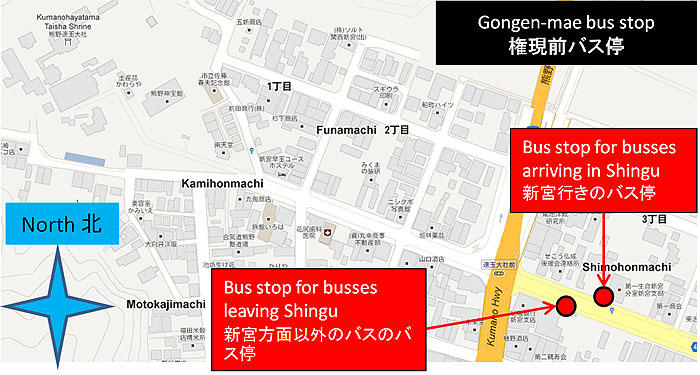 JR Nachi station 那智駅前 (Nachi)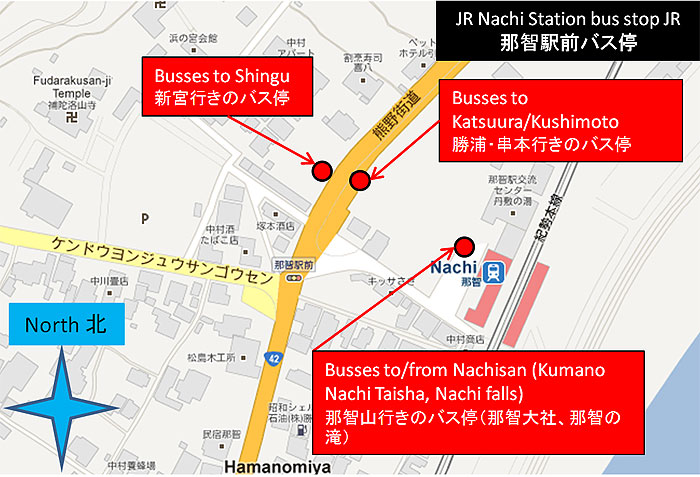 Nachi-Katsuura Area Map PDF >>
Koyasan Busses
From Koyasan station to the village of Koyasan it is necessary to take a local bus.
The bus company in Koyasan is called Nankai Rinkan Bus. On their website is route, price, and how to use information.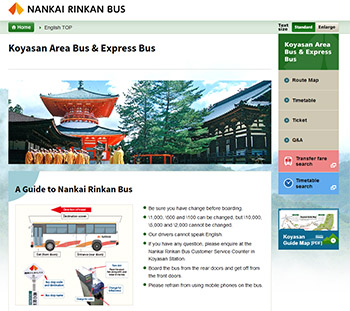 Highway Busses
Highway Express busses are a very inexpensive and easy way to travel to Tanabe and Shirahama. Many people like the freedom offered on trains but this is also a very good economical option.
Osaka to Tanabe/Shirahama Express Bus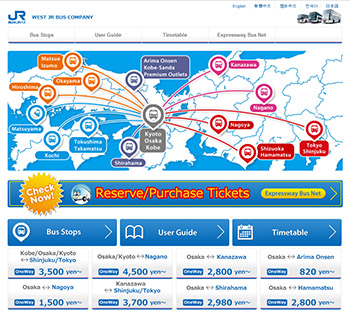 Koyasan & Kansai International Airport (KIX) Express Bus
Direct access between Koyasan and KIX! 105 minutes!
Bus company site>>
Willer Express bus company site (online booking) >>
PDF >>
PERIOD:
July 15th – November 30th, 2017
PRICE (one way fare):
Regular Fare 2000 yen / Children 50% off
Web Fare 1800 yen / Children 50% off
BOOK ONLINE HERE>>
TIMETABLE:
KIX 11:30 to Koyasan (Okunoin-mae) 13:18
Koyasan (Okunoin-mae) 14:35 to KIX 16:20
BUS STOPS:
KIX: Bus Stop 6, 1st Floor, Terminal 1
KOYASAN: Near Okunoin at the East end of Koyasan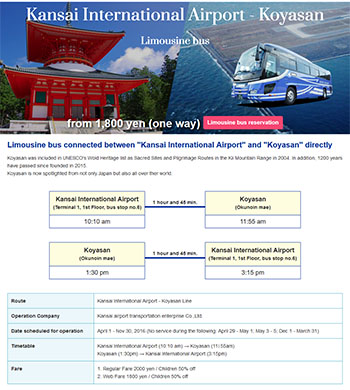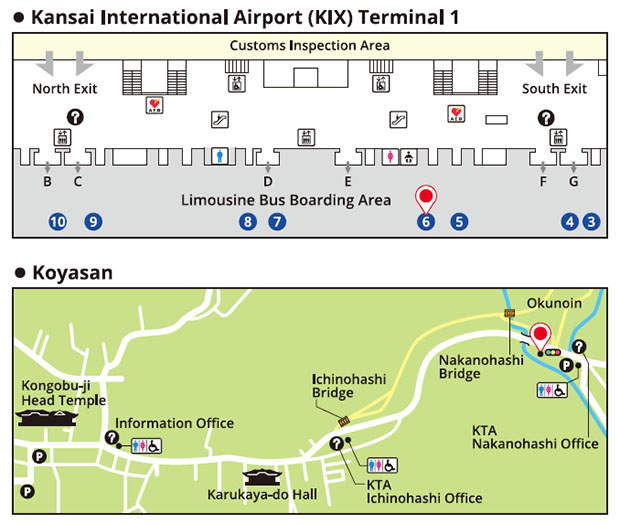 Shingu, Katsuura, Kushimoto, etc. ~ Nanki-Shirahama Airport Limousine Bus
Daily express busses between Shingu, Katsuura, Kushimoto, etc. and Nanki-Shirahama Airport.