Explanation
There is a network of public busses throughout the area to access many of the villages in the mountains. Riding a local bus is easy once you learn the basic system as outlined below. In some of the more remote areas, busses run less frequently, so please plan accordingly.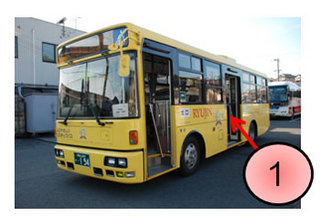 1. Enter through rear door (or front door if only one)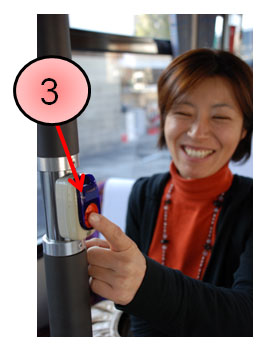 3. Push button to inform driver that stop is wanted (it is also good practice to tell the driver where you want to get off when you board)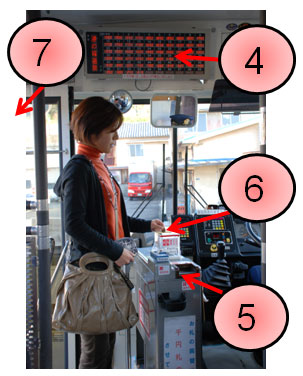 4. Match number ticket to the electronic fare chart at the front of the bus to determine fare (prices change according to distance travelled)
5. Change money if needed
6. Put money and ticket in fare box (exact fare)
7. Exit through front door
Fare Box & Change Machine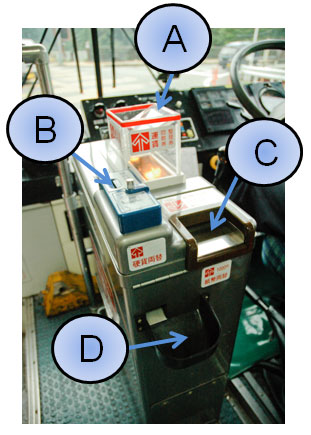 A. Fare Box
B. Insert coins for change
C. Insert bills for change
D. Change dispenser
How to Ride a Local Bus Video
Hints for Riding a Bus During Peak Season
During peak season along the Kumano Kodo in the fall and spring public busses can be busy, especially those departing from Kii-Tanabe and in the mornings from the Hongu area. Here are some tips that may help make bus travel go smoother.
When boarding tell the bus driver where you want to get off.
Buy same day tickets from the machine inside the TANABE Tourist Information Center.
Prepare exact change for bus fare in advance.
Have one person in group pay for everyone.
Arrive early at the bus stop if you want a seat.
Hold backpack on your lap to make room for other riders.
Do not rush to get off.