JR-West, Kansai WIDE Area Pass
The Kansai WIDE Area Pass is a special rail pass for the bullet train "Sanyo Shinkansen", express, and local trains on the JR West railway network.

4 Day: 7,000 yen
※Consecutive days.

More information, buy online >>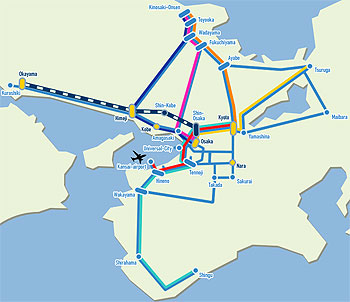 Ise-Kumano-Wakayama Area Tourist Pass
From July 15, 2016 (Friday)
PRICE
Adult 11,000 yen Children 5,500 yen
(Children 6 to 11 years old)
NOTE: This pass is not available for purchase in Japan.
VALIDITY PERIOD
Five consecutive days
AREA
JR conventional lines:
Nagoya-Shingu-within Osaka City (via lse Tetsudo Line or Kameyama, via Kisei Main Line/Hanwa Line)
Nagoya-Kameyama-Nara-within Osaka City (via Kansai Main Line) Taki Toba (Sangu Line)
Kansai International Airport-Hineno (Kansai Airport Line)
Bus routes for accessing Kumano Kodo, Kumano Hongu Taisha, Kumano Nachi Taisha (Only Kumano Kotsu Bus); and select Mie Kotsu bus routes
TRAIN TYPES
Unlimited use of non-reserved seats on ordinary cars on all JR conventional line trains in the subject section.
Reserved seats can be used up to four times on ordinary cars of limited express and rapid trains.
Only non-reserved seats can be used on the limited express "Haruka' between the Kansai International Airport and Shin-Osaka section.
BUS COMPANIES
Mie Kotsu Bus:

Geku-Naiku line
Ise/Futami/Toba Excursion Bus CAN Bus
Owase Station to Washige
Owase Station to Segiyama -Kumano Kodo Center
Kumanoshi Station to Senmaida and Tori-toge pass entrance
Kumano Gobo Nankai Bus:

Kii-Katsuura Station to Nachisan
Shingu Station to Hongu Taisha-mae
Shingu Station to Koguchi
Shingu Station to Kii-Katsuura Station
Information PDF >>
Website link >>
JAL Japan Explorer Pass
Discount domestic flight tickets called "JAL Japan Explorer Pass" are available.
This is a great way to connect from Haneda in Tokyo to Nanki-Shirahama which is just south of Tanabe, the gateway to the Kumano Kodo pilgrimage routes.