Over the nearly two decades of supporting guests and local community members, we have received some heartwarming feedback that we would love to share. It is really our sincere pleasure to connect people with life-long experiences along the Kumano Kodo, and we strive to be improving over the next two decades! Thank you all again for visiting and we wish to see you again soon!
We've had a great time, by the way. We really loved our Kumano Kodo adventure – fabulous walking, such beautiful forests and really welcome hosts everywhere. We have made some amazing memories. And the information pack and briefing were first rate – we couldn't have been better prepared.

S., England, October 2022
Just returned from an amazing experience on the Kumano Kodo Pilgrimage Hike. Mike Rhodes from Kumano Travel was a wealth of cultural, historical, and practical knowledge. His enthusiasm, local connections, and flexibility enriched our trip beyond my expectations. Our ryokan stays were wonderfully authentic and very comfortable. The variety, quantity, and quality of food was an unexpected treat. Our hosts went above and beyond to welcome us and ensure all our needs were met. When the typhoon moved in our direction, Mike quickly mapped out safer options for our hikes each day. We could never have done this trip without him!
Three friends and I just last week completed a guided trip on the Nakahechi route with Mike as our guide. It and he exceeded all our expectations. We were so pleased with all that Mike brought to the trip and to our pilgrimage experience. He quickly got to know us, our individual styles, and brought information and guidance in just the right way to deeply enhance our trip. Mike's knowledge of the trails and stories of the route were priceless. I know I'm not the only one who will tell anyone who chooses to hike your beautiful routes to use your services and to hire Mike as a guide. We would all do the same again given an opportunity to retrace our steps, and to try new courses.

We're thankful for the relationships you and he have in the Kumano Kodo area. Each place we stopped was well prepared and extremely welcoming. Thank you for everything you brought to our experience and for the memories we'll carry with us forever. This was one of my life's greatest experiences.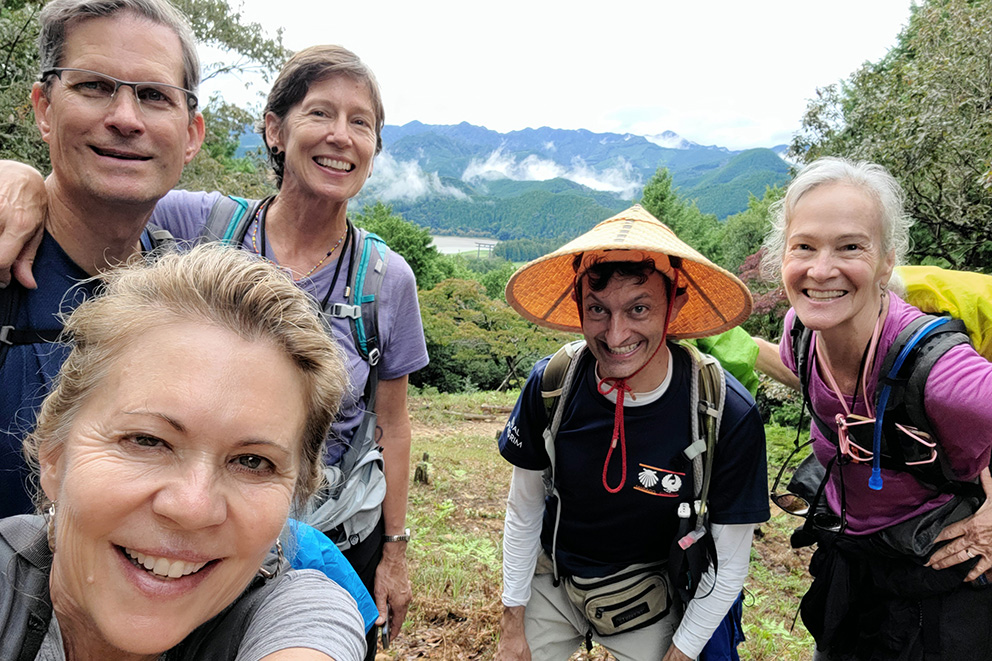 Kumano Travel made booking our experience ourselves very easy and enjoyable! I would highly recommend it for other travelers interested in the Kumano region. A wonderful service!! We will hopefully have a chance to return and spend longer!
Excellent! You went out of your way to coordinate everything for us and we were very happy. Very good for people who want to hike independently and not part of a tour group.
I think that the Tanabe City Kumano Tourism Bureau/Kumano Travel Reservation sites are the best tourism sites I have used. They are very easy to navigate and contain all of the information required in easy to find locations. The service provided by the staff at Kumano Travel was outstanding, reorganising my booking after the place I booked was full!
We had an AMAZING time in Kumano Kodo! The trek was amazing – it was beautiful, very well maintained and marked and the places where we stayed were an absolute treat. It was exactly the experience we hoped to have. I will definitely highly recommend this trail to others and wish you all the best. Japan was amazing and I'm sure we will all be back soon! Until the next time, Thank you for all your help and patience!
It was amazing!!! … I really have no words to thank you! It was a trip of a lifetime!
Just wanted to congratulate you and your colleagues on the excellent work you are doing in helping international visitors discover this wonderful part of Japan. It was one of the highlights of my trip to Japan, albeit very brief insight into the area. I certainly want to return with family and do more walking in the area.
Wanted to say thank you so much for your help organising the komono kodo trail. Your maps were so detailed and I was provided everything I needed….Will recommend starting in tanabe to everyone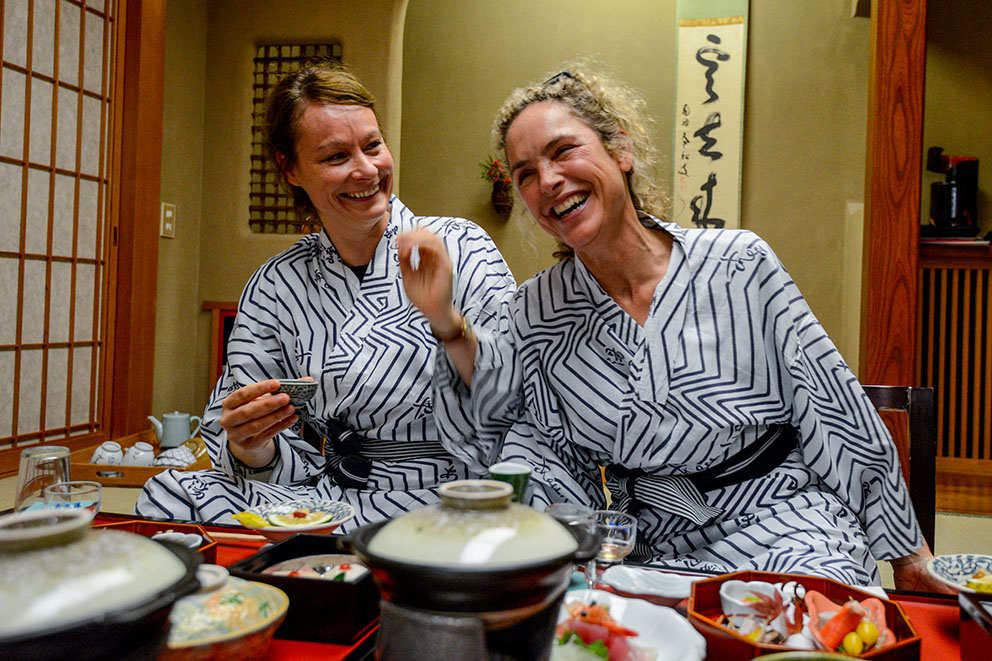 I would like to let you know that we are super happy with the efficiency and the professionalism you have been dealing with us!!
Walking the trail was really one of the highlights of our visit to Japan and we hope to be able to do a longer version next!
I must express my sincere gratitude for your help in the planning of our visit to the Kumano Kodo. Without your guidance it would have nearly impossible to arrange such a unique trip from the other side of the world. Your website is also very inspiring, informative and well structured. Thank you!
We just wanted to thank you again for all of your help in planning and booking our trip on the Kumano Kodo. We had the best time of our lives and we owe it to you. The trail was simply amazing, the accomodations you helped us book were awesome, and the recommendations you gave us were spot on. Thank you so much. We owe this amazing trip to you.
I just wanted to thank you for the clear and detailed information you provided. I don't think I've ever had such good guidance on my past trips.
I think the amount of excellent information the Tananbe City Kumano Tourism Bureau have available in English is simply amazing. I can say it is one of the best tourism related sites I've ever used. We were in a position to plan our trip in detail and had all the information available to us to do that. I found the booking process very well explained and worked seamlessly.
We loved walking the old pilgrim trails, they are exceptionally well marked and maintained, the scenery was spectacular. Finally, soaking in the hot baths after a day's walking was such a treat at the end of the day. We also loved Kii-Tanabe city, which was unexpected. We stayed 2 nights and thought it would be a small stop-off but the town was a real treat.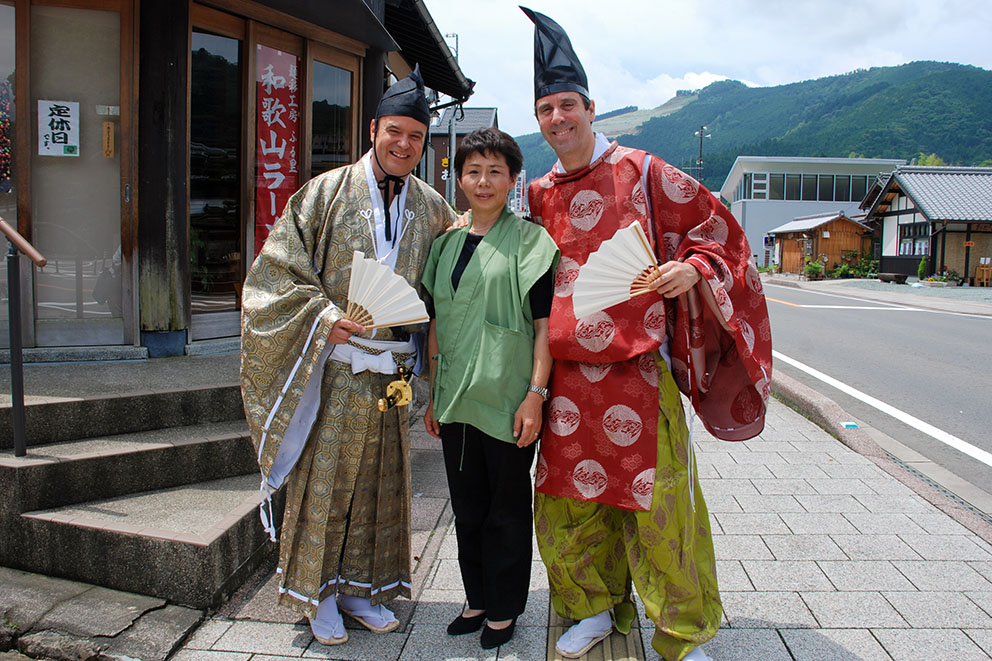 Very impressed and satisfied with the Tanabe website as well as the entire areas attitude towards foreign visitors. Nowhere else in the world have I experienced such a detailed, easy-to-use and friendly travel service. Without you my trip would have been far less remarkable. Thank you
The mountains are breath taking, the views are amazing, walks through the forests are fantastic, I cannot recommend this highly enough, it was beautiful hike to do!
This is simply a great web site. It makes possible to experience something very unique without need to speak Japanese. I can warmly recommend this experience for everybody interested in Japanese culture.
The location of the Tanabe tourist bureau was wonderful. Right there at Kii Tanabe train station and at the bus stop could not be better. The staff were very helpful and the English speaker did a great job. Providing maps of each village with our accommodation marked made it very easy to find the minshukus. The Reservation website and process worked perfectly.
without the web site would not of traveled into the Kumano Kodo area. booking accomodation through the site was very easy and so useful for a non japanese speaking person as it allowed me to travel off the usual tourist areas.
The tb-kumano homepage and the reservation site are outstanding in terms of information in english. Never seen that quality and details from other cities/areas in Japan (and I travelled 6 times to Japan in the last 5 years.
First and foremost, I wanted to mention that your website is very impressive- it provided great information and is a wonderful example of a community-based enterprise.
One of the best holidays I have ever had – thank you! Wow – where to start?? Firstly the response from the team at Kumano Travel were always quick and helpful – I had endless stupid questions but they always replied with easy to follow solutions. We started our walk at Takijiri, finished in Hondu after a night. The Kumano Kodo walk itself was magical – well sign posted, hard going in parts but simply stunning. I can not recommend it highly enough – you really won't regret it. After two days we found ourselves sitting in a hot spring next to a freezing cold river resting our weary limbs – it was just magical. Thank you thank you thank you!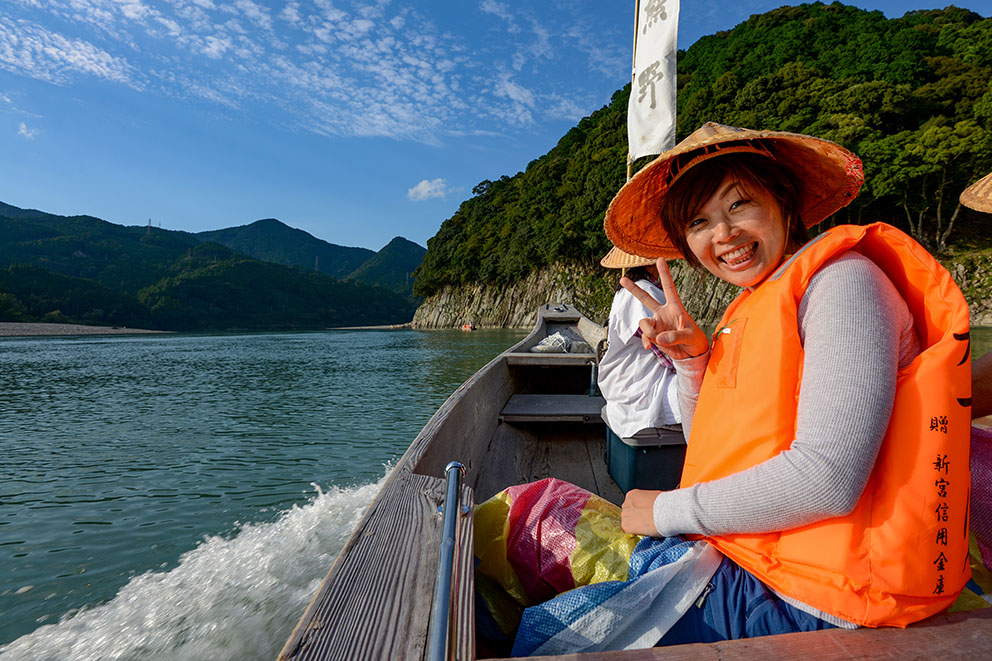 Thank you for the comprehensive web site. It can be very hard to plan a hiking trip from the other side of the planet. The maps were great, those in combination with the trail markers, made navigation easy. I really liked being able to pay for and reserve accomodations on the website. The descriptions were accurate and the reservations were accurate and did not have any issue whatsover with the accomodations. The reservation system is very easy to use and the way it is organized on your site, is really superb. I was able to plan this last minute trip in just a few days, because everything I needed was on one site. I was able to find and pay for accomodations, and look up trails and the general information was very good. I really liked having a little etiquette lesson on onsen and bath use and ryokan use. Thank you so much for your commitment in this area.
Hiking the Kumano Kodo. You have done a very good job with making the whole process easy and enjoyable. The website is a tremendous help as it can be daunting trying to plan a trip to hike the Kumano Kodo from the United States. The accomodations along the trail were great, the food wonderful and the trail itself is well done. The numbered sign posts and directional signs saved alot of time with navigation. The toilets, water sources and covered rest areas were great. I really liked having the explanatory signs near the historical sites too. You have also done a nice job having the trail remain off the highways. It gives you a much better experience than walking along a road, or having to bus between trailheads.
Great, fantastic. Very easy to navigate and plan the trip using the website. Thank you for all the effort. It was especially easy to make accomodation reservations. The reservations were accurate and it was so comforting to have the reservations and to have them pre-paid was a blessing. Planning a trip from overseas can be daunting and confusing, but your website was well organized and certainly made the trip easy to plan. The information on the Kumano Kodo route was accurate and the maps were very easy to use and accurate.
Perfect. Responses were quick and thorough. The people at the end of the email went the extra mile on each email and I really felt like they had our best interests at heart. I felt like I should pay for the service it was so personalised, timely and comprehensive. It made booking what felt like a tricky adventure a complete pleasure.
Your bureau was included in the Lonely Planet as one of the best in Japan. And I can see why. There is so much information available and it is so easy to book rooms. Thank you for all of the advice. Keep up the good work! Thanks!
EXCELLENT !!!!
Couldn't be any better. I've been traveling internationally for just over two years now, and I have yet to come across an area or region that was more welcoming to foreign visitors. I am exceedingly impressed. Thanks for an amazing experience!
It seems top notch to me. It allowed an independent traveller such as myself to complete his travels independently but without the uncertainty and confusion that typically goes along with such travel in foreign countries. I would not have seen everything I was able to see in 4 days without your planning assistance. Thank you!
It was perfect for us. I would say that other tourist regions in other countries should model themselves after this. I couldn't have been more impressed.
The Kumano Kodo trail was wonderful – very peaceful and almost deserted in most places! Kawayu Onsen was also fantastic, a great experience sitting in the river digging your own onsen. The local people were also very welcoming and friendly, despite our lack of Japanese.
I have visited Koyasan a few years ago, and Kyoto 4 times. I love both of those places. However I had never walked the Kumano Kodo before, and I absolutely loved the experience. I walked for 5 days, at around 7-10 hours per day excluding breaks. I thought it would be a huge challenge for me physically and mentally, but I felt incredible after each day. I loved the idea of carrying everything I needed on my back and walking across Wakayama's incredible landscape. I also loved staying at the different lodgings and talking with the owners. Having been back in Australia for 3 months now, waling the KK is still the first thing I think of when I think about my 2 month stay in Japan. I would love to walk the pilgrimage again!
I enjoyed the walking track, well maintained and signposted. I enjoyed the stories posted along the trail from the early pilgrims. I really enjoyed the experience of staying in minshukus. The support that Kumano Travel has given to the minshuku owners to communicate in english, eg the signs about how to use the bath, the leaflets as to whether meals are served in the room or communal area and leaflets regarding the types of dishes or festival was a great touch.
Excellent website. The comprehensive information, maps, timetables and very helpful and responsive staff, made the whole experience of plotting and organising the entire trip very easy. The graphics and information of each map section are some of the best and most comprehensive I have seen. Well done. Latterly, when given the printed brochure of the Kumano Kodo, the sequence and details of each map section were very useful. The system for reserving accommodation was excellent.
Excellent. Other tourist bureaus in Japan should be consulting with Tanabe City to see how an international reservation site and office should be set up.
The Kumano Travel website was tremendously helpful in planning our trip. We do not really speak Japanese, but everything went neatly and without any problems
I would love to see more sites like this. And, when I contacted the bureau for opinions, they went beyond my expectations in terms of helpfulness. Thank you so much!
I walked four days and enjoyed everything about it. A lot of tourists complain about never being able to get away from "urban" Japan. On this hike, I really felt that I did get away from urban Japan, both in the forest areas and in the small farm towns and villages along the route. The hiking was not too difficult, the routes were well marked, the lodgings were great, and the shrines were very interesting.
My gratitude to the Tanabe City Kumano Tourism Bureau/Kumano Travel Reservation Site is even greater than my gratitude for the best hosts in the wonderful minshukus we have stayed in. You have created the most helpful way possible for a non-Japanese speaker to appreciate and enjoy the Kumano Kodo and the Kii Peninsula. From the trail maps to the different options offered for things to see and do, to the reservation system, to the quality of the signs on the trail itself, to the well-written explanations of the various shrines and areas along the way, to the beautiful photos, to the helpful transportation information….I could go on and on. Thank you for creating a website and travel agency that has made our travels to the Kumano a trip of a lifetime.
We are just back from an amazing trip to Japan and one of the highlights was the time we spent in the Kumano Kodo. What an amazing, beautiful and mysterious place!
This is an excellent tourism bureau, which makes a very traditional area of Japan accessible to international tourists. You were very thorough, including making English translations at restaurants in the area and communication sheets for innkeepers. We appreciate all of your hard work to make our trip to Kumano Kodo a memorable and enjoyable one.
I think that this website is fantastic!!! I found it very very helpful and, given that English is not widely spoken in Wakayama prefecture, I think that it would have been quite difficult to travel in the area without being able to book things through this website. Travel in this area was the highlight of my trip to Japan. There were no problems with the bookings – every place expected us and knew that we had already paid.
I think that Tanabe City Kumano Tourism Bureau & Kumano Travel Reservation System made our visit to the area the easiest on our trip to Japan. It was an excellent service and gave us every confidence that all our travel arrangements would be fulfilled, as indeed they were. The signposting of the walking route and the maps were all very well worked out and included every useful detail, right down to the availability of drinks from vending machines etc. If this excellent service had not been so easily accessed online before we left, we might not have been able to arrange a visit of the kind we made, with our very limited knowledge of Japanese language. Even before we set out to walk, it was apparent in Tanabe itself, that there was a high degree of organisation that had set out to make local businesses accessible to foreign tourists: the large map in the station, a tourist office directly opposite, the restaurants with translated menus etc.Thank you for a job well done.
Your web-site has been extremely helpful. We travel a lot and this is probably the most comprehensive set of information we have come across so far!