nanba-yaki Gobo-maki
Traditional kamaboko "Namba-yaki" and "burdock roll" transmitted to here.
Tanabe has long prospered as a fishing ground town, and has long been used for processing and manufacturing marine products. Even now, there are still seafood processing plants, and the kamaboko store, which has been around for a long time, offers the taste of each traditional store as it was at the time.
Namba-yaki (right) is a high-quality kamaboko made from eso and cod. In addition to being handy as a gift at the time of a celebration in the local area, it is also loved by locals as a small luxury snack.
The burdock roll (pictured left) is a gem made by wrapping a cod or other surimi with a burdock and then grilling it with several layers of fish skin and finishing with a secret sauce. This is also a special product of Tanabe City, and is perfect for souvenirs.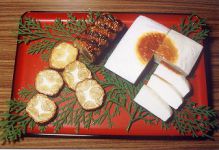 mikan(satsuma mandarin,oranges)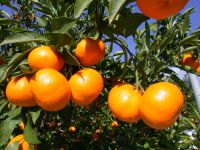 Wakayama Prefecture is known for having a very high yield of oranges throughout the country.
Above all, in the warm Tanabe region, various citrus fruits are cultivated, including Unshu mandarin orange and Sanpokan.
Ume
Everyone would have heard of it once, "Kishu Minami Koume".
As it is said that Kishu is called "Umeboshi", the plums in Kishu are thin and soft, have small seeds, and have good flesh and thickness. It is known as the finest plum dried product because of its taste.
The Kinan region, including Tanabe City, is Japan's top producer of "Nankouume".