Kayaking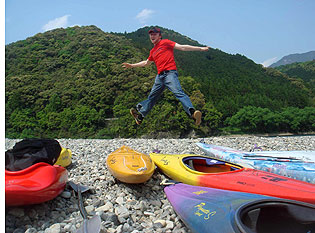 The beautiful, clear rivers flowing from the lush mountains of the Kii Peninsula and rugged coastlines are a fantastic place for kayaking. From beginner paddlers to experienced explorers, there is an experience for you!
Traditional Boat Tour
Experience Kumano on the river! For over 1000 years pilgrims have been making the journey to Kumano.
The Kumano-gawa River was a vital section of the Kumano Kodo pilgrimage route between Kumano Hongu Taisha in Hongu, and Kumano Hayatama Taisha in Shingu.
Visitors are able to journey in traditional wooden flat-bottom boats as pilgrims have been doing for centuries. This is a unique and fun way to get a river view perspective of Kumano's spiritual landscape.
Log Rafting
Log rafting anyone! Logging in the mountains of the Kii peninsula has been a major industry for centuries. Before roads were build, logs were floated down the rivers connected together as rafts. The skills and techniques of these "logging river runners" has been preserved in the Kitayama village for over 600 years.
Now log rafts are used to transport thrill seekers through the scenic Dorokyo Gorge, part of the Yoshino-Kumano National Park. Log rafts are strictly checked for safety standards, while guests are required to wear life jackets at all times.
Jet Boat
Dorokyo is a gorge on the Kitayama-gawa River, a tributary of the Kumano-gawa River, situated along the borders of Wakayama, Nara and Mie prefectures in the Yoshino-Kumano National Park. It is famous for its steep cliffs, clear emerald waters, and unique rock formations.
Travelling by jet boat is a fun and easy way to experience this natural treasure from water level. The boats have large windows and the roof opens on clear days in the upper reaches of the valley so guests can get a good look at the sheer rock walls. The colors of the lush forests along the way beautifully reflect the changing seasons.
※ Jet Boat operations are currently suspended.
Whale Watching
The Kuroshio black current runs next to the southern tip of the Kii peninsula attracting a diversity of sea life, including whales and dolphins. The fishing boats take guests out into this vast seascape in search of encounters with these awe-inspiring mammals.
Boat Cruising
The rugged coastline offers beautiful boat cruising.