January
New Years | beginning of month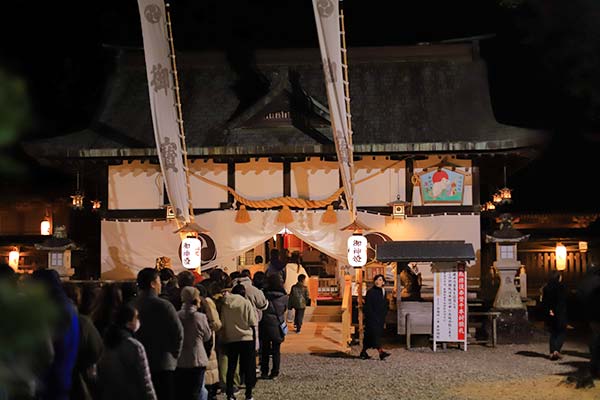 New Years' festivities are held throughout Japan the first days of January. Experiencing the festive atmosphere at the Kumano Sanzan shrines is a unique way to bring in the new year.
February
Ume Hanami | from mid-February to beginning of March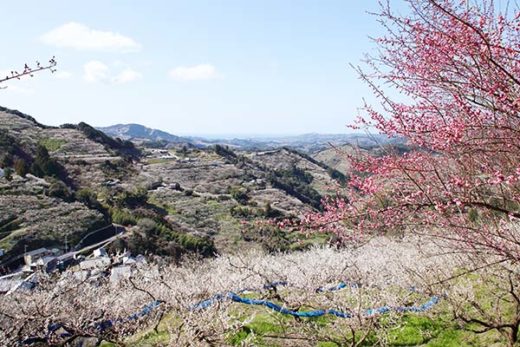 Ume (apricot-like fruit often translated as plum) blossom viewing from the middle of February to the beginning of March.
March
Sakura Hanami | from mid-March to beginning of April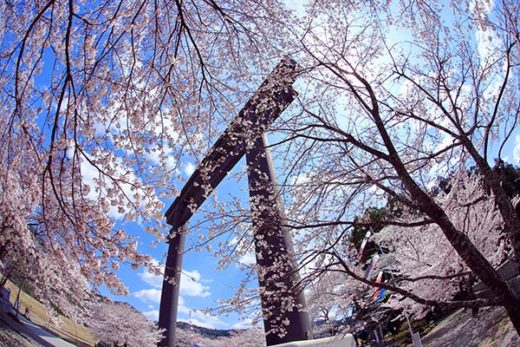 You can enjoy cherry blossoms around Otorii gate and Oyunohara precincts at "Oyunohara", the former site of Kumano Hongu Taisha of February to the beginning of March.
April
Kumano Hongu Taisha Spring Festival | 13th to 15th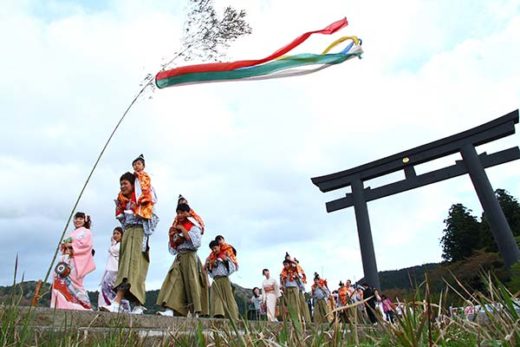 This annual festival of Kumano Hongu Taisha takes place from April 13th to 15th. The 13th consists of a purification bath of father and son in Yunomine Onsen before walking on the Kumano Kodo pilgrimage route to Oyunohara.
The 15th consists of a procession, carrying of the portable shrine, fire ceremony and other events. More Kumano Hongu Taisha Spring Festival >>
Nanakoshi Festival | 29th
Nanakoshi festival takes place on April 29 (Showa Day). Nanakoshi is the ridge across the Kumano-gawa River from Oyunohara. Small local festival dedicated to the deites enshrined along the ancient training route called Omine Okugake-michi.
July
Opening of the Ogigahama beach | beginning of month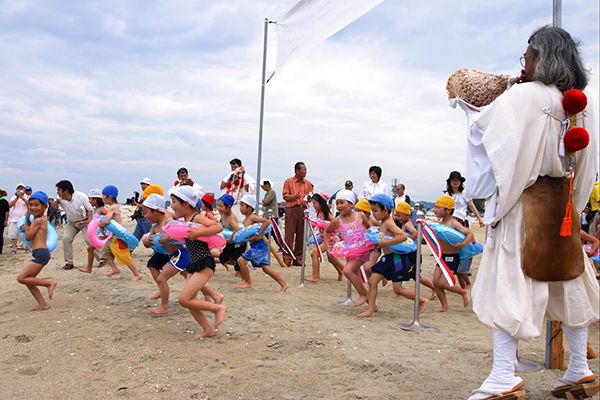 Ogigahama beach is located on the Tanabe Bay about a 10 minutes walk from the JR Kii-Tanabe Station. It is officially open July and August. There is a beach house change room and a seasonal restaurant. More Ogigahama beach >>
Nachi-no-Hi Matsuri Fire Festival | 14th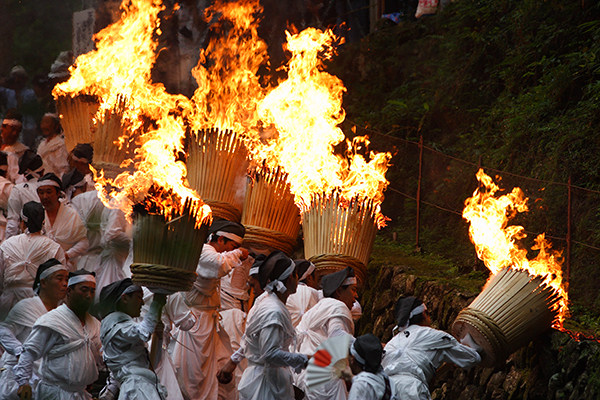 The main festival of the Nachi shrine, it takes place on July 14 at the base of these magnificent falls. It is a fire festival in which 6ーmeter high portable shrines symbolically representing the waterfall are purified with the fires from oversized torches laboriously carried by men dressed in white.
Tanabe Festival | 24th to 25th
A parade of floats takes place during this festival, as well as a demonstration of horseback archery by young boys wearing typical Edo period costumes. Takes place around Tokei-jinja shrine on July 24 and 25. More Tanabe Festival >>
Kumano Kodo Kiyohime festival | last Sunday of month
Re-enactment of the legend of Anchin and Kiyohime taking place on the last Sunday of July, in Nakahechi. Kiyohime, having been betrayed by the man she loved (Anchin), turned into a dragon and, in her rage, bursts into flames thus killing herself and Anchin.
August
Chikyu Genki Mura Festival | beginning of month
Takes place the beginning of August in Oto, Mizube-no-Gakko. Fireworks.
Yata Fire Festival | last Saturday of month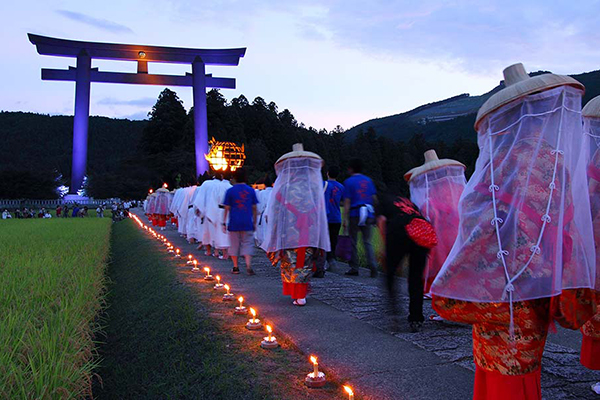 Festival taking place on the last Saturday of August, in Oyunohara (Hongu-cho), in honnor of the Yatagarasu crow. This fire festival includes the parading of a fire mikoshi, a Taiko drum show, dancing, and fireworks.
October
Benkei Festival | first weekend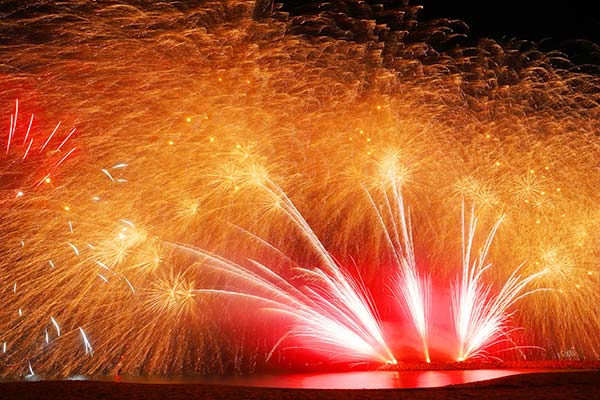 Taking place at the Ogigahama beach, this festival offers different shows and concerts, including a play re-enacting Benkei's story. Benkei was a warrior monk who died protecting his master against a vast army. The year's biggest fireworks take place during this festival.
November
Kumano Kodo picture scroll procession | 3rd
Re-enactment of the Imperial pilgrimage procession, with traditional costumes, taking place in the Takahara area, Nakahechi-cho, on November 3.
Lion dance of Nonaka | 3rd
Traditional dance with a lion costume, near Nonaka-no-Ipposugi (Tsugizakura-oji) on November 3.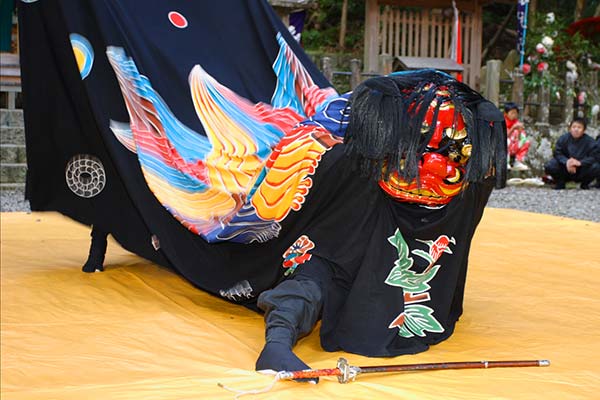 Shoryu (Rising dragon) Festival | third Saturday and Sunday
Farmer's market in Ryujin, involving chainsaw art presentations, on the third Saturday and Sunday of November.
Kinosato Marathon | first Sunday
Ryujin Onsen on the first Sunday of December.
December
Opening of Sennin-buro bath | 1st
Giant outdoor bath dug out of the bed of the Kawayu river in Kawayu Onsen. Open from December 1st to the end of February.
More on Kawayu Onsen>>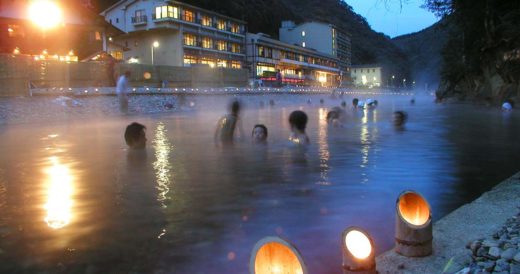 Monthly events
Benkei market | every third Sunday
Every third Sunday, Tanabe city Kappa-ku Public Space.