Japan's Spiritual Hot Spring 湯の峰温泉
Yunomine is a quaint little collection of inns tucked into a small valley deep in the heart of the sacred mountains of Kumano. The waters here are said to change color seven times over the course of a day. Yunomine Onsen was discovered about 1,800 years ago, and it is thought to be one of the oldest hot springs in Japan.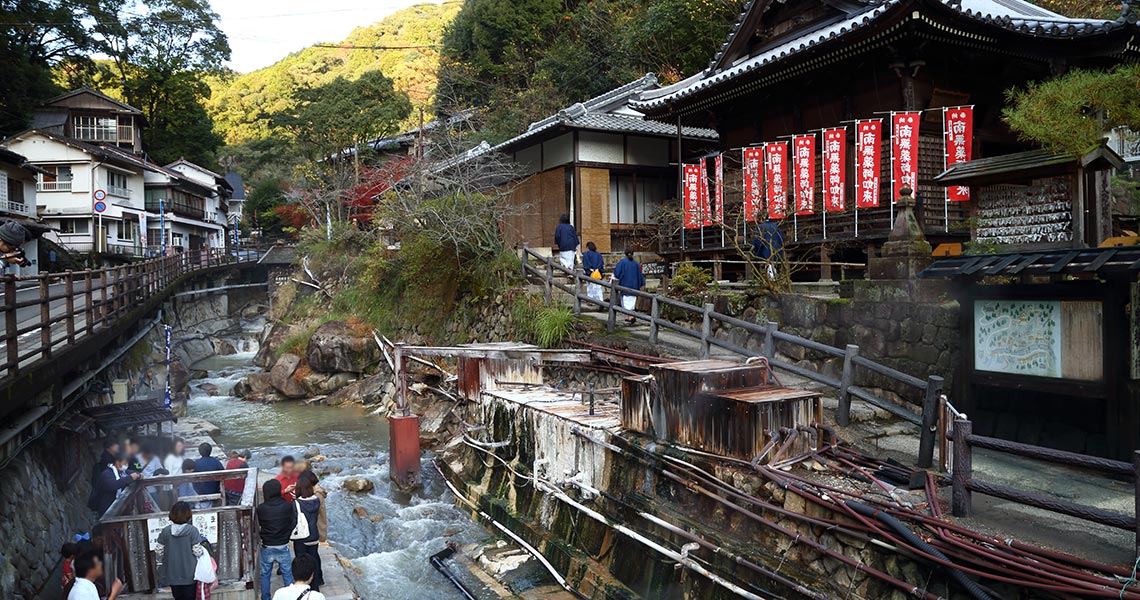 Yunomine Onsen is an integral part of the over 1000 year old Kumano pilgrimage tradition. Pilgrims performed hot water purification rituals in these piping hot mineral waters after their long journey in preparation to worship at Kumano Hongu Taisha.
The Onsen culture in Japan is very rich, but the strong connection with spiritual culture found in Yunomine is unprecedented. Two sections of the Kumano Kodo have trailheads here, the Akagi-goe and Dainichi-goe, making it a popular place to stay for walkers. Hot water ablutions are still performed to this day during the spring festival of Kumano Hongu Taisha.
Onsen Tamago
A unique (and delicious!) experience at Yunomine Onsen is to cook eggs in the public hot spring cooking basin called Yuzutsu. These are called "Onsen Tamago" or "Hot Spring Eggs".
Tsuboyu: World Heritage Onsen
Tsuboyu is a small cabin by the creek that runs through Yunomine Onsen. People can privately bath in this small stone lined Onsen for up to 30 minutes. It is the one of the only hot spring that you can bathe in that is registered as UNESCO World Heritage. It is also very popular with couples.

Oguri Hangan, who was suffering from a terrible debilitating disease, is said to have soaked in these waters and revived. This famous legend is called "Oguri Hangan and Princess Terute" and is retold in kabuki and religious narratives.
From August 18, 2020 to March 31, 2022, due to the public bath rebuilding period, tickets for Tsuboyu are available from a vending machine between Ryokan Adumaya and Minshuku Atarashiya.
How to use the Tsuboyu Bath
This bath is private use for 1~2 people for 30 minutes. It is a first-come first-serve bath with no reservations. Please obey the usage time and wait your turn according to your numbered ticket. Thank you.
Price
780 yen, under 12 : 470 yen
Hours
6:00~21:30
Open year round.
※ No swimming suits, soap or shampoo allowed.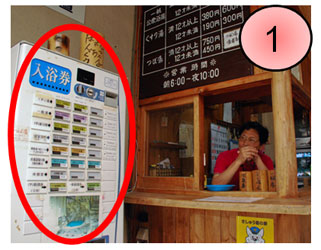 1. Buy ticket from vending machine.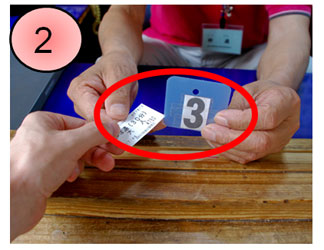 2. Exchange ticket for number card at counter.
3. When it is your turn, place numbered ticket on hook beside door and enter bath.
※ Leave shoes outside of Tsuboyu bath house.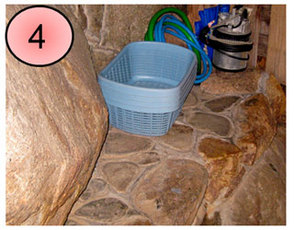 4. Place clothes in basket.
※ Door locks from the inside.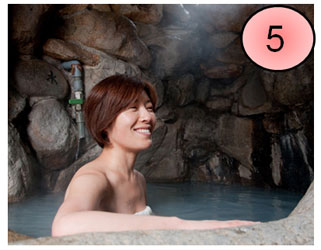 5. Please rinse your body before entering bath. Relax & Enjoy!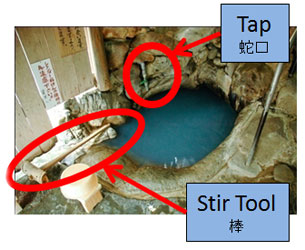 Note: If the water is too hot, add cold water from the green tap and mix the water with the stir tool.
Yunomine Onsen Baths
There are Onsen baths in every lodge in Yunomine Onsen as well as three public baths. For the public baths please buy tickets at the ticket counter beside Toko-ji Temple.
Public Baths
Tsuboyu
Kusuri Medicine Bath
Price
390 yen, under 12 : 190 yen
Hours
6:00~22:00
Open year round.
※No soap or shampoo allowed.
Public Bath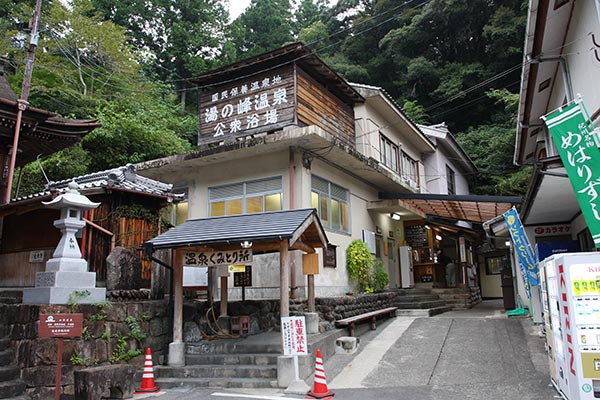 Price
260 yen, under 12 : 130 yen
Hours
6:00~22:00
Open year round.
※Bring your own soap and shampoo.
※An enter ticket to Tsuboyu is also good for the Kusuri Medicine Bath or the Public bath.
※Soap, shampoo and towels can be purchased at the shop in front of the ticket counter.
Closed August 18, 2020 to March 31, 2022 due to renovation work.
Day-use Baths in Lodgings
Adumaya Ryokan
| | |
| --- | --- |
| Price | 700 yen, Child 400 yen |
| Hours | 6:00~22:00 |
| Closed | Variable |
※ Towels 300 yen
Yoshinoya
| | |
| --- | --- |
| Price | 400 yen |
| Hours | 10:00~21:00 |
| Closed | Variable |
※ Reservations Required
Yunotaniso
| | |
| --- | --- |
| Price | 1000 yen, Child 500 yen |
| Hours | 12:00~17:00 |
| Closed | Variable |
※ Busy times closes at 15:00
Minshuku Takiyoshi
| | |
| --- | --- |
| Price | 500 yen, 5 and under 500 yen |
| Hours | Variable |
| Closed | Variable |
Minshuku Adumayaso
| | |
| --- | --- |
| Price | 500 yen, Children free |
| Hours | 14:00~20:00 |
| Closed | Variable |
※ Busy times closes at 15:00
J-Hoppers Kumano Yunomine Guesthouse
| | |
| --- | --- |
| Price | 600 yen, 6-12 300 yen, 6 and under free |
| Hours | 10:00~15:00 |
| Closed | Open year round |
Yunomine Onsen Accommodations
Yunomine Onsen has a variety of Japanese style accommodations including traditional Ryokan Inns and family run Minshuku guest houses. Many of the lodges feature cuisine cooked in the local mineral waters. This is a quiet village to relax in and many visitors chose to spend more than one night here.
Yunomine Onsen Access
Yunomine Onsen is located a short drive from the Kumano Hongu Taisha.
Daily busses travel here from Tanabe, Shingu and Gojo.
Tanabe bus timetables #1, #2
Shingu bus timetables #3, #4
Kumano Hongu Taisha simplified bus timetable # 11