Kakenagashi Hot Spring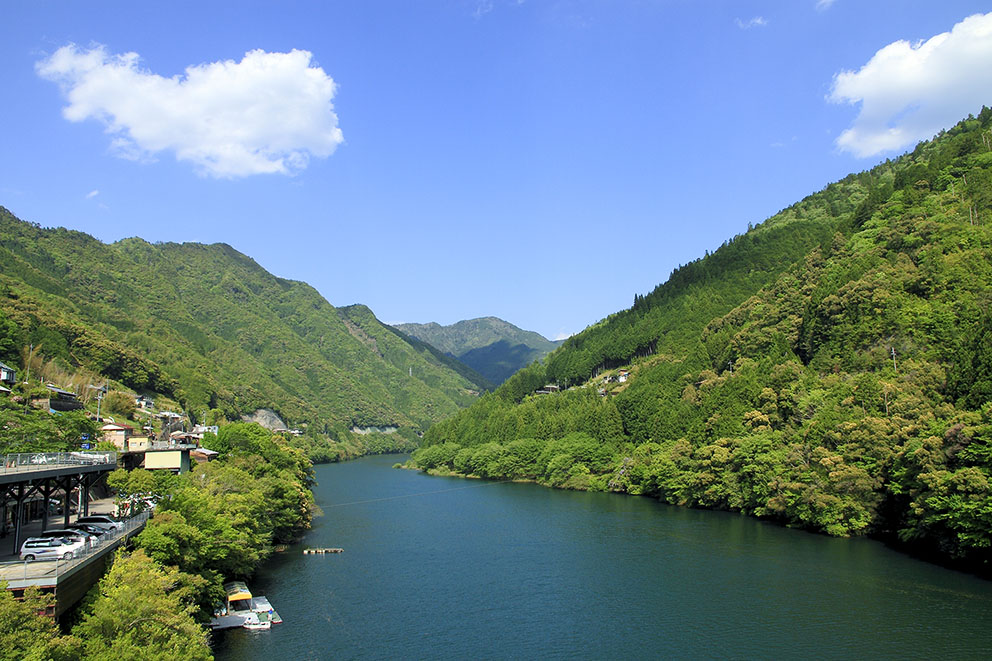 Totsukawa Onsen is an isolated hot spring paradise located in the heart of the Kii mountains. It is a small community spread thinly along the riverside squeezed next to the base of steep mountains. The main settlement overlooks a man-made lake formed by a dam downstream.

This mountain community is famous for the quality and amount of pure hot spring water which is used without recirculation, or "kakenagashi." Each accommodation features a hot spring bath and enjoying a soak in the soothing mineral waters is a must for any visit.

Hotel Subaru is located along the Kohechi pilgrimage route. It is a large facility with lodging, restaurant, small souvenir shop, day-use hot spring baths, and hot spring pool.

Even if you have no plans to stay, it is worth a short rest stop. There is a bus stop in front of the building.

A Yaen bridge is a self-propelled cable car. The passenger sits in the car and pulls along the rope. This is the old fashion way of crossing the steep gorges and rivers in the area. The characters used to write Yaen in Japanese, 野猿 directly translate to mean "wild monkey." A yaen is located behind Hotel Subaru and further south on route 735.
Other local landmarks include Tamaki Shrine, Hatenashi Settlement and Tanize Suspension Bridge.
The Kumano Kodo passes through Totsukawa Onsen via the Kohechi route before finishing in Hongu.
Totsukawa Onsen Access
Totsukawa Onsen is located ~30-minute drive from Kumano Hongu Taisha.
Daily busses travel here from Shingu and Gojo.
Buses run from Shingu and Gojo to Totsukawa Onsen.
Bus Timetable #3 (Westbound), Bus Timetable #4 (Eastbound).
Buses also depart from Hongu Taisha-mae (Bus Timetable #3).
Buses running from Kii-Tanabe and Shirahama require a transfer in Hongu.
Bus Timetable #1 (Eastbound), Bus Timetable #2 (Westbound).

Totsukawa Onsen Area Maps