Beachfront Onsen Resort Town
Shirahama Onsen is located on the west coast of the Kii Peninsula across the bay from Tanabe and is one of the oldest hot springs in Japan. Shirarahama beach is a highlight of the area. This developed resort village features onsen baths in dozens of accommodations as well as public facilities.
One of the most popular hot spring baths is called Sakino-yu, located north of the beach area. It is a quaint open-air bath carved into a rocky, wave-beaten shoreline overlooking the ocean.
Shirahama Beach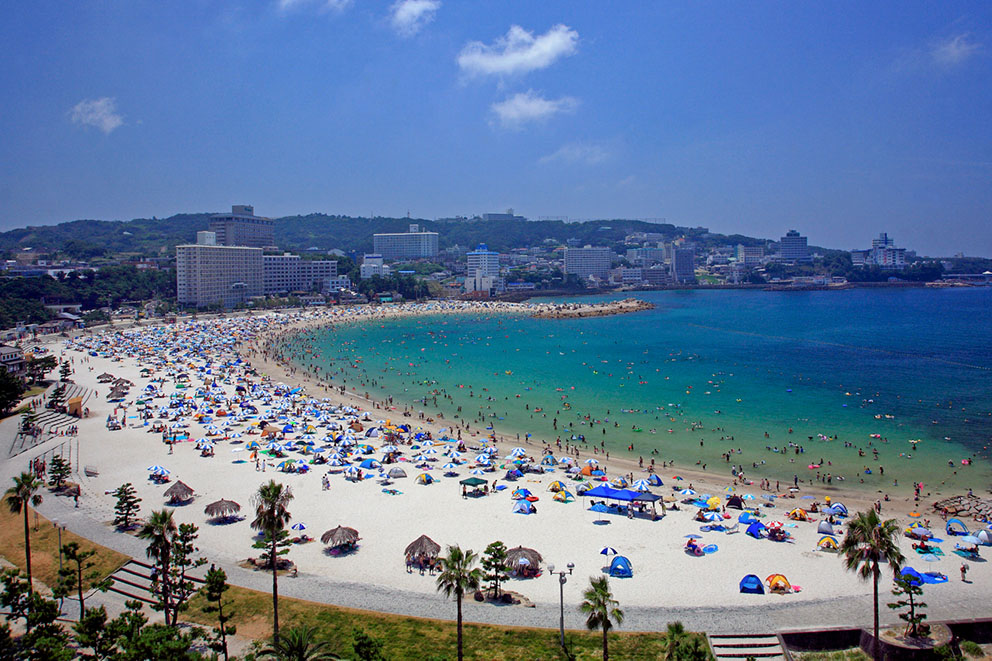 Many Kansai area people visit this white-sand beach destination in the summertime to frolic on the beach and swim in the ocean or take in one or both of Shirahama's famed beach fireworks displays. A variety of hotels cater to guests nearby. 

If summertime firework displays and playing on the white-sand beaches isn't enough, there are other natural wonders to visit and enjoy.
Engetsu-to Islet
Iconic island formation "Engetsu-to," located north of Shirarahama Beach along the coast, features a hole in its center caused by gradual erosion, contributing to its nickname "Moon (getsu) Hole (en) Island (to)," and is a popular photo spot.
Senjojiki
About two kilometers south of the beach along the coast is a sandstone rock formation called Senjojiki, or "Thousand Tatami Mats." The smooth, layered surface of these giant rocks has been carved from the pounding surf of the Pacific Ocean over millennia. The incoming waves are quite large and impressive.
Sandanbeki
Recently dubbed a "lovers' point" and also the location of an international diving competition in 2016, "Sandanbeki" cliffs are a fantastic vantage point to watch crashing waves just 50 meters above the ocean. From olden times, people used to watch for passing ships or schools of fish from this point, but now it's a popular spot to watch the sea. Visitors can ride an elevator down 36 meters from a building nearby into a cavern cut into the cliff that perhaps Kumano naval sailors or area pirates once might have used.
Nanki-Shirahama Airport
The Nanki-Shirahama Airport is quick access by taxi or bus to area accommodation and the Kumano Kodo. Three flights a day to-and-from Tokyo to Shirahama with just over an hour flight time make a convenient option.
Shirahama Bus and Train Access
Adventure World
Animal theme park featuring the largest number of Giant Pandas in Japan. Rides, live attractions and shows, safari walk, animal interaction experiences and marine life.
Energy Land
Interactive amusement center related to science and energy with Jurassic Tour, 3D theater, trick art house, and fun walking illusion course.