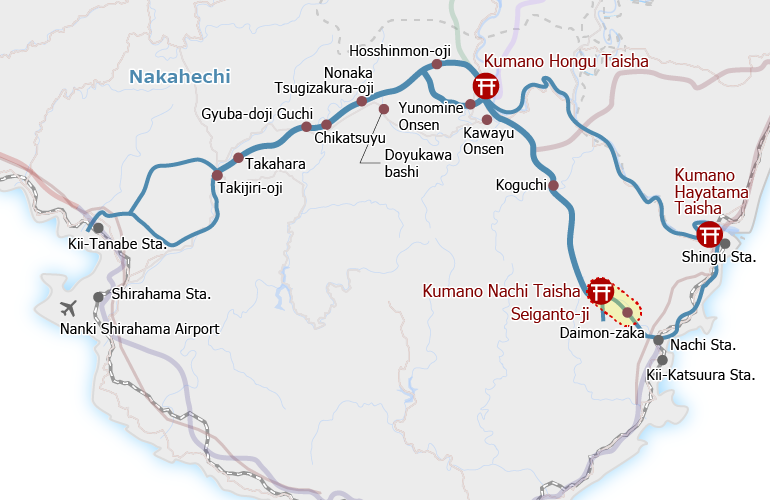 Overview
Kakenuke-michi
Amida-ji Temple and Mount Myohozan Hiking Course
(Nachisan area)
This hiking course is a loop walk which leaves from beside Seiganto-ji Temple. The first 300 meters follow the Ogumotori-goe section of the Kumano Kodo pilgrimage route before splitting off to the left. From the base of the Amida-ji Temple there is a wonderful lookout point over the Pacific Ocean. The trail continues up the mountain behind the temple to the Okunoin at the peak. Follow the trail down the mountain to the Nachi Kogen Park. From here you join the Kumano Kodo back down to the Nachi shrine/temple complex.

NOTE: Condition of the course may vary. Check with the Nachi-Katsuura Tourism Organizationbefore you go. Maps in Japanese available at the Nachi-Katsuura Tourist Information Center.
Course Data
Distance
~5 km
Time
~ 2.5 hrs
※Walking times do not include breaks and are based on the abilities of a healthy walker, without a pack, in good weather. Please plan accordingly.
Difficulty rating
2 What is difficulty rating?
Access
Bus Timetables:
There are no buses that run to Amida-ji Temple, although the road that runs to the Nachi Kogen Park passes by it. The trailhead starts beside Seiganto-ji Temple. Buses run from Kii-Katsuura station and Nachi station to the base of the Nachi shrine/temple complex. 
Nearest Bus Stop
Nachisan
Restrooms
Next to the trailhead, Amida-ji Temple, and Nachi Kogen Park.
Accommodations
Other Nakahechi Route Sub-sections