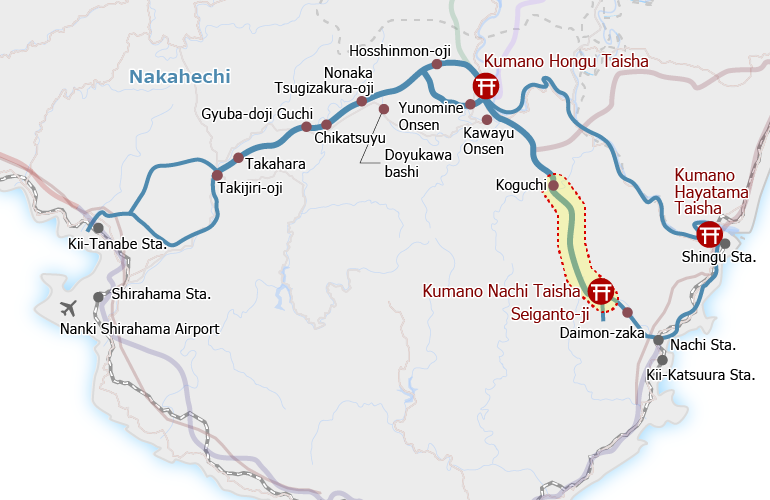 Ogumotori-goe ( Kumano Nachi Taisha to Koguchi )
★IMPORTANT: Ogumotori-goe (Kumano Nachi Taisha to Koguchi) has re-opened with a detour. (Nov 1, 2017) PDF >>
The Ogumotori-goe and Kogumotori-goe sections of the Nakahechi Kumano kodo pilgrimage route link Kumano Nachi Taisha and the Hongu area. These routes are commonly walked in either direction.
There are no restaurants along the trail so it is best to bring a lunch. The Ogumotori-goe trailhead is the stone staircase beside Seiganto-ji Temple on Mt. Nachi. The path climbs to the ridgetop Nachi Kogen Park. If you pass through the park, the trail continues up the ridge beside the restrooms on the opposite side of the road. There are wonderful views of the Pacific Ocean from Funami-toge Pass.

After walking through the Moja-no-Deai abode of the dead, the trail crisscrosses a forestry road to the remains of the Jizo-jaya Teahouse. The trail climbs up and down from here to Echizen-toge Pass.
After the pass, the Dogiri-zaka Slope drops almost 800 meters in elevation to Koguchi in the valley far below.
Along the way there is the Waroda-ishi rock, where the Kumano deities are believed to meet and chat over tea.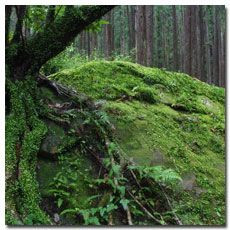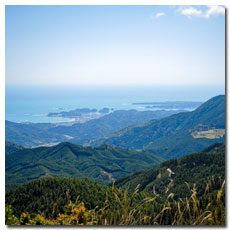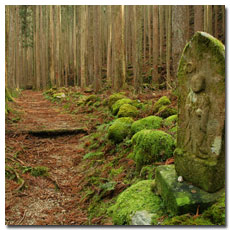 Course Data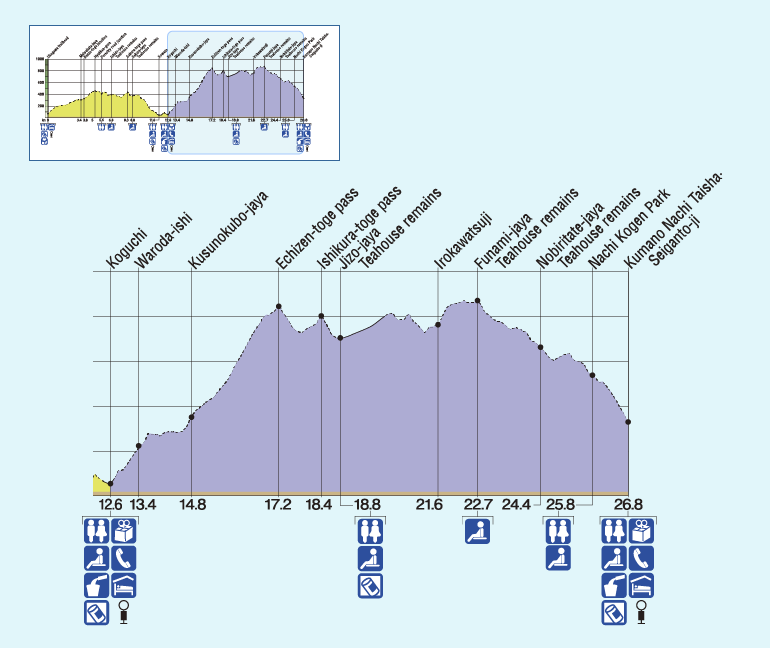 Distance
~14 km
Time
7~9 hrs
※Walking times vary. Please plan accordingly.
Difficult rating
5  What is difficult rating?
Total Elevation Gain
~1260 m
Total Elevation Loss
~930 m
Access
Buses run to/from Nachi to/from Kii-Katsuura Station and Nachi Station: Bus Timetable #8. Buses run to/from Koguchi from Shingu and Hongu. Please note that some buses run only on certain days and a transfer might be needed at Kanmaru: Bus Timetable #5
Nearest bus stops
Nachisan, Koguchi
Accommodations
Lodgings are available in Nachi-Katsuura and Koguchi.
Restrooms
Nachi, Nachi Kogen Park, Jizo-jaya Teahouse remains, Koguchi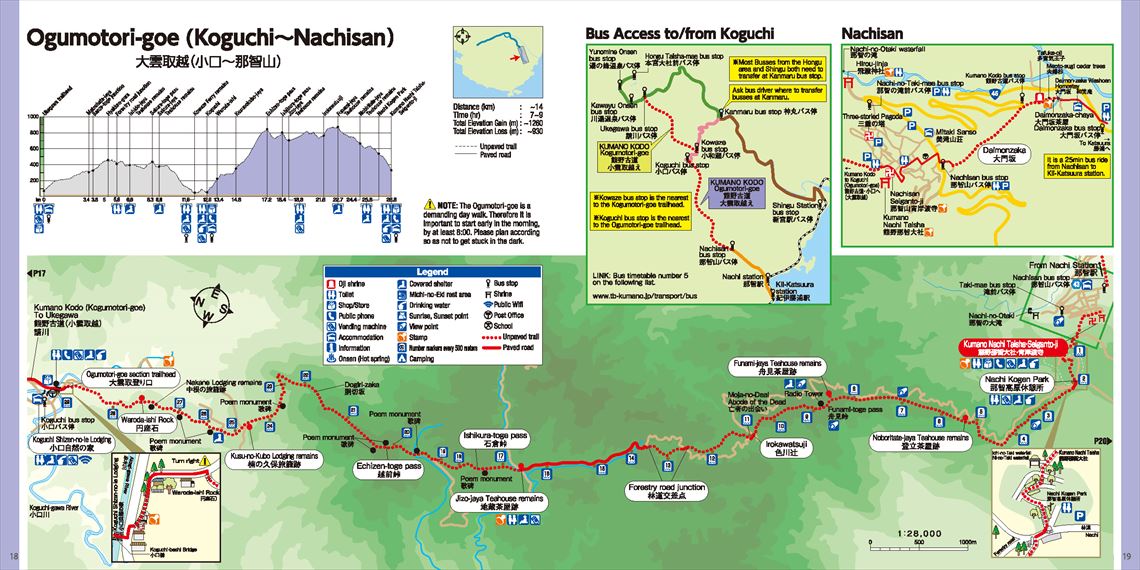 Koguchi Access by Public Bus
There are public busses to/from Koguchi. Coming from the Hongu area a transfer at Kanmaru is needed.
There are limited direct busses to/from Shingu, otherwise a transfer at Kanmaru is needed.
NOTE: bus times are sometimes different on weekends and weekdays.
Bus timetable #5 >>
No place to stay in Koguchi?
There are limited rooms in the tiny Koguchi settlement. If there is no accommodation available then taking an early morning bus to Koguchi to begin the walk is recommended.

Below is an overview of recommended bus access in the morning to Koguchi from the Hongu area (Yunomine Onsen, Kawayu Onsen, Watarase Onsen, etc), and from JR Shingu train station.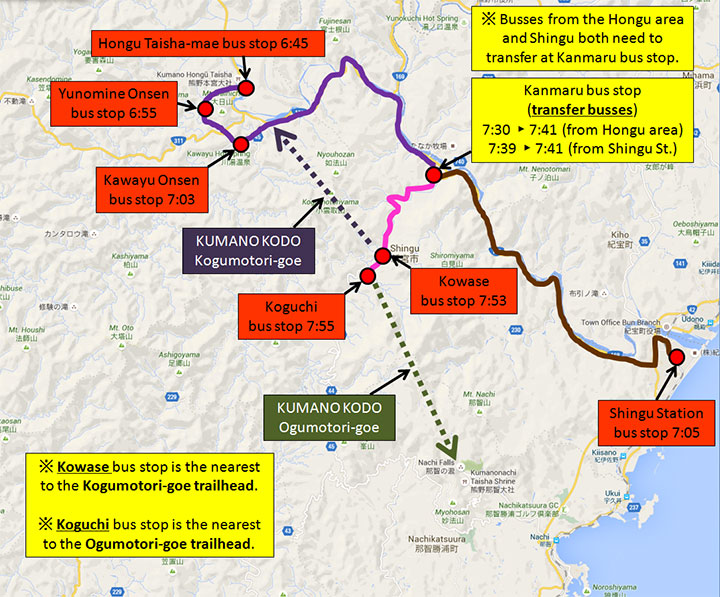 Koguchi Bus Access (Kogumotori-goe, Ogumotori-goe) PDF >>
Nakahechi Route Guide List
Nakahechi Main Route Sections
Nakahechi Main Route Parts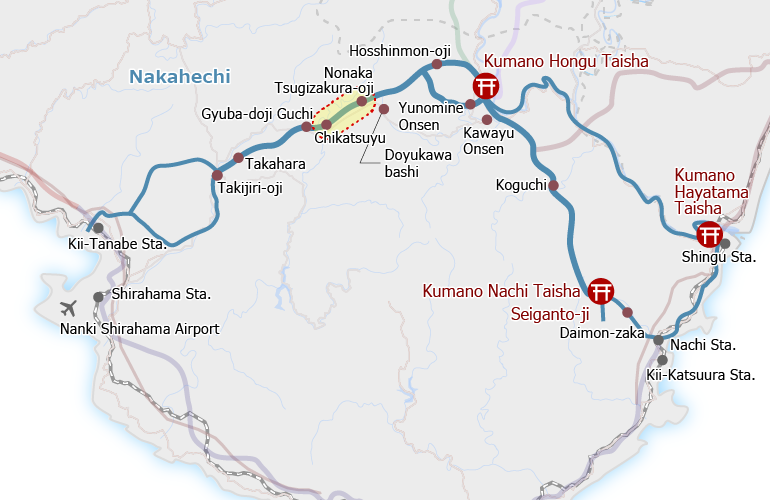 Hongu Sub-routes
Kumotori-goe Sections (Ukegawa to/from Nachisan)
Nachi Sub-route