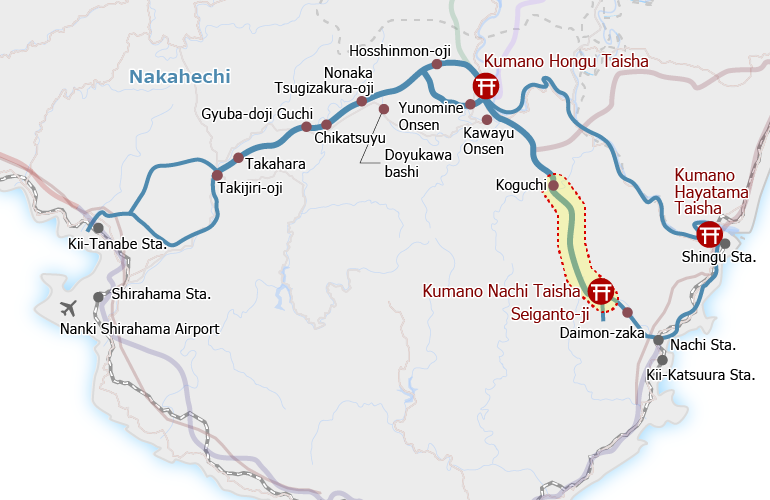 Overview
Ogumotori-goe
(Kumano Nachi Taisha to Koguchi, either direction)
The Ogumotori-goe and Kogumotori-goe sections of the Nakahechi Kumano Kodo pilgrimage route link Kumano Nachi Taisha and the Hongu area. These routes are commonly walked in either direction. There are no restaurants along the trail so it is best to bring a lunch.

The Ogumotori-goe is one of the toughest sections of the Nakahechi Route of the Kumano Kodo.

It is a climb and descent over three passes and is mostly in the forested mountains.
Ogumotori-goe Walking Options
Walking South from Koguchi to Nachi
This can be the second day of a two-day hike from Hongu to Nachi.

The trailhead is located at the south end of the Koguchi Village. It begins by passing through a small set of houses as you climb.

The first section of the trail gains 800 meters of elevation in about 5 kilometers. From ancient times, it has been called "Dogiri-zaka," translated as "Body-breaking Slope." Take your time, watch your step, but also take note of the ancient stone walls of past terraced rice paddies.

On the way, pass Waroda-ishi which means "round shaped cushion rock" with Sanskrit characters carved into its surface, and where it is said the Kumano deities meet and chat over tea.

From Echizen-toge Pass at the top of Dogiri-zaka, there is a series of shorter climbs and descents to Funami-jaya teahouse remains.

At about 6.2 km, there is Jizo-jaya teahouse remains, a great place for lunch or a break with toilet facilities and covered seating area.

After walking through the Moja-no-Deai "Abode of the Dead," the trail continues up to Funami-toge Pass where the Kii coastline is visible. A little farther on is Funami-jaya teahouse remains offering a brilliant view of the Pacific Ocean and the fishing village of Katsuura on a clear day.

After that, it is roughly a 4-kilometer descent on stone staircases to Nachi Kogen Park and then on down to the Nachisan sanctuary.
Walking North from Nachisan to Koguchi
The Ogumotori-goe trailhead is the stone staircase beside Seiganto-ji Temple on Mt. Nachi. The path climbs to the ridgetop Nachi Kogen Park. If you pass through the park, the trail continues up the ridge beside the restrooms on the opposite side of the road. There are wonderful views of the Pacific Ocean from Funami-toge Pass.

After walking through the Moja-no-Deai "Abode of the Dead," the trail crisscrosses a forestry road to the remains of the Jizo-jaya Teahouse. The trail climbs up and down from here to Echizen-toge Pass.

After the pass, the Dogiri-zaka Slope drops almost 800 meters in elevation to Koguchi in the valley far below.

Along the way there is the Waroda-ishi rock, where the Kumano deities are believed to meet and chat over tea.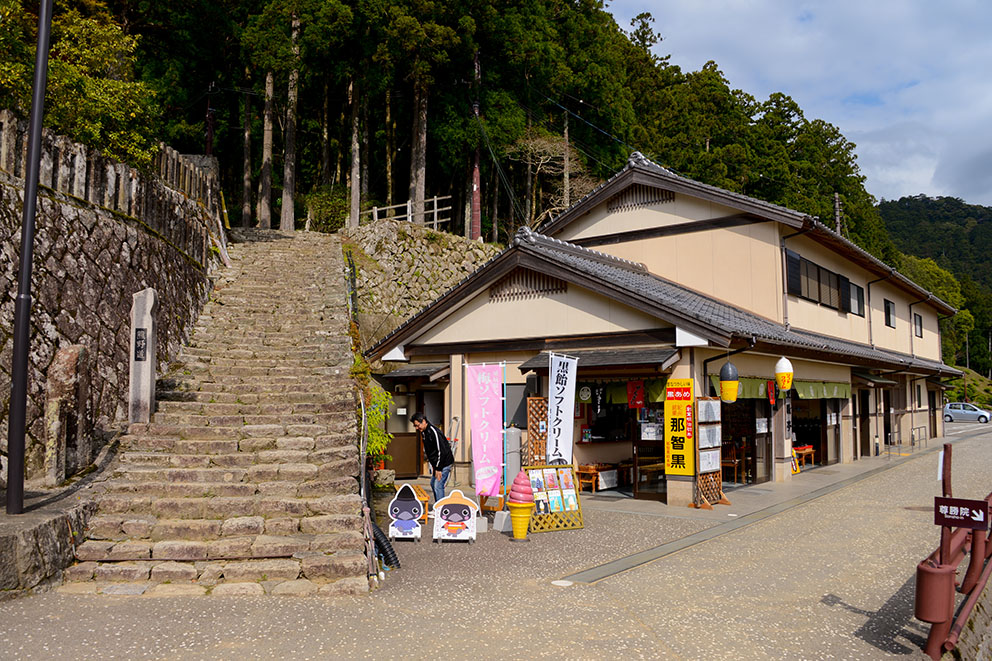 Course Data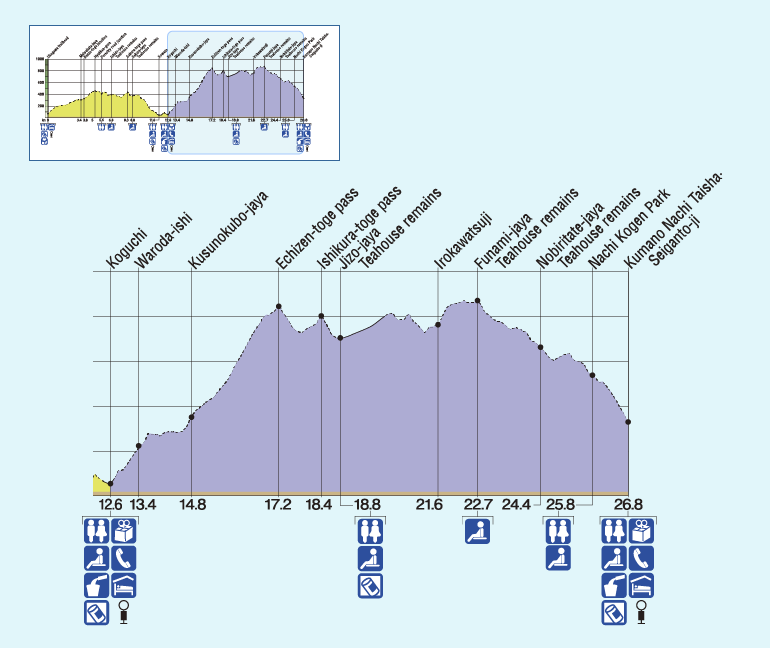 Distance
~14 km (~8.5 mi)
Time
7~9 hrs
※Walking times vary. Please plan accordingly.
Difficulty rating
5  What is difficulty rating?
Total Elevation Gain
~1260 m (~4150 ft)
Total Elevation Loss
~930 m (~3050 ft)
Access
Bus Timetables
Buses run to/from Nachi to/from Kii-Katsuura Station and Nachi Station: Bus Timetable #8. Buses run to/from Koguchi from Shingu and Hongu. Please note that some buses run only on certain days and a transfer might be needed at Kanmaru: Bus Timetable #5
Nearest Bus Stops
Nachisan, Koguchi
Koguchi Access by Public Bus
If you were unable to secure accommodation in Koguchi in advance and you plan to walk from Koguchi to Nachi, know that there are public buses to/from Koguchi from Hongu and Shingu. Be sure to take the earliest bus possible to arrive early for the trail.

Coming from the Hongu area a transfer at Kanmaru is needed.

There are limited direct busses to/from Shingu, otherwise, a transfer at Kanmaru is needed.

NOTE: bus times are sometimes different on weekends and weekdays.

Koguchi Bus Timetables
Accommodations
Finishing at Nachisan
Finishing at Koguchi
No place to stay in Koguchi?
There are limited rooms in the tiny Koguchi settlement. If visitors walking from Nachi are unable to reserve a place to stay in Koguchi in advance, it is necessary to catch a bus from Koguchi to Hongu or Shingu.

NOTE: The last bus from Koguchi for Hongu and Shingu departs at 17:24 and requires a transfer at Kanmaru Bus Stop. Please see Bus Timetable #5 for more detailed bus information.
Route Map
Ogumotori-goe Detour Ended
There is no longer a detour at Ishigura-toge as noted in some versions of the KUMANO KODO NAKAHECHI Pilgrimage Route Maps, p. 18.
Area Maps
Nakahechi Route Guide List
Nakahechi Main Route Sections
Other Kumotori-goe Section
Other Nakahechi Route Sub-sections