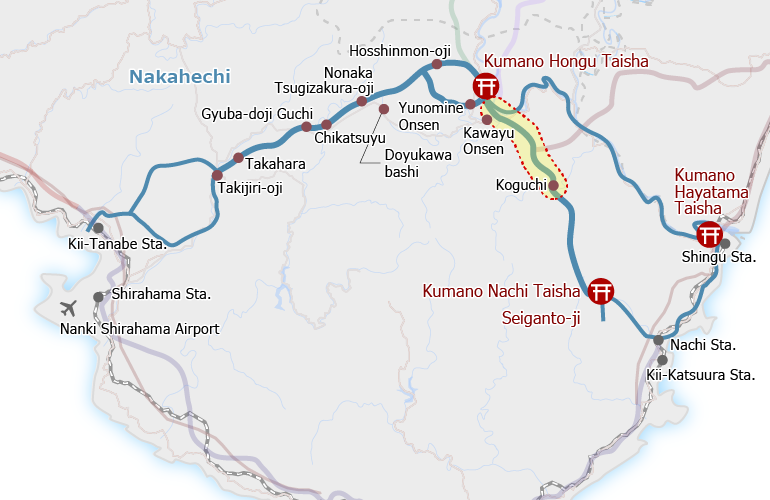 Overview
Kogumotori-goe
(Between Koguchi and Ukegawa in Hongu, either direction)
The Kogumotori-goe and Ogumotori-goe sections of the Nakahechi Kumano Kodo pilgrimage route link the Hongu area and Kumano Nachi Taisha. These routes are commonly walked in either direction. There are no restaurants along the trail, so it is best to bring a lunch.

The Kogumotori-goe is the lesser of two more challenging walks along the Nakahechi Route.

It is a climb and descent over a pass, and is mostly in the forested mountains.
Kogumotori-goe Walking Options
Walking South from Hongu to Koguchi

This can be the first day of a two-day hike from Hongu.

The trailhead is located in Ukegawa next to the Kumano-gawa river on Route 168. There is a public toilet about 100 meters east down and across the road. The trail starts off passing by a set of houses.

The trail sometimes passes through stands of cedar and cypress, other times native forest on lovely ridges. It is a gradual and continuous climb to Hyakken-gura, where pilgrims have stopped and observed the Kii Mountain peaks for over 1,000 years.

Just after Hyakken-gura is a forestry road junction. If you turn right and walk a short ways, there is a toilet facility. From the forestry road junction, the trail rises and falls to the scenic overlook from Sakura-jaya teahouse remains, a great place to eat or take a break.

After that, the trail descends rapidly into the valley below to Koguchi located along the Akagi-gawa River. Be careful on the short, but slippery, cobblestone steps near the base of the slope. The moss-covered steps can be treacherous, especially when wet. Look for the small prayer tablets left at the base of the slope by Yamabushi mountain ascetics.

Cross the bridge from there to Kowaze. Turn right and walk a kilometer to Koguchi Village.
Walking North from Koguchi to Hongu
From the small village of Koguchi, the trail follows Highway 44 to the Kowase Bridge, where it crosses the Akagi-gawa River. The trail passes by a few houses and then into the forest. It is a continuous climb to the lookout point at the remains of the Sakura-jaya Teahouse.

The trail has some gentle ups and downs in addition to some nice ridge-walking sections. The Hyakken-gura lookout offers scenic vistas of the sacred Kumano Mountains and is one of the highlights of Kogumotori-goe. The trail gradually descends to Ukegawa on the banks of the Kumano-gawa River.

From here it is a half-hour walk along Highway 168 to Kumano Hongu Taisha. Kawayu Onsen is a 25-minute walk up the Oto-gawa River.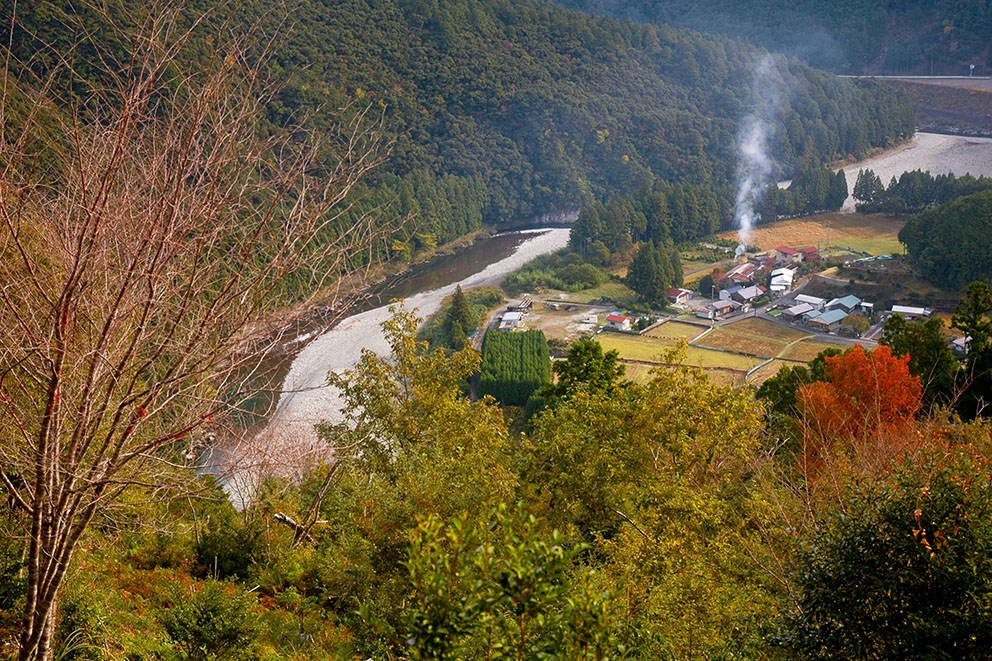 Kogumotori-goe Trailhead in Ukegawa
Ukegawa is a small settlement where the Oto River empties into the Kumano-gawa River. The trailhead (northern end of the Kogumotori-goe) is located in the south of the settlement along Route 168.

It is possible to walk or take a public bus to/from Yunomine Onsen, Wataze Onsen, Kawayu Onsen or Hongu Village area.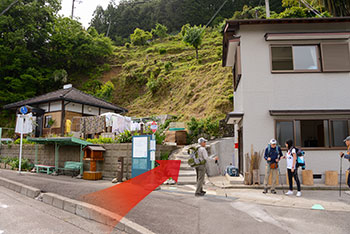 Bus and Walking Times / Distances from Area Accommodations to Ukegawa
| From | Bus | Walk | Km |
| --- | --- | --- | --- |
| Kumano Hongu Taisha | 5~20 min (Depends on bus) | ~45 min | ~3 |
| Kawayu Onsen | 5 min | ~25 min | ~2 |
| Watarase Onsen | 6 min | ~45 min | ~3.5 |
| Yunomine Onsen | 10 min | ~2 hrs via Dainichi-goe to Hongu | ~5 |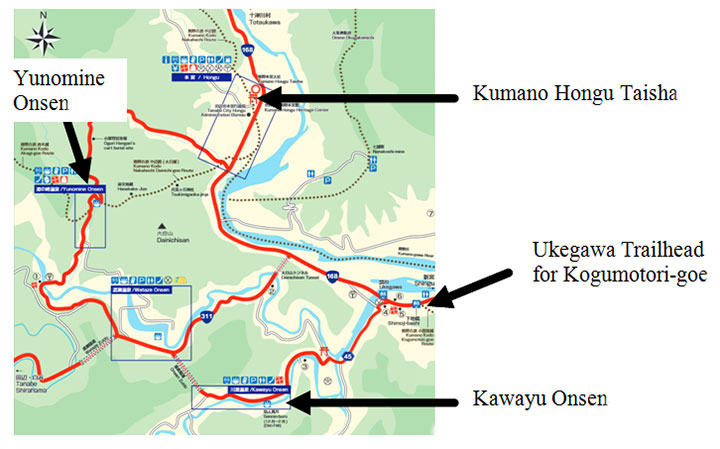 Yamazaki Shop (Shimoji Grocery Shop)
This is a store between the Ukegawa bus stop and Kogumotori-goe trailhead. It is a convenient place to by lunch, drinks, and snacks before your walk.
Open: 8:00~19:00
(sometimes open earlier)
Closed:Wednesdays (from April 2016)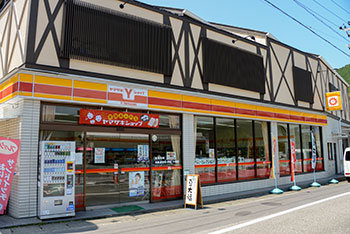 Course Data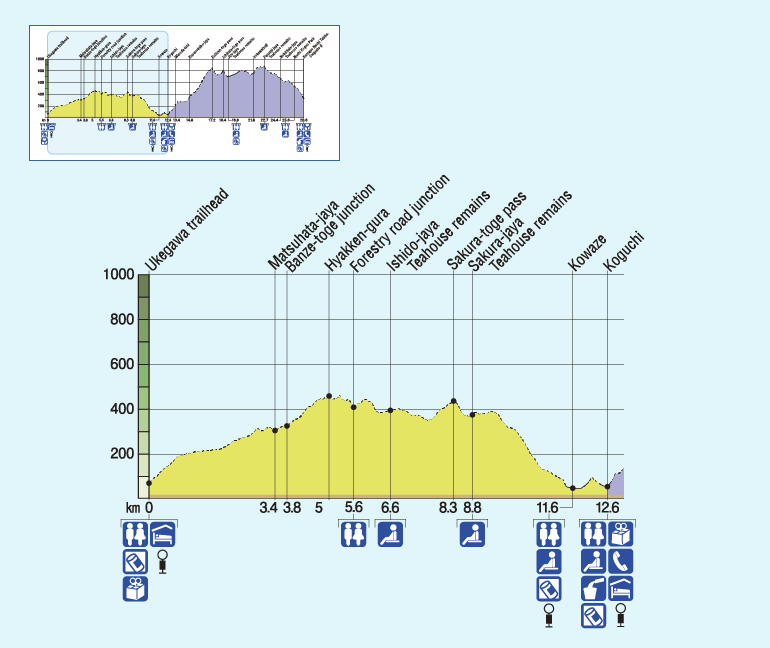 Distance
~13 km (~8 mi)
Time
4.5~6 hrs
※Walking times vary. Please plan accordingly.
Difficulty rating
4  What is difficulty rating?
Total Elevation Gain
~670 m (~2200 ft)
Total Elevation Loss
~690 m (~2260 ft)
Access
Bus Timetables
Buses run to/from Koguchi from Shingu and Hongu. Please note that some buses run only on certain days and a transfer might be needed at Kanmaru: Bus Timetable #5. There are multiple bus lines that stop at Ukegawa. Buses to/from Tanabe: Bus Timetable #1 (Eastbound), Bus Timetable #2 (Westbound). From Shingu: Bus Timetable #3 (Northbound), Bus Timetable #4 (Southbound).
Nearest Bus Stops
Koguchi, Ukegawa (Start or Finish).
※ Kowase is the closest bus stop to the Kogumotori-goe trailhead in Koguchi. Koguchi Bus Stop is the closest to the Ogumotori-goe trailhead.

Koguchi Access by Public Bus via Kanmaru
There are public buses to/from Koguchi. Coming from the Hongu area a transfer at Kanmaru is needed.

There are limited direct busses to/from Shingu, otherwise, a transfer at Kanmaru is needed (pictured right)

NOTE: bus times are sometimes different on weekends and weekdays.

Koguchi Bus Timetables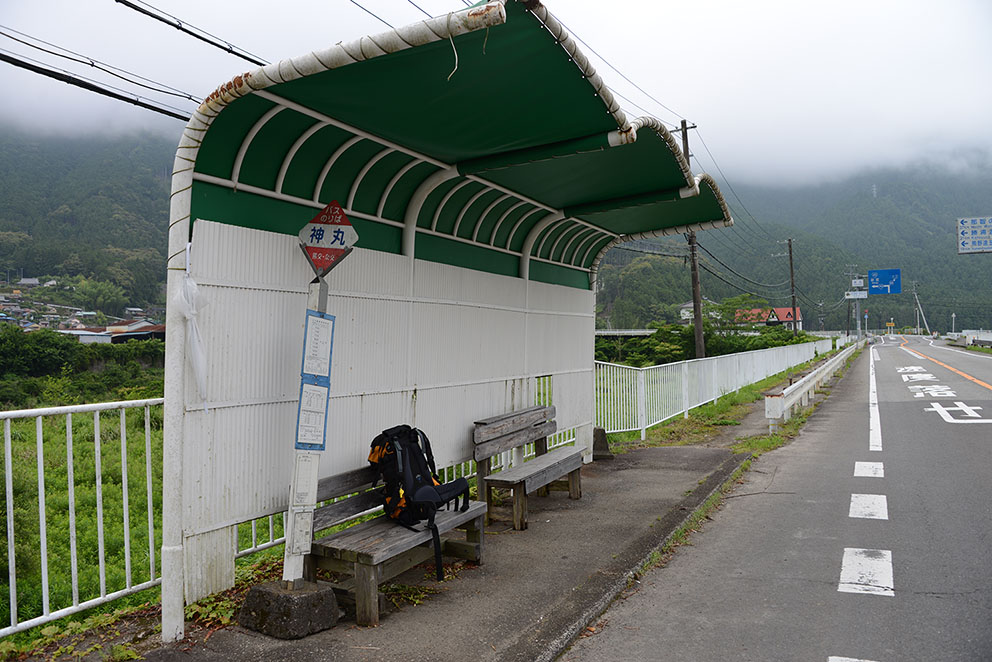 Accommodations
No place to stay in Koguchi?
There are limited rooms in the tiny Koguchi settlement. If there is no accommodation available then taking an early morning bus to Koguchi from Hongu or Shingu and then walk back to the Ukegawa trailhead in Hongu is recommended.

The earliest bus departing from Hongu Taisha-mae Bus Stop is at 6:45. This bus passes through Yunomine, Wataze and Kawayu onsen areas and eventually to Kanmaru (transfer) and then to the Kogumotori-goe trailhead at Kowaze.
Route Map
Area Maps
Nakahechi Route Guide List
Nakahechi Main Route Sections
Other Kumotori-goe Section
Other Nakahechi Route Sub-sections