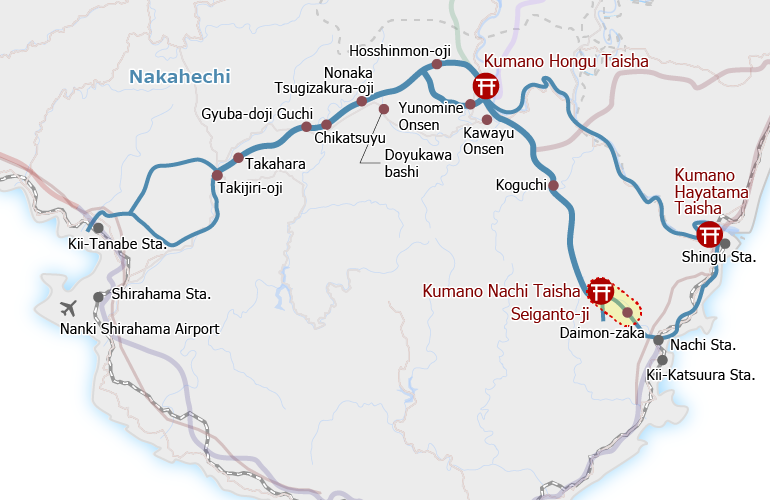 Daimon-zaka (Kumano Nachi Taisha Area)
Daimon-zaka is an impressive cobblestone staircase slope which runs from the base of the valley to Kumano Nachi Taisha, Seiganto-ji and Nachi waterfall. It is lined with centuries old Japanese cedars (cryptomeria), camphor tress and bamboo groves. Daimon-zaka means "large gate slope" referring to a gate that once stood nearby. This is an excellent short walk on the Kumano Kodo pilgrimage route.
The actual staircase is about 600 meters long with 267 stairs. At the end of the slope is the impressive Meitosugi – "husband and wife cedar trees", whose roots are entwined beneath the path. Close by is the Daimon-zaka Chaya where you can rent Heian period kimonos, great for some memorial photos. Near the top of the slope you can catch your first glimpse of the awe-inspiring Nachi falls.
Turn to the right at the top of the slope and you will re-join the road. Descend ~50 meters and to the left is another staircase thorough some shops to the shrine grounds. If you walk down the road you will come to the entrance of the falls. It is probably best to climb the stairs to the shrine grounds first, and then walk down beside the pagoda to the falls.
Course Data
Nakahechi Route Guide List
Nakahechi Main Route Sections