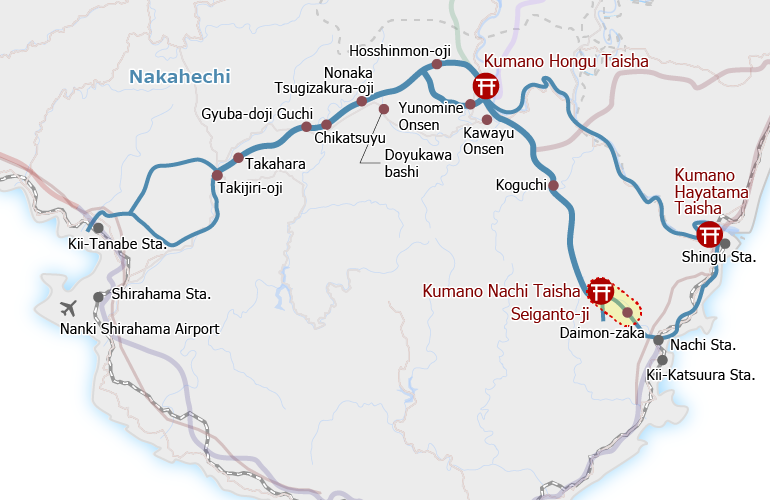 Overview
Daimon-zaka
(Kumano Nachi Taisha Area)
Daimon-zaka is an impressive cobblestone staircase slope which runs from the base of the valley to Kumano Nachi Taisha, Seiganto-ji Temple and Nachi waterfall. It is lined with centuries-old Japanese cedars (cryptomeria), cypress, camphor trees and bamboo groves. Daimon-zaka means "large gate slope" referring to a gate that once stood nearby. This is an excellent short walk on the Kumano Kodo pilgrimage route.

There are toilets, vending machines and walking sticks to borrow at the Daimon-zaka parking lot bus stop.

The actual stone staircase is about 600 meters long with 267 stairs. At the base of the slope is the impressive Meitosugi – "husband and wife cedar trees," whose roots are entwined beneath the path. Close by is the Daimon-zaka-chaya where you can rent Heian period kimonos, great for some memorial photos. Near the top of the slope you can catch your first glimpse of the awe-inspiring Nachi falls.

At the top of Daimon-zaka, you can continue upstairs another 20 minutes to the shrine complex area and visit Kumano Nachi Taisha, Seiganto-ji Temple. It is probably best to climb the stairs to the shrine grounds first, and then walk down beside the pagoda to the falls.

There are some souvenir shops along the way and at the top as well as some small restaurants.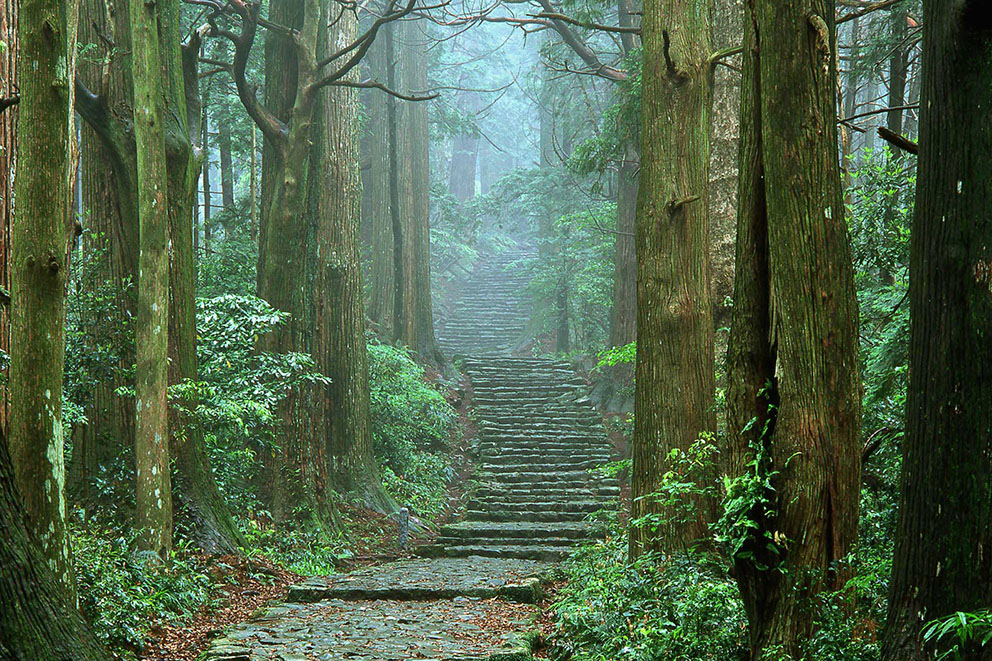 Course Data
Distance
~1 km (only distance of slope, longer walk when visiting the shrines and falls)
Time
~ 30 min
※Walking times do not include breaks and are based on the abilities of a healthy walker, without a pack, in good weather. Please plan accordingly.
Difficulty rating
1.5  What is difficulty rating?
Access
Bus Timetables:
Buses run from Kii-Katsuura via Nachi Station to the base of Daimon-zaka slope daily (20 min). Use Bus Timetable No. 8.
Nearest Bus Stops
Daimonzaka (base of slope), Kumano Kodo (one third up slope), Nachisan (top of slope).
Accommodations
Route Map
Area Maps
Nakahechi Route Guide List
Nakahechi Route Main Sections
Kumotori-goe Sections (Ukegawa to/from Nachisan)
Other Nakahechi Route Sub-sections