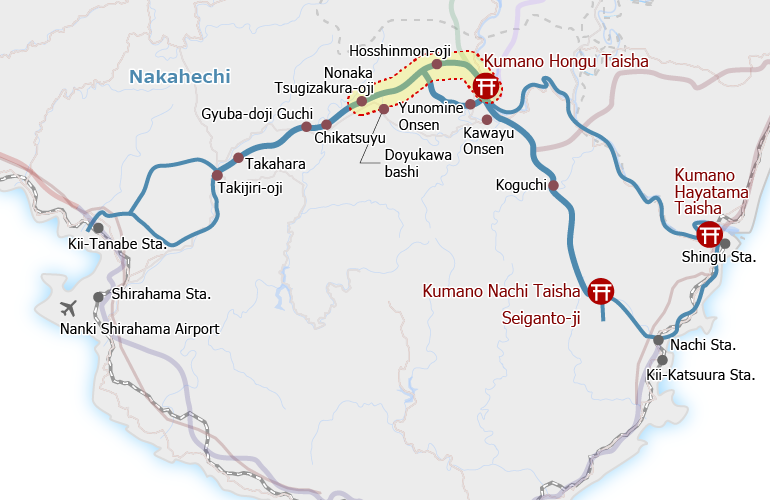 Overview
This full-day hike is on pavement to Kobiro-toge Pass and then on unpaved mountain trail to Hosshinmon-oji.

From Hosshinmon-oji to Kumano Hongu Taisha, the trail switches between forest trail and paved road through settled areas.

There are no restaurants along the way, so it is best to bring a bag lunch. The creek beside Jagata Jizo and Mikoshi-toge are common lunch stops.

The 7-kilometer section from Hosshinmon-oji to Kumano Hongu Taisha is a very popular half-day walk.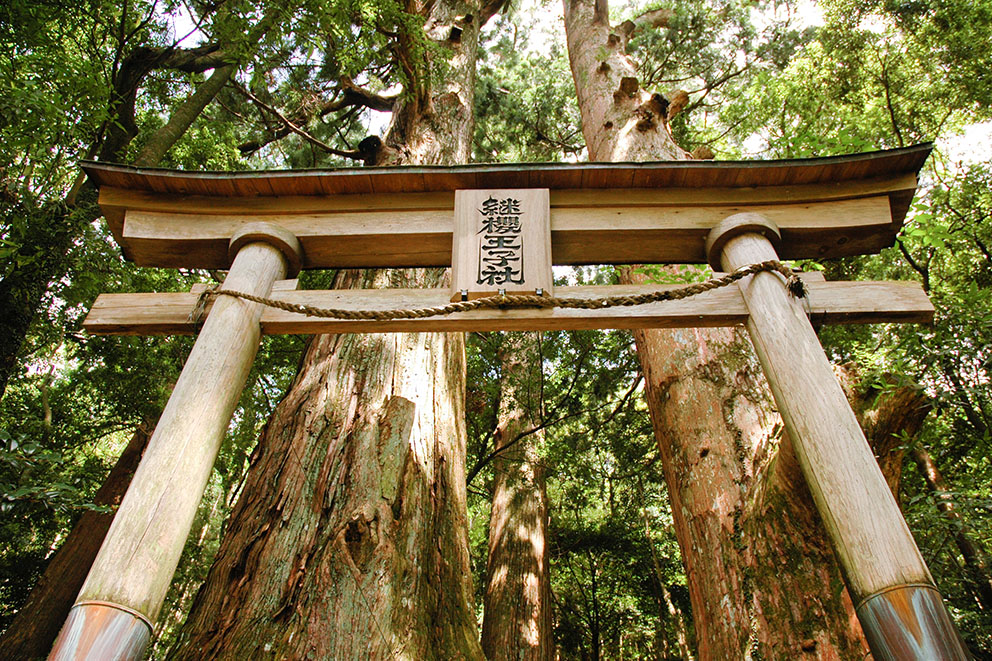 Course Data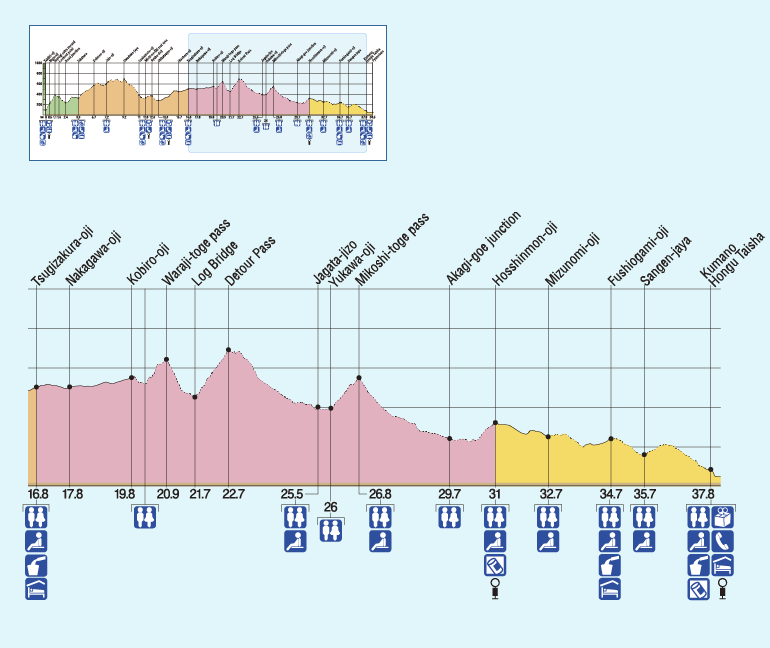 Distance
~21.5 km (~13.4 mi)
Time
8~11 hrs
※Walking times vary. Please plan accordingly.
Difficulty rating
4  What is difficulty rating?
Total Elevation Gain
~960 m (~3150 ft)
Total Elevation Loss
~1440 m (~4724 ft)
Access
Buses run from Kii-Tanabe and Shirahama to Nonaka Ipposugi bus stop (~30-min walk to Tsugizakura-oji from the bus stop): Bus Timetable #1 (Eastbound), Bus Timetable #2 (Westbound). The same buses as above also stop at Kumano Hongu Taisha. Buses to/from Shingu stop at Hongu Taisha-mae: Bus Timetable #3 (Northbound), Bus Timetable #4 (Southbound)
Nearest Bus Stop
Nonaka Ipposugi (Start), Hongu Taisha-mae (Finish)
Accommodations
Route Maps
Detour
Because of trail damage, there is a ~4 km detour from the forestry road junction east of Sign Post No. 43 to Jagata Jizo, south of the main pilgrimage route. The trail follows a forestry road for a short time (to Log Bridge noted on the Route Map) before climbing over the Iwagami-toge pass (~650 meters elevation). The trail then descends to the Jagata Jizo following another forestry road for part of the way.
Area Maps
Nakahechi Route Guide List
Nakahechi Route Main Sections
Nakahechi Tsugizakura-oji to Kumano Hongu Taisha Sub-sections
Nakahechi Hongu Area Routes
Other Nakahechi Route Sub-sections