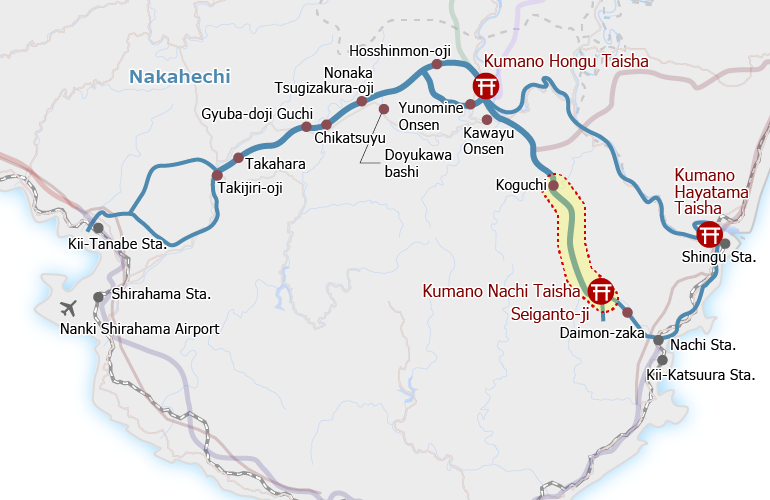 Aperçu
Ogumotori-goe
(Kumano Nachi Taisha à Koguchi, dans les deux sens)
Les sections Ogumotori-goe et Kogumotori-goe des chemins de pèlerinage de Kumano Kodo relient le Grand Sanctuaire de Kumano Nachi Taisha et les environs de Hongu. Ces chemins sont communément empruntés dans les deux directions. Il n'y a pas de restaurant le long des sentiers, il est donc préférable d'apporter son propre repas.

The Ogumotori-goe is one of the toughest sections of the Nakahechi Route of the Kumano Kodo.

It is a climb and descent over three passes and is mostly in the forested mountains.
Ogumotori-goe Walking Options
Walking South from Koguchi to Nachi
This can be the second day of a two-day hike from Hongu to Nachi.

The trailhead is located at the south end of the Koguchi Village. It begins by passing through a small set of houses as you climb.

The first section of the trail gains 800 meters of elevation in about 5 kilometers. From ancient times, it has been called « Dogiri-zaka, » translated as « Body-breaking Slope. » Take your time, watch your step, but also take note of the ancient stone walls of past terraced rice paddies.

On the way, pass Waroda-ishi which means « round shaped cushion rock » with Sanskrit characters carved into its surface, and where it is said the Kumano deities meet and chat over tea.

From Echizen-toge Pass at the top of Dogiri-zaka, there is a series of shorter climbs and descents to Funami-jaya teahouse remains.

At about 6.2 km, there is Jizo-jaya teahouse remains, a great place for lunch or a break with toilet facilities and covered seating area.

After walking through the Moja-no-Deai « Abode of the Dead, » the trail continues up to Funami-toge Pass where the Kii coastline is visible. A little farther on is Funami-jaya teahouse remains offering a brilliant view of the Pacific Ocean and the fishing village of Katsuura on a clear day.

After that, it is roughly a 4-kilometer descent on stone staircases to Nachi Kogen Park and then on down to the Nachisan sanctuary.
Walking North from Nachisan to Koguchi
Le point de départ du sentier Ogumotori-goe est un escalier de pierres près du temple Seiganto-ji sur le mont Nachi. Le sentier monte le long de la crête du parc Nachi Kogen. Si vous traversez le parc, le sentier reprend près des WC de l'autre côté de la route et continue sur la crête. La vue de l'océan Pacifique du col Funami-toge est magnifique.

Après avoir traversé la demeure des morts Moja-no-Deai, le sentier croise une route forestière jusqu'aux ruines de la maison de thé Jizo-jaya. À partir de là le sentier monte et descend jusqu'au col de Echizen-toge.
Une fois ce col passé, le versant Dogiri-zaka présente un dénivelé de près de 800 m jusqu'à Koguchi dans la vallée en contrebas.
En chemin vous croiserez le rocher Waroda-ishi, où l'on dit que les divinités de Kumano se rencontrent pour le thé.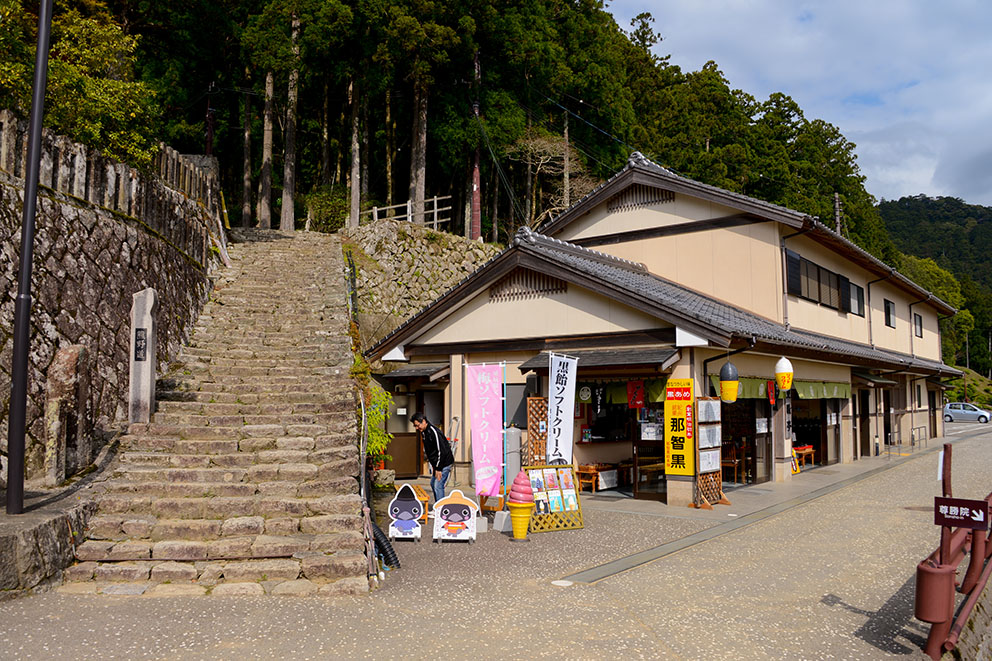 Données de la course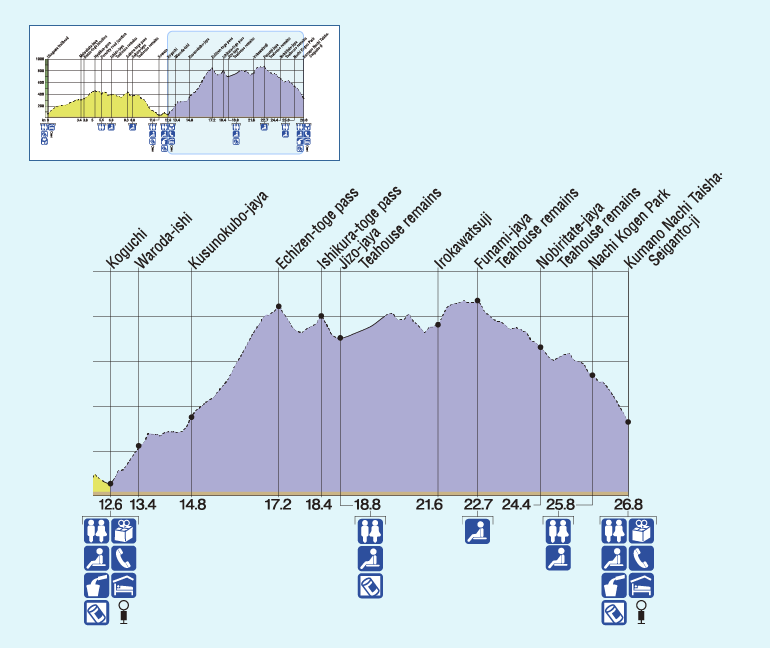 Distance
~14 km (~8.5 mi)
Durée
7~9 hrs
※Walking times vary. Please plan accordingly.
Niveau de difficulté
5  What is difficulty rating?
Altitude maximale totale
~1260 m (~4150 ft)
Altitude minimale totale
~930 m (~3050 ft)
Accès
Horaires des bus.
Des bus circulent de/vers Nachi de/vers les gares de Kii-Katsuura et Nachi. Horaires de bus #8.
Des bus circulent de/vers Koguchi, Shingu et Hongu. Merci de noter que certains bus ne circulent pas tous les jours et qu'un changement de bus peut être nécessaire à Kanmaru : horaires de bus #5.
Arrêt de bus les plus proches
Nachisan, Koguchi
Koguchi Access by Public Bus
If you were unable to secure accommodation in Koguchi in advance and you plan to walk from Koguchi to Nachi, know that there are public buses to/from Koguchi from Hongu and Shingu. Be sure to take the earliest bus possible to arrive early for the trail.

Coming from the Hongu area a transfer at Kanmaru is needed.

There are limited direct busses to/from Shingu, otherwise, a transfer at Kanmaru is needed.

NOTE: bus times are sometimes different on weekends and weekdays.

Koguchi Bus Timetables
Hébergements
Finishing at Nachisan
Finishing at Koguchi
No place to stay in Koguchi?
There are limited rooms in the tiny Koguchi settlement. If visitors walking from Nachi are unable to reserve a place to stay in Koguchi in advance, it is necessary to catch a bus from Koguchi to Hongu or Shingu.

NOTE: The last bus from Koguchi for Hongu and Shingu departs at 17:24 and requires a transfer at Kanmaru Bus Stop. Please see Bus Timetable #5 for more detailed bus information.
Cartes des routes
Ogumotori-goe Detour Information
Due to a landslide on the north side of Ishigura-toge in 2017, walkers on the Ogumotori-goe must take the forestry road detour noted below.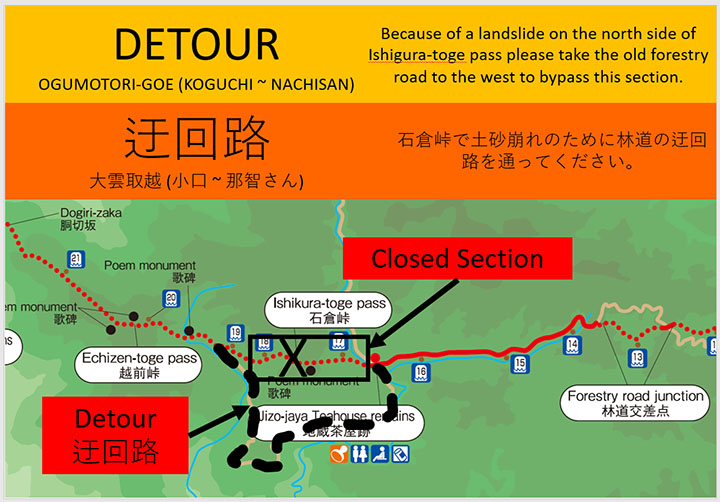 Cartes des environs
Liste des guides de la route de Nakahechi
Section principale de la route de Nakahechi
Portion principale de la route de Nakahechi
Autres portions de la route de Kumotori-goe
Autres portions de la route de Nakahechi