Village in the Mist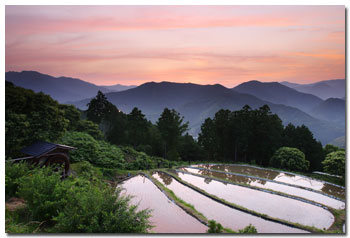 Takahara is a small ridge-top settlement (elevation: ~300 m) overlooking the Hatenashi mountain range and is rich in history associated with the Kumano pilgrimage. It is a about a 2.5 hour walk uphill from Takijiri-oji on the Kumano Kodo pilgrimage route. Walking route guide >>
The colorful Takahara Kumano-jinja is one of the oldest shrines in the region and features giant camphor trees.
Takahara is known as "Kiri-no-Sato" (Village in the Mist) because the scenic mountain vistas are often blanketed with mist. The valley below sometimes fills with fog, creating a beautiful sea of clouds.
In the Edo era (1603~1868) the pilgrimage route, which followed the Tonda-gawa River was redirected to cross over the Shiomi-toge pass. Subsequently, Takahara became a post town, home to a relay station and "Hatago" inns servicing pilgrims to Kumano and those on the Thirty-three Kannon pilgrimage of the Western Provinces.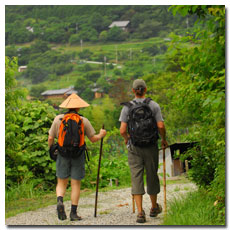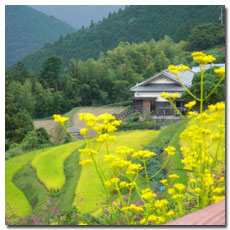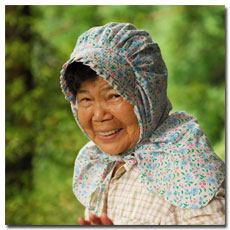 Minamoto-no-Michikata, a nobleman who accompanied the retired emperor Gotoba on his pilgrimage to Kumano, composed the following waka poem:
In Takahara the moon
Rising above the mountaintop
Shines on a 1000-year-old pine
Takahara Kumano-jinja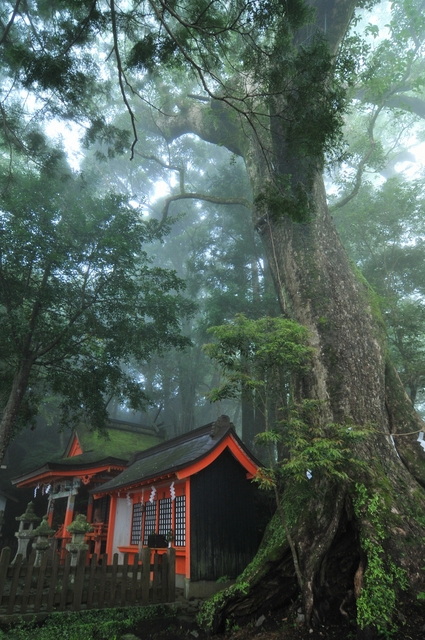 Takahara-jinja Shrine is one of the oldest buildings along this section of the Kumano Kodo pilgrimage route. The Kumano deity was transferred here in 1403.
The pavilion is of the Kasuga style and the colorful paintings are from the Muromachi period (1333-1576). Styles of Shrines are easily recognized by their roof lines. The Kasuga style has a roof that is added to the gable end to cover the staircase leading to the shrine door and was first used over 1300 years ago. It's the second most popular style after the Nagare style.
The roof is covered with Hinoki or Japanese cypress bark. The bronze ornaments on the roof top are characteristic features of shrine architecture. They are now symbolic of the sacred nature of the structure but originally they derived from functional construction techniques and markers of status. The x-shaped crosspieces that pierce the sky are called Chigi and the log like beams that are laid horizontally along and perpendicular to, the ridge line are called Katsuogi. They add a dramatic highlight to the roof line.
The giant Kusunoki, or camphor trees are stunning highlights of the shrine grove. These divine trees are believed to be over 1000 years old. Camphor trees have strong resistance to insects and their fine wood is often used to make Buddhist statues.
Takahara Accommodations
Kiri-no-Sato Takahara Lodge is an accommodation in Takahara village. The panoramic views from the lodge are breathtaking, especially when the valley is filled with morning mist. It was built in 2007 by the Wakayama Prefectural Government and is made of local wood. The water for the hot spring bath comes from Wataze Onsen in Hongu. Many of the ingredients for the delicious meals are produced locally and is sometimes refered to as the "Organic Hotel".
More information and online reservations >>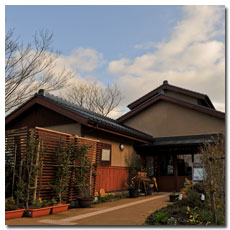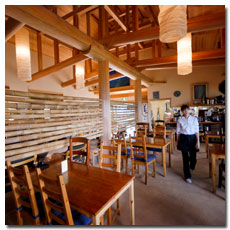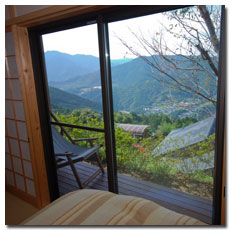 Takahara Access
Busses run daily to Kurisugawa from Kii-Tanabe Station and Hongu.
~40 minutes by bus from Kii-Tanabe Station to Kurisugawa (bus timetable).
~1 hour 10 minutes by bus from Hongu to Kurisugawa (bus timetable).
~30 minute walk uphill from "Kurisugawa 栗栖川" bus stop.
~2.5 hour walk from Takijiri-oji on the Kumano Kodo. Route guide >>