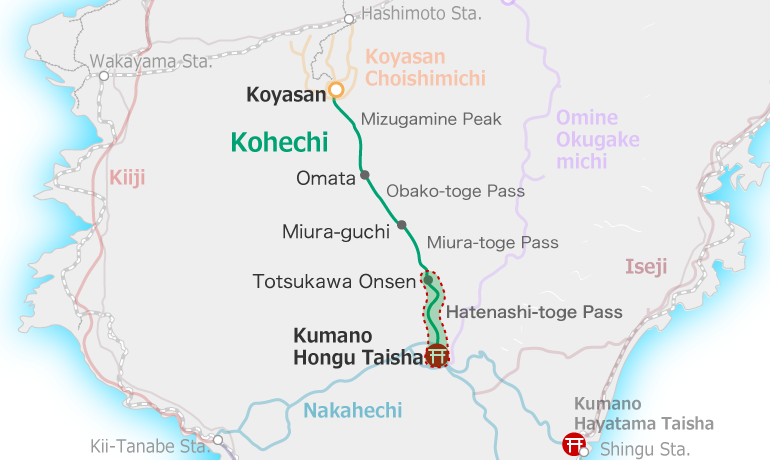 Overview
Totsukawa Onsen to Kumano Hongu Taisha
The Hatenashi-toge pass is a steep climb and descent that can be walked in either direction.

This pass makes for a good day walk without traversing the entire Kohechi trail and is open year-round.

Weather at the trailhead and at the top of Hatenashi may vary, so prepare adequate clothing for possible changes. Carry adequate water for the day.

Buses travel daily between Totsukawa Onsen and Hongu.
Hatenashi-toge Pass: Walking South from Totsukawa Onsen to Hongu
The trailhead from Hotel Subaru goes through an old tunnel to a pedestrian suspension bridge. A dirt path leads through some houses before the ascent.

Thirty-three statues of Kannon line this mountain trail.

Hatenashi Settlement is a scenic ridge-top hamlet with a panoramic backdrop of mountains. It is considered to be one of the "Most Beautiful Villages in Japan."

From Yakio Bus Stop the trail follows Route 168 before joining the Nakahechi route at Sangen-jaya until Kumano Hongu Taisha.
Hatenashi-toge Pass: Walking North from Hongu to Totsukawa Onsen
As the Hatenashi-toge section is open year-round, some Nakahechi walkers may include this section of the Kohechi as a challenging day-hike from Hongu culminating in a possible onsen hot spring dip in Totsukawa Village at the end before returning by bus.

It is possible to walk from Kumano Hongu Taisha, turning right at Sangen-jaya, and walking on the road to the trailhead near Yakio bus stop.

Buses do depart from the Hongu Area (Kawayu Onsen, Wataze Onsen, Yunomine Onsen, Hongu Taisha-mae) towards Gojo stopping at Yakio Bus Stop. Check bus timetables.

Getting an early start is recommended.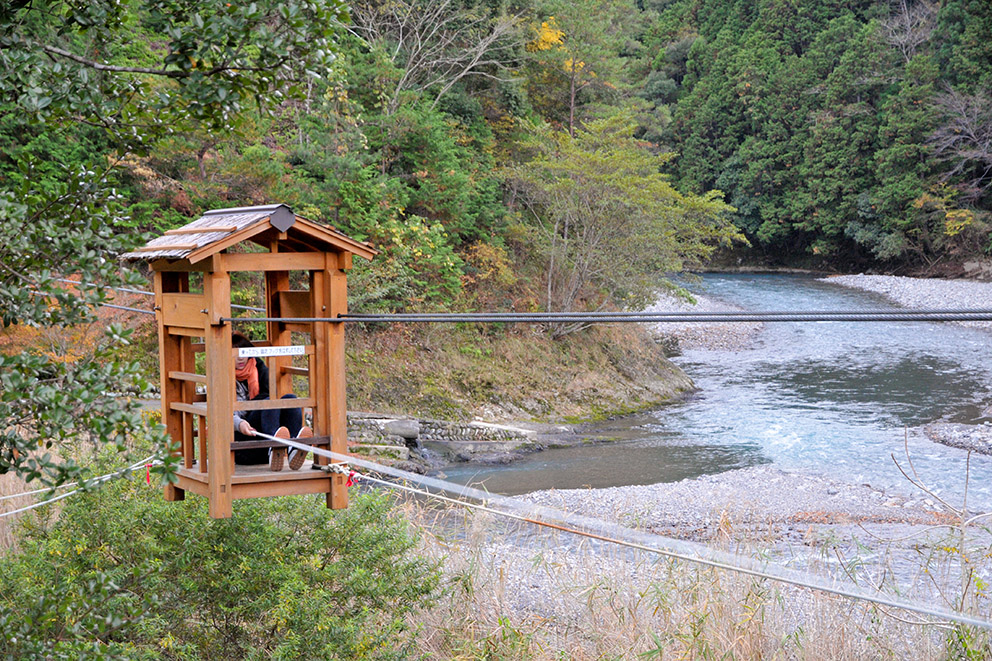 Course Data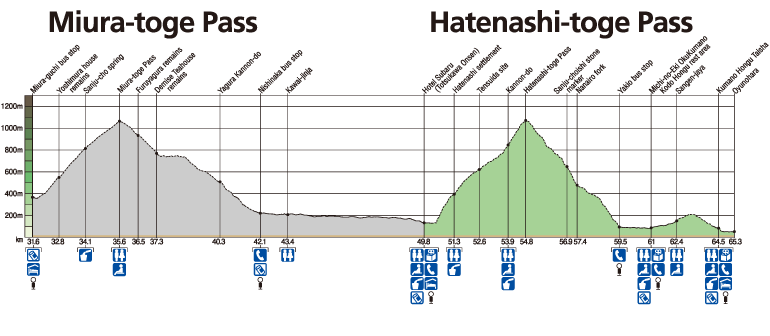 Distance
~15.5 km (~9.6 mi)
Time
7~9 hrs
※Walking times vary. Please plan accordingly.
Difficulty Rating
4.5 What is difficulty rating?
Total Elevation Gain
~1075 m (~3500 ft)
Total Elevation Loss
~1170 m (~3800 ft)
Access
Bus Timetable.
Buses run between Totsukawa Onsen and Shingu. Use Bus Timetable No. 3 from Hongu to Yakio Bus Stop (Northbound). Use Bus Timetable No. 4 from Totsukawa to Hongu (Southbound).
Nearest Bus Stops
Totsukawa Onsen, Yakio, Hongu Taisha-mae.
Accommodations
Route Maps
Other Kohechi Routes