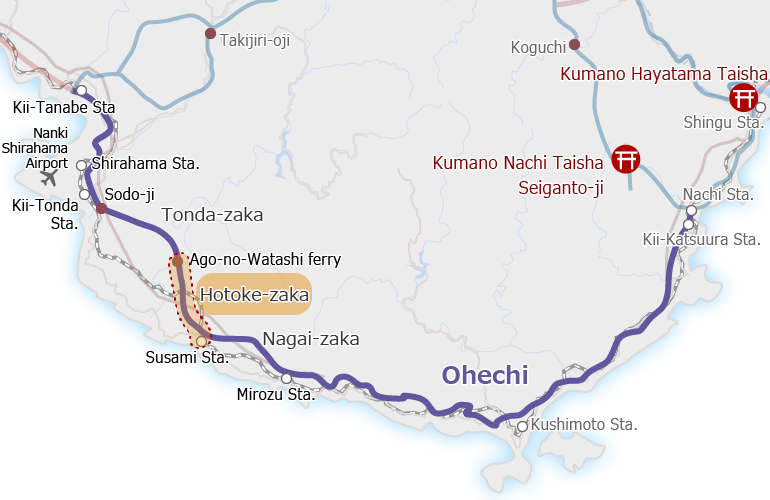 Overview
Mika-gawa Bus Stop to Susami Station
From Ago, it's possible to cross the Hiki-gawa River by old-style ferry, revived after the UNESCO World Heritage designation was granted in the area.

Another way to cross the river is by using a bridge downstream. The riverbank section of this route is not often maintained.

Enjoy the rise away from the river up the Hotoke-zaka slope as you pass "wig pine tree," (Katsura-Matsu), and the Hotoke-zaka Teahouse remains. The teahouse operated until 1940, and a lively cattle market was held nearby.

From the top of the slope, wind down along rural village roads, past Jinushi-jinja Shrine and along Route No. 222 to Susami Station.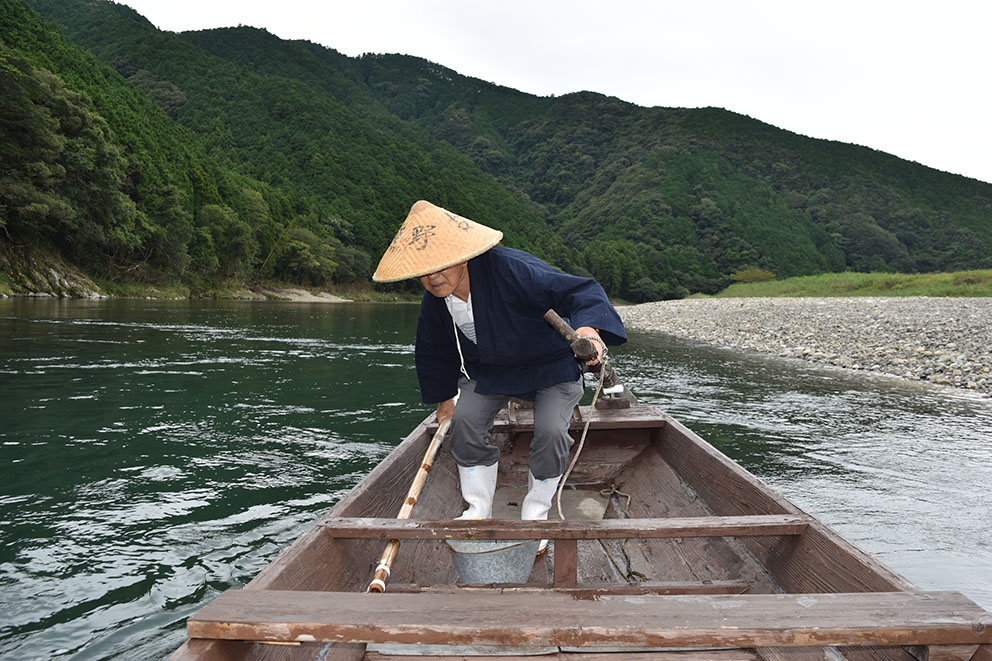 Ago-no-Watshi Ferry
There are two ways to cross the Hiki-gawa river between the Tonda-zaka and Hotoke-zaka slopes:

① Cross over a bridge through a small settlement and then scramble along the river bank trail. (~3.5 km, ~1 hr from Mika-gawa Bus Stop).

② Cross with a traditional wooden boat ride (~5-min trip) at Ago.(~1 km, ~15 min from Mika-gawa Bus Stop).

IMPORTANT: Boat reservations are needed at least 3 days or more in advance by telephone (Japanese only).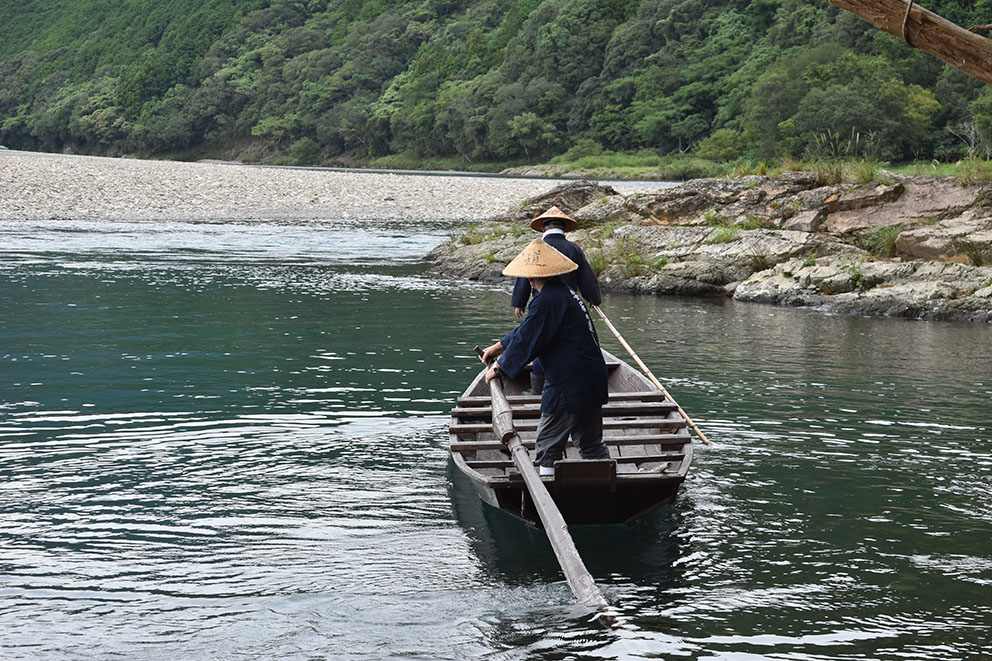 | | |
| --- | --- |
| What | Ago-no-Watashi Ferry |
| Telephone | 0739-53-0194 (Japanese only) |
| Price | 500 yen per person |
| Meeting Point | Meet the staff on the riverbank in Ago. |
| Reservations | Required at least 3 days in advance. |
Course Data

Distance
~13 km (~8 mi)
Time
3~4 hrs
※Walking times vary. Please plan accordingly.
Difficulty Rating
What is difficulty rating?
Total Elevation Gain
~330 m (~1100 ft)
Total Elevation Loss
~ 325 m (~1100 ft)
Access
Train Information
Walking, Taxi, Community Bus (see below)
Nearest Train Stations
Kii-Hiki, Susami
Kii-Hiki & Mika-gawa Access Options
It is possible to walk Tonda-zaka in either direction. It can also be done in conjunction with the Hotoke-zaka section for a long 26-km day.

Please note on the Route Map below that the southern trailhead is located inland from the Kii-Hiki Station.

There is limited public transportation in this area so the two most common ways to connect the Kii-Hiki station and trailhead near the Mika-gawa Bus Stop is by taxi or walking.

Taxi and community bus reservations must be done in Japanese.
On-foot
| | |
| --- | --- |
| Route | Kii-Hiki Station to Mika-gawa community bus stop, on Prefectural Road No. 37 |
| Distance | ~5 km (~3 mi) |
| Time | ~1.5 hrs ※Walking times vary. |
| Total Elevation Gain | ~90 m (~300 ft) |
| Total Elevation Loss | ~80 m (~260 ft) |
Taxi
There is only one taxi based here and the driver is on holiday on Sundays and national holidays. It is best to call in advance to make a reservation (Japanese only). If you plan to use a taxi it is often easiest to take the train in the morning to Kii-Hiki and walk from south to north. The taxi can then be reserved to correspond to the train arrival time.
| | |
| --- | --- |
| Route | Kii-Hiki Station to Ago area. |
| Company | Meiko Taxi, Kii-Hiki Station Office |
| Telephone | 0739-52-2511 (Japanese only) |
| Estimated Price | ~2000 yen ※ Price will vary. |
Community Bus
NOTE: Limited bus times with reservations needed for most departures. Does not run on Sundays or national holidays. Call the reservation line of Meiko Taxi for the Shirahama Town Community Bus (Sanmai Line) directly for information (Japanese only) at 0739-42-2727.
300 yen ※ Price subject to change.
Accommodations
Route Map
Ohechi Route Guide List