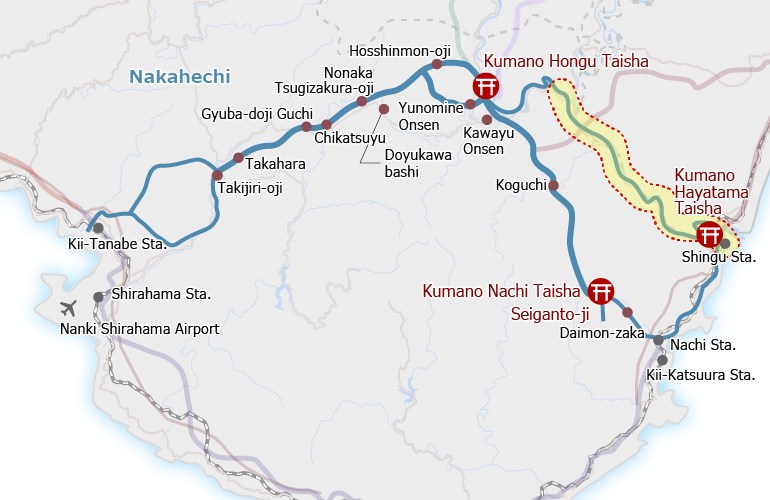 Overview
The Kumano-gawa River is a dominant landmark in the Kumano region running from North to South down the center of the Kii Peninsula. It served as a vital transportation link for the communities in the mountains and for pilgrims past. Traditionally, pilgrims traveled by boat from Kumano Hongu Taisha to Kumano Hayatama Taisha at the mouth of the river.

This sacred waterway is also considered an object of worship. Because of its spiritual aspects and its essential use as part of the Nakahechi section of the Kumano Kodo pilgrimage route, it was included as UNESCO World Heritage in the property "Sacred Sites and Pilgrimage Routes in the Kii Mountains Range".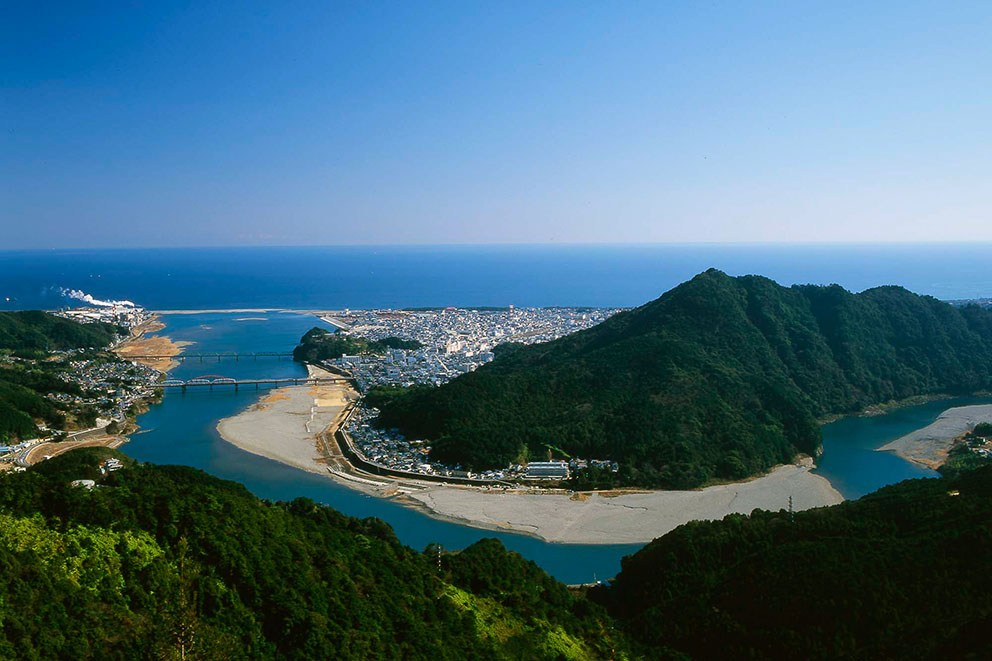 Kumano-gawa River Activities
The Kumano-gawa River and its tributaries are beautiful to look at and offer a variety of activities for a diversity of people. Getting out on the river is a fantastic way to experience the Kumano area from a unique perspective.
Traditional Boat Tour
Experience Kumano on the river! For over 1000 years pilgrims have been making the journey to Kumano.

The Kumano-gawa River was a vital section of the Kumano Kodo pilgrimage route between Kumano Hongu Taisha in Hongu, and Kumano Hayatama Taisha in Shingu.

Visitors are able to journey in traditional wooden flat-bottom boats as pilgrims have been doing for centuries. This is a unique and fun way to get a river view perspective of Kumano's spiritual landscape.
Access
Bus Timetable .
Buses run from the Hongu and Shingu areas. Bus Timetable No. 4 from Hongu (southbound). Bus Timetable No. 3 from Shingu (northbound)
Nearest Bus Stop
Hongu Taisha-mae, Shingu Station (Start), Michi-no-eki Kumano-gawa Boat Tour (Finish)
Dorokyo Gorge Jet Boat Tour
Jet boat tours run up the Kumano-gawa and Kitayama-gawa Rivers to the Dorokyo Gorge.
NOTE: As of January 2021, the Jet Boat Tour will be suspended.
Kumano-gawa River Data
| | |
| --- | --- |
| Length | 183 km |
| Source | The Omine Mountain Range with heights of up to 1,780 m |
| Average Flow Rate | 119 cubic meters/second |
| Watershed | 2,360 square km |
| Major Tributary | Kitayama-gawa River |
Accommodations
To make the Kumano-gawa River part of your experience, visitors can add on the experience on an extra day while staying at Hongu area (Hongu Village, Yunomine Onsen, Kawayu Onsen, Wataze Onsen), Shingu area, or Nachi-Katsuura area accommodation.
Area Maps
Nakahechi Route Guide List
Nakahechi Route Main Sections
Nakahechi Main Route Parts
Other Nakahechi Route Sub-sections