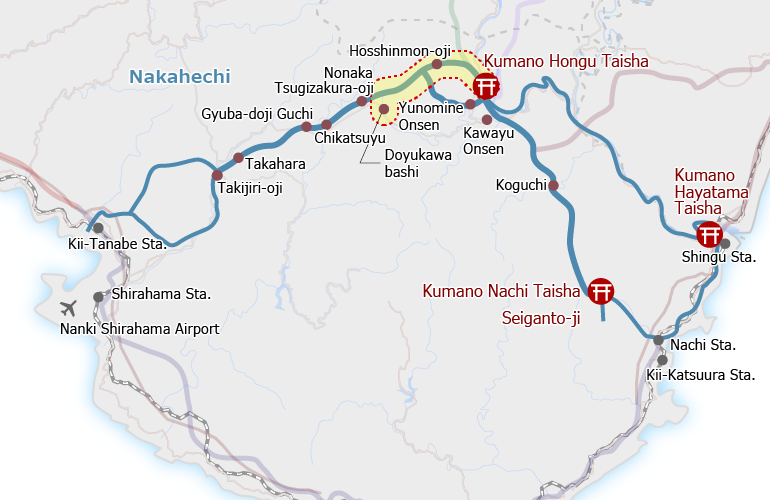 Overview
This Intermediate walk is a shortened option for those wishing to walk as much as possible on the Kumano Kodo between Chikatsuyu / Nonaka (Tsugizakura-oji) area to Kumano Hongu Taisha in one day.

By starting from the Doyukawa-bashi bus stop on Highway 311 east of the Chikatsuyu area, it cuts about 8 km off the 25-kilometer Chikatsuyu-to-Hongu trail distance. It is still a long day with varied terrain to cross and villages to pass through, but more manageable especially for those hoping to spend some time at Kumano Hongu Taisha before heading to their inn in the Hongu area at the end.

There is no water source until travelers reach the vending machines at Hosshinmon-oji, so bringing enough water at the start is essential. Also, there are no toilets until Hosshinmon-oji.

From the bus stop, walk northeast a couple of hundred meters on the partially paved forestry road to the trailhead east of the road. This point is identified as "Log Bridge" on the Nakahechi Route Map. Recent damage to the trail has caused the need for a ~4 km detour from the forestry road junction to Jagata Jizo, which leads over the Iwagami-toge Pass.

The statue of Jagata Jizo protects travelers from evil fatigue-inducing spirits. The trail from there then crosses over a small bridge to the remains of the Yukawa settlement before climbing up to Mikoshi-toge Pass.

A long descent brings pilgrims to the junction for the Akagi-goe Route, which heads to Yunomine Onsen. For others, it is another 25 minutes from here to Hosshinmon-oji.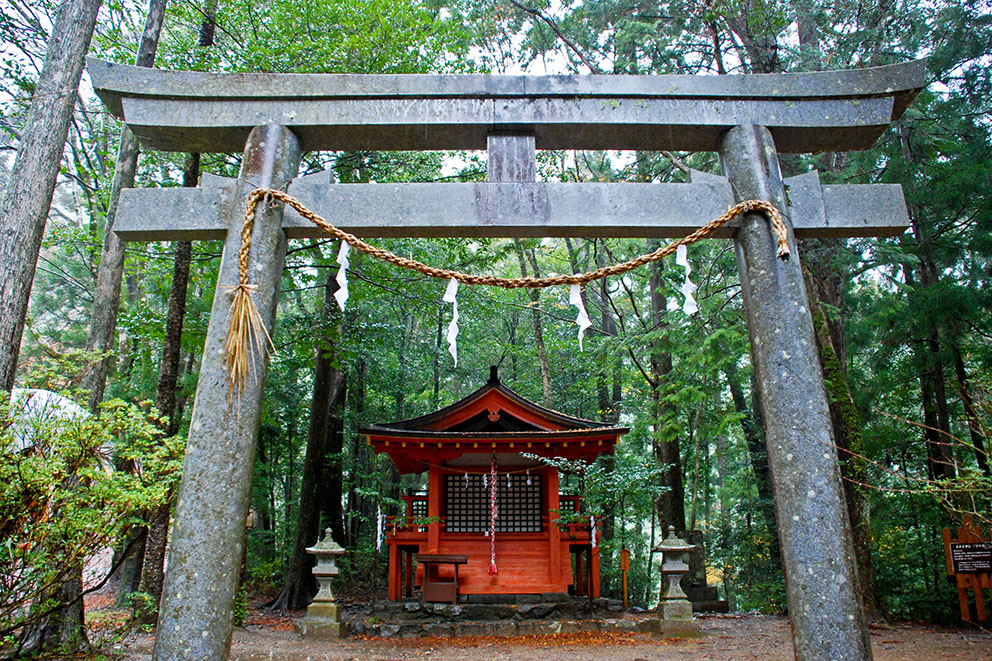 Course Data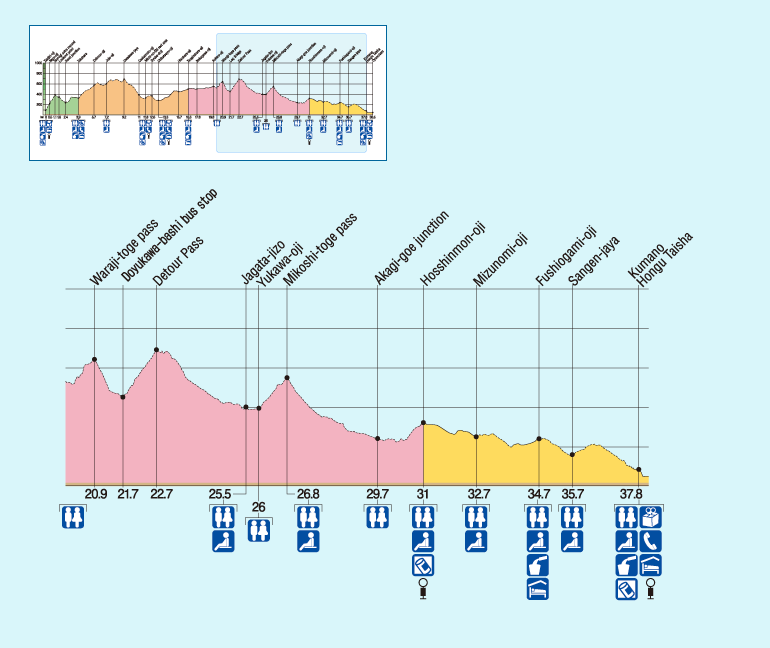 Distance
~17 km (~10.5 mi)
Time
6~9 hrs
※Walking times vary. Please plan accordingly.
Difficulty Rating
4 What is difficulty rating?
Total Elevation Gain
~770 m (~2550 ft)
Total Elevation Loss
~1170 m (~3850 ft)
Access
Bus Timetable .
Buses run from Chikatsuyu and Nonaka areas to Doyukawa-bashi bus stop (a 10-min walk to the detour trailhead after that): Bus Timetable #1 (Eastbound).
A bus from Hosshinmon-oji to Hongu is possible (last bus is 16:23 from April to November, 14:48 from December to March). Use Bus Timetable #6. Note: the Hosshinmon-oji bus stop is ~300 m east of Hosshinmon-oji at the Hosshinmon-oji rest area.
use Bus Timetable #11 for buses running from Hongu Taisha-mae to Hongu area accommodations in Yunomine Onsen, Wataze Onsen, Kawayu Onsen and Hongu Village.
Nearest Bus Stop
Doyukawa-bashi (Start), Hongu Taisha-mae (Finish)
Accommodations
Route Maps
Area Maps
Nakahechi Route Guide List
Nakahechi Route Main Sections
Nakahechi Tsugizakura-oji to Kumano Hongu Taisha Sub-sections
Nakahechi Hongu Area Routes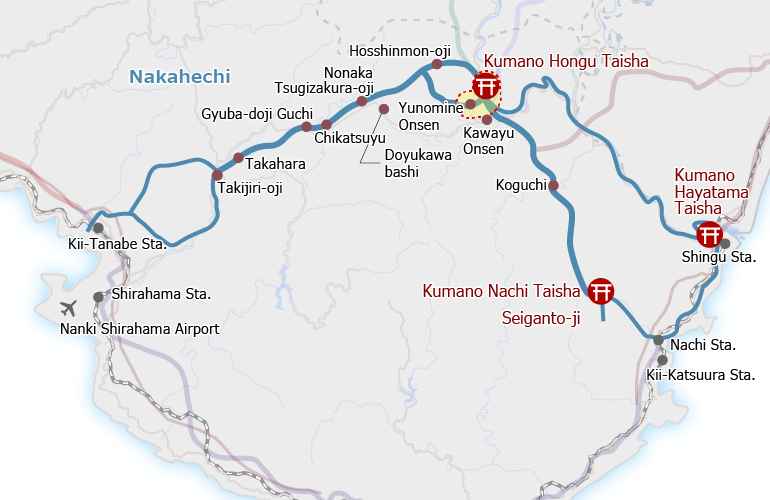 Other Nakahechi Route Sub-sections