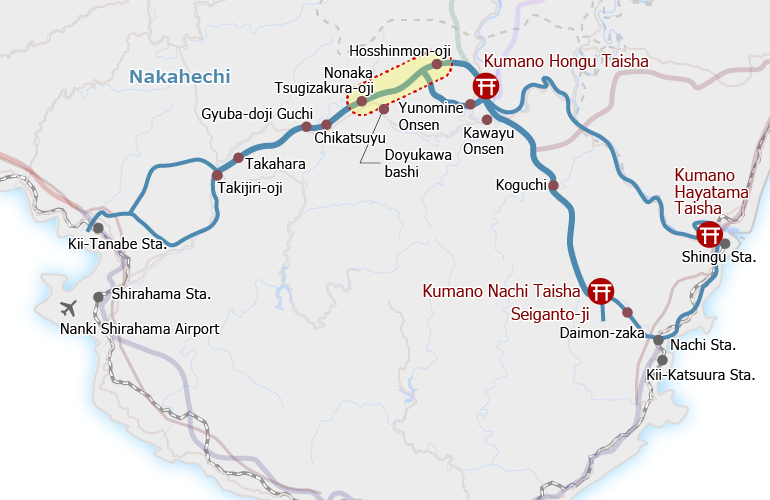 The Kumano Kodo follows the old highway from Tsugizakura-oji to Kobiro-toge Pass. Here the trail enters the forest, climbing and descending a series of passes, the first being Waraji-toge Pass.
The trail descends the Me-zaka ("female slope"), passes by the remains of the Nakodo-jaya ("match-maker teahouse"), and climbs the O-zaka ("male slope") to Iwagami-oji (elevation: ~650 meters), the highest point on this section of the route.
The path continues down along a stream to a statue of Jagata Jizo, who protects travelers from evil fatigue-inducing spirits, then crosses over a small bridge to the remains of the Yukawa settlement before climbing up to Mikoshi-toge Pass.
A long descent brings you to the junction with the Akagi-goe trail, which heads to Yunomine Onsen. It is another 25 minutes from here to Hosshinmon-oji.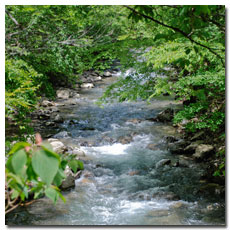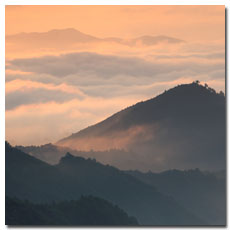 Course Data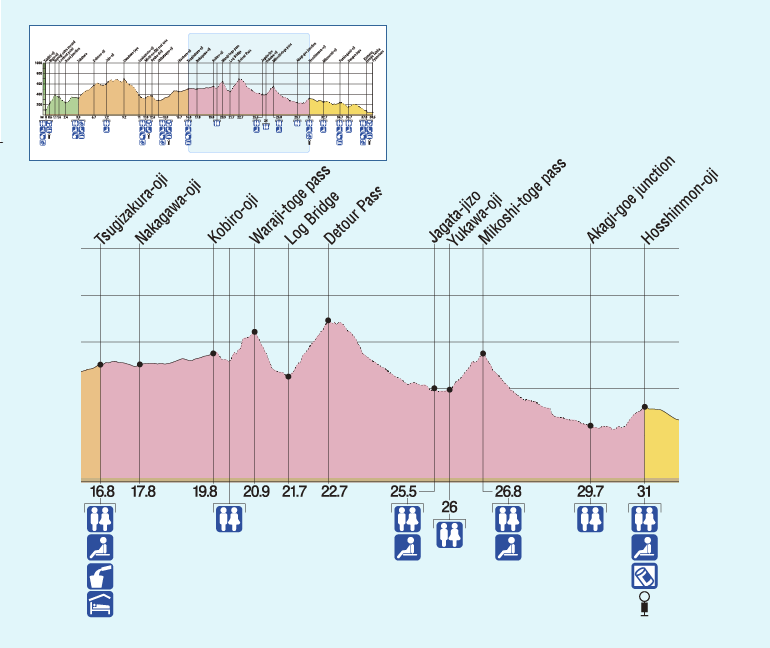 Distance
~14 km
Time
6~8 hrs
※Walking times vary. Please plan accordingly.
Difficult rating
3  What is difficult rating?
Access
Bus Timetable
Buses run from Kii-Tanabe and Shirahama to Nonaka Ipposugi bus stop (a 30-min walk to Tsugizakura-oji from the bus stop): Bus Timetable #1 (Eastbound), Bus Timetable #2 (Westbound).
Hosshinmon-oji is the last stop on this bus route, which starts in Tanabe and goes through Yunomine Onsen and Kawayu Onsen: Bus Timetable #6.
Nearest bus stop
Nonaka Ipposugi (Start), Hosshinmon-oji (Finish)
Accommodations
There are no accommodations at Hosshinmon-oji. There is a variety of lodgings available in Hongu, Yunomine Onsen, and Kawayu Onsen.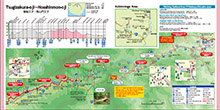 Detour
Because of damage to the trail there is a ~4 km detour from Nakado-jaya Teahouse remains to Jagata Jizo, south of the main pilgrimage route. The trail follows a forestry road for a short time before climbing over the Iwagami-toge pass (~650 meters elevation). The trail then descends to the Jagata Jizo following another forestry road for part of the way.
Nakahechi Route Guide List
Nakahechi Main Route Sections
Nakahechi Main Route Parts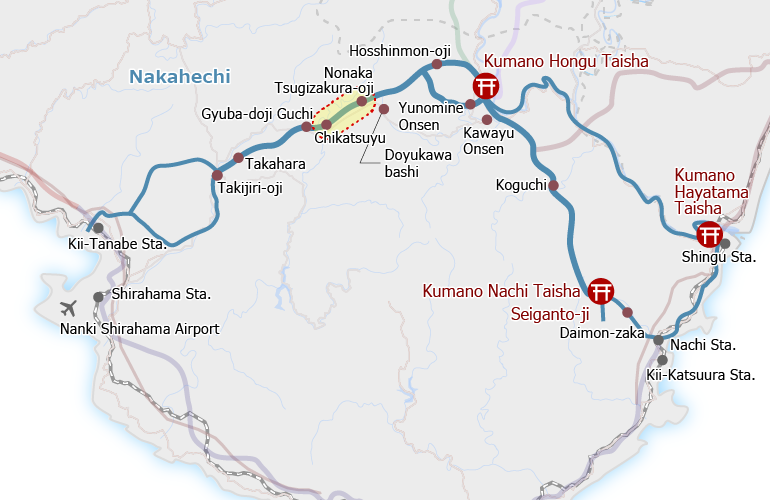 Hongu Sub-routes
Kumotori-goe Sections (Ukegawa to/from Nachisan)
Nachi Sub-route