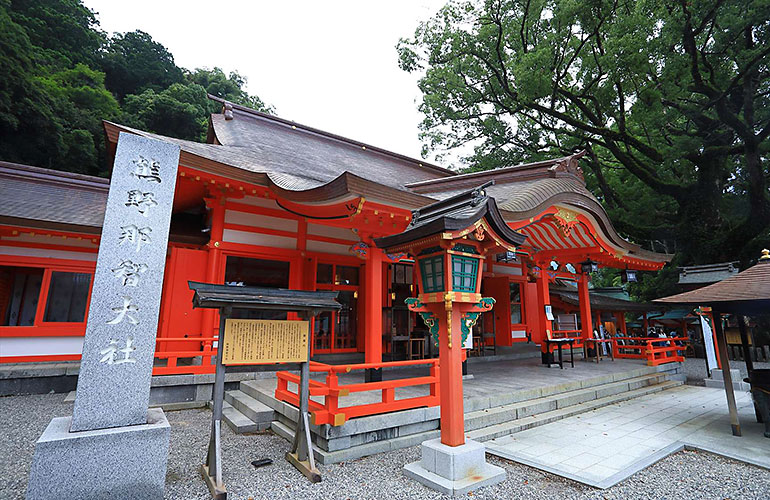 Kumano Nachi Taisha
Kumano Nachi Taisha is a Shinto shrine located halfway up Nachi Mountain, about 350 meters above sea level. It has its religious origin in the ancient nature worship of Nachi-no-Otaki. This grand shrine is part of the Kumano Sanzan and major pilgrimage destination.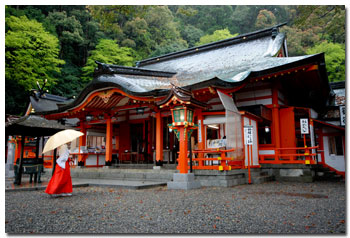 Shrine Grounds
Price: Free
Shrine Office
Hours: 6:00~16:30
Falls Viewpoint
Price: Adult 300 yen, Child 200 yen
Hours: 7:00~17:00
Homotsuden Treasure Hall
Price: Adult 300 yen, 6~15 years old 200 yen
Hours: 8:30~16:30
Nachi-no-Otaki
Nachi-no-Otaki is 133 meters high and 13 meters wide, it is the tallest waterfall in Japan and can been seen from far out on the Pacific Ocean. Nachi-no-Otaki's water source is the surrounding broad-leaf evergreen primeval forest. It is a sanctuary of Kumano Nachi Taisha and thus has been protected since ancient times and is used for ascetic training by mountain monks who practice Shugendo, a mixed religion of foreign and indigenous beliefs.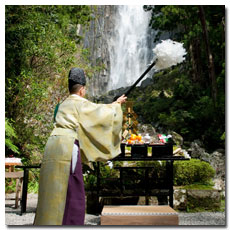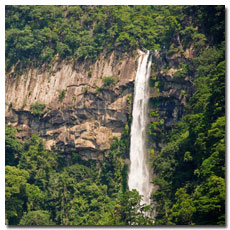 Nachi-no-Hi Matsuri Fire Festival
Nachi-no-Hi Matsuri is the major festival of Kumano Nachi Taisha. It is a fire festival in which 6-meter-high portable shrines symbolically representing the waterfall are purified with the fires from oversized torches laboriously carried by men dressed in white.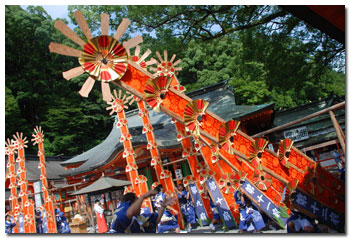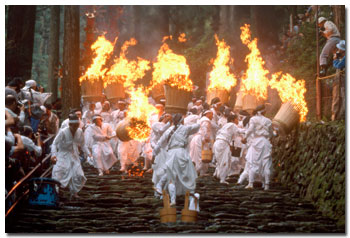 Associated Temples: Seiganto-ji & Fudarakusan-ji
There are two temples that are also closely related to Kumano Nachi Taisha.
Seiganto-ji is a Tendai Buddhist temple founded in the early 5th century. Legend holds that a Buddhist priest from India drifted ashore and experienced a revelation of Kannon, the Buddhist deity of mercy. Seiganto-ji Temple is also the first sacred place of "Saigokujunrei", or pilgrimage to 33 Kannons which started in 1161.
Fudarakusan-ji is a Tendai Buddhist temple located approximately 6 km downstream from Nachi-no-Otaki near the coast and it is from here that Buddhist priests performed ritual martyrdom by sailing out into the southern sea in search of the Buddhist Pure Land called Fudarakusan.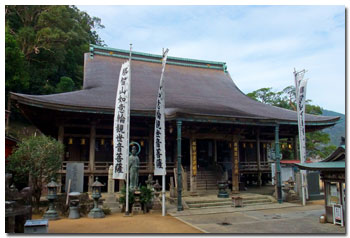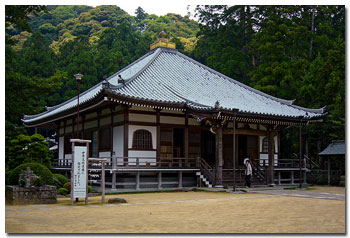 Daimon-zaka
Daimon-zaka is an impressive cobblestone staircase (600 meters long with 267 stairs) and part of the Kumano Kodo pilgrimage route. It is lined with centuries old trees and runs from the valley bottom to the Kumano Nachi Taisha shrine sanctuary. Daimon-zaka means "large gate slope" referring to a shrine-gate that once stood nearby.

Daimonzaka Route Guide >>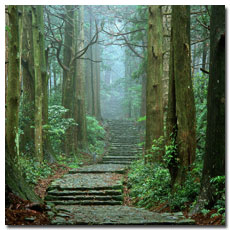 Kumano Nachi Taisha Access
Kumano Nachi Taisha is located on Mt. Nachisan ~10 kilometers inland from the Katsuura village on the coast. There are daily busses that run from Kii-Katsuura via Nachi station frequently.

● ~25 minutes by bus from Kii-Katsuura Station to Nachisan (bus timetable 8).